Brexit: Leave and Remain make final pitches to voters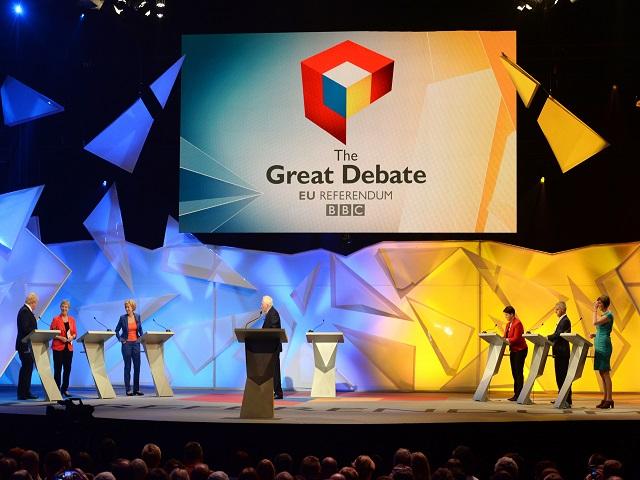 Representatives of Remain and Leave took part in a fierce debate at Wembley Arena
It's the final day of campaigning before tomorrow's referendum and the betting indicates that Remain will seal a narrow victory. Max Liu reports on the latest developments.

EU Referendum - Latest Odds
Britain to stay in the EU 1.330/100 (76%)
Britain to leave the EU 4.1 (24%)
With 24 hours to go until Britain's in-out referendum, Remain is the firm favourite, trading at 1.330/100 (a 76% chance), while Leave is 4.1 (24%).
Both sides are still trying to win over undecided voters as the likes of David Cameron and Nigel Farage all make their final pitches to the public. Bettors anticipate a tight result, with 50-55% for Remain the 2.8615/8 favourite in the vote percentage market.
Davidson stars in Wembley debate

Last night's three-a-side debate at Wembley Arena was less a chance for the two camps to make new arguments than reiterate ones they've been making for months. Remain focused on the economy while Leave argued that, inside the EU, there's no way Britain can reduce immigration. Boris Johnson urged Britons to "take back control" of their country and to make Thursday our "independence day."
Scottish Conservative leader Ruth Davidson, who recently lead her party to a surprise second place in Scottish Parliament elections, was impressive for Remain. Is Davidson a future Conservative leader? Whoever succeeds David Cameron will need to unite the party and attract a new generation of voters. At 30.029/1, Davidson is an exciting alternative to the favourite Johnson 4.57/2 and the other usual suspects at the top of the market.
Mind you, if the outers upsets the odds tomorrow then Johnson is ideally placed to succeed Cameron. This morning, when asked if he would stay on as PM if Britons choose Brexit, Cameron said: "I will accept the instructions of the British people." Betfair has some intriguing markets concerning the PM's future. Remain/Cameron to stay is 1.374/11 favourite while Leave/Cameron to go is 5.49/2.
Labour are ready for General Election in 2016
Jeremy Corbyn has been criticised during the referendum campaign for saying things he doesn't really mean. As a backbencher, Corbyn championed the left-wing case for Brexit but, as leader, he supports Remain - if somewhat half-heartedly.
Yesterday, the Labour leader claimed that, in the event of a snap general election after the referendum, the opposition would be "very, very ready." Betfair have opened a market on a General Election in 2016. It seems unlikely, what with the fixed term Parliament agreement and the electorate already tired of campaigning politicians. Either way, bettors believe Labour would have little chance of victory - they're 6.05/1 to win a majority next time Britain goes to the polls.
Catch me if you can/Cos I'm the Remain man

One of the best things about international football is that the stars of tournaments are often not the players you expect. Think of James Rodriguez at the last World Cup or Croatia's Ivan Perisic who tore about Spain last night. Now this referendum has a surprise star - at least on the Remain side.
I'm talking about John Barnes who yesterday refuted Michael Gove's claim that the ex-Liverpool player was supporting Leave and, in the process, made a lucid argument in favour of immigration (see below). Gove made the false claim after David Beckham came out for Remain, as reported in this column. Victoria Beckham subsequently explained that she's on the same side as her husband, after somebody dug up some jingoistic comments made by the Spice Girls in the 1990s.
Still, some families are genuinely split on the referendum, as we know from a letter to the Independent which says that staying in the EU will be best for Britain's countryside. Among its 37 signatories is Stanley Johnson - Boris's dad.

***
Discover the latest articles