Premier League Crisis: Everton help to prove it's a myth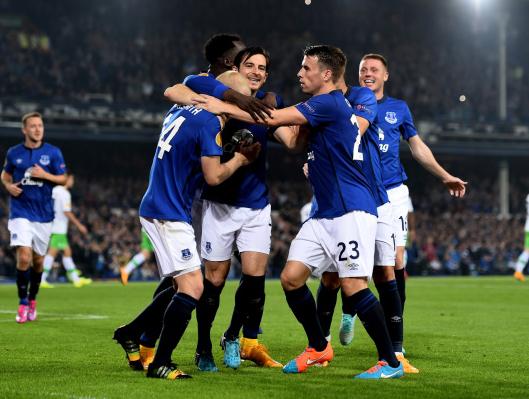 Everton overcame poor league form to impress in Europe
Michael Lintorn isn't buying into talk of the Premier League's demise, despite the mass evacuation from Europe...
"Everton have been seriously awful domestically yet twice defeated Wolfsburg, the second-best team in the Bundesliga."
Don't believe the quarter-final hype
Who decided that the number of clubs that a country carries into the last eight of the Champions League was the ultimate barometer of success anyway?
Why is it so much more significant than how many teams you steer into the round-of-16 - a measure on which England equalled Spain's three and were only topped by Germany's four, three of whom flopped in those double headers? Or number of winners, for which the figures over the last decade are Spain 4, England 3, Italy 2 and Germany 1? Spain are 1.774/5 to provide this season's victors.
Porto and Monaco contested the 2003/04 Champions League final. Guess how many Primeira Liga and Ligue 1 quarter-finalists there were a year earlier? None of course, and presumably anyone who lamented the death of Portuguese and French football that day signed up for a lifetime of ridicule.
Similarly, the campaign before Bayern Munich and Borussia Dortmund took over Wembley in 2013 was a miserable one for Bundesliga sides. Champions Dortmund ranked bottom in their group with four points, five fewer than Olympiacos in third, Bayer Leverkusen were destroyed 10-2 by Barcelona in the round-of-16 and Bayern Munich lost the final in their own ground to Chelsea.
Did the Blues' triumph mark an era of English domination? Not quite, Chelsea and Man City failed to clear their 2012/13 groups and Arsenal and Man United were punished by harsh round-of-16 draws, meaning that nobody got to the quarter-finals, albeit amidst less fanfare than this term.

Why is 2014/15 different than 2012/13?
So why is it a much bigger issue that English interest in the Champions League quarter-finals is as outsiders than it was two years ago? The statistical reason is that it is the first time since 1995 that the Premier League doesn't have a quarter-finalist in either that or the UEFA Cup/Europa League.
The obvious question to ask is when did the English press start caring how its clubs perform in the Europa League, a competition that it has traditionally gone out of its way to undermine?
If your European calibre is assessed by UEFA Cup/Europa League performance then the Premier League has been a nonentity for decades, even in the era when Liverpool, Man United and Chelsea took turns as champions of Europe, because it has produced one tournament winner in 13 years.

The Everton anomaly
And if Europa League showings really are what make a league great, what does Everton's run mean?
They have been seriously awful domestically this season. They haven't beaten any of the Premier League's top eight, are one of just two teams to have faced bottom club Leicester twice and not won and recently embarked on a sequence of eight away league losses in nine.
Yet that same side twice defeated Wolfsburg, the second-best team in the Bundesliga, and routed the closest Swiss challengers to Champions League round-of-16 participants FC Basel, Young Boys, 7-2 on aggregate, among other laudable continental accomplishments.
If the Premier League's 13th finest can inflict that kind of damage, maybe there's hope for the division after all...