Brexit Latest: Theresa May survives as Tories kick the can down the road
Theresa May remains Prime Minister for now
As Theresa May lives to fight another day, Paul Krishnamurty updates the betting and explores what might happen next in the chaotic Brexit process...
"An amendment for a 2nd Referendum, introduced by backbenchers, could well gain traction. That outcome drifted in today's betting though and is still only rated a 40% chance at odds of 2.56/4."
Theresa May remains Conservative leader and Prime Minister after surviving a confidence vote. Under party rules, she is now safe for a year before another such vote can be called. That is where the clarity ends. Brexit, her withdrawal deal, the future of her government and party all remain crisis-ridden and deeply uncertain.
More than a third of Tory MPs voted against May
The margin of victory - 200-117 - was underwhelming, meaning she lost the confidence of more than a third of her MPs. Addressing the backbench 1922 Committee earlier, May pledged to not stand at the next scheduled election in 2022. Betfair traders reckon she'll be gone long before that, with 2019 matched down to a low of 1.374/11 before settling around 1.51/2 - equivalent to a 67% chance.
What happens next? May will persist in what are probably vain attempts to win meaningful concessions from the EU, before belatedly putting her Brexit deal to parliament by January 21st. There is absolutely no signal that it will get through and the government will then have to present a solution within 21 days.
Labour challenge will come after the deal fails
Prominent Remainers were scathing of Jeremy Corbyn's failure to call a confidence vote in the government on Monday, after the Brexit vote was delayed, but subsequent events back his judgement. The DUP confirmed tonight that whilst unsatisfied with the deal as it stands, they remain wedded to the government. Labour do not have the numbers to unseat the government.
Even if we assume Labour's motives are for political effect, rather than expectation of forcing an early election, it surely makes better sense to let their opponents tear themselves apart for now, and strike after the deal is defeated in parliament. It will still likely fail although the DUP will once again relish the role of kingmaker. In these unprecedented times, even the strangest alliances become plausible.
Some sort of emergency amendment to avoid a no deal Brexit - assuming the EU are compliant - will probably pass. An amendment for a 2nd Referendum, introduced by backbenchers, could well gain traction. That outcome drifted in today's betting though and is still only rated a 40% chance at odds of 2.56/4.
May now free to ignore hard Brexiters
How the main players will react in the days and weeks ahead remains highly unpredictable. May gives the impression that she wants to persist with her deal until the latest possible moment - daring opponents to take responsibility for a hard Brexit. Her numbers may not add up yet but I wouldn't rule out mass abstentions from Labour as a March cliff-edge approaches.
However to some extent, her hand is now freer and her fiercest ERG opponents are neutered. She's acknowledged her days as leader are numbered and rebels can't strike for another year. If she wants to break her promise to avoid a second referendum, or reach out to Labour and risk exacerbating her own party's profound splits, she can.
A Cabinet putsch still can't be ruled out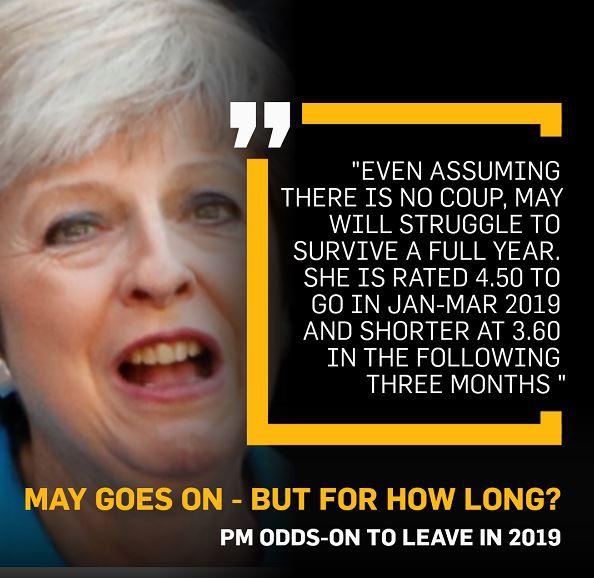 Equally, rivals know the leadership contest is underway and are eyeing an opportune moment to strike. Given the scale of the vote against, we may not be far away from a re-run of the last days of Thatcher, when one minister after another came to tell her they'd lost confidence. Waking up tomorrow to the news that Michael Gove had resigned would be no surprise.
The longer would-be leaders remain in the Cabinet, the further they risk being tied to May and alienating the membership that will determine the next leader. They are already probably losing ground to candidates who already abandoned ship.
Yesterday saw a (foolish, in my view) gamble on Boris Johnson to be Next Tory Leader. Although later drifting from 5.04/1 to 7.06/1, the former Foreign Secretary has resumed favouritism. My long-range, pure Brexiter pick Dominic Raab remains well-placed at 8.615/2.
Even assuming there is no coup, May will struggle to survive a full year. She is rated 4.57/2 to go in Jan-Mar 2019 and shorter at 3.613/5 in the following three months - immediately after the official Brexit date, whether it has been completed or not.
In short, nothing has changed. All options remain on the table including a swift exit for the PM, despite her being offically secure for a year. Brexit chaos will continue to saturate the news and, with a timely exit on 29/03/2019 rated at only 40%, nothing is likely to change any time soon.
Bet on UK politics here
UK to leave EU by 29/03/2019?
EU Referendum before 2020?
Next Conservative Leader
Theresa May Exit Date
Year of Next Election

Follow Paul on Twitter and check out his website, Political Gambler.
Discover the latest articles
Read past articles