This Week in Football History: Bayern, Schalke, and the four-minute championship.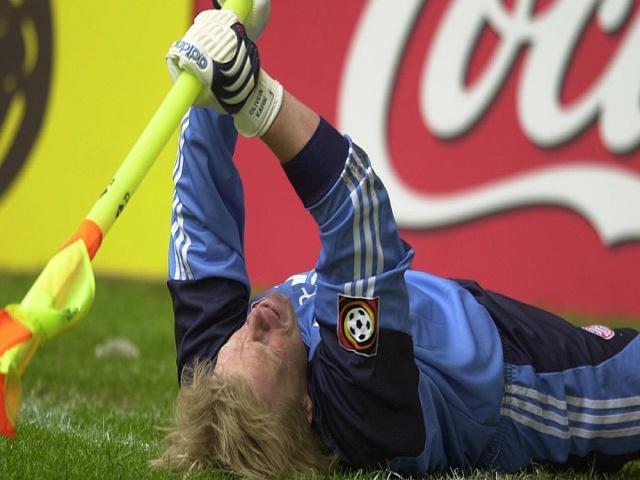 Oliver Kahn's wonderfully bizarre celebration following Bayern's last second title win
Today, the Bundesliga finally makes an appearance in Adrian North's column as he recounts the incredible events of the final day of the 2000/01 German season...

"The last minute goal is football's most precious commodity. Very few things in any walk of life bring such jubilation and misery in equal measure, most of all when it decides a championship. Schalke fans have since tried to erase this day from memory while May 19, 2001 is a date engrained in the minds of many a Bayern fan."
May 19, 2001 - Hamburger SV 1-1 Bayern Munich, Volksparkstadion.
On the same day that Matt Le Tissier was giving The Dell its fairytale send-off, 500 miles northeast of Southampton the Volksparkstadion in the industrial and cosmopolitan city of Hamburg was playing host to the most dramatic four minutes in German football history.
The 2000/01 Bundesliga had been a tight race all year between Bayern Munich, Borussia Dortmund and FC Schalke. Dortmund however had dropped crucial points during April and by the final match day of the season on May 19, Dortmund were out of the running and Bayern held a three-point lead over Schalke.
Schalke have never won the Bundesliga, instead they've been forced to settle for the runners-up spot six times in the past 52 years, four of which have seen Bayern beat them to the title. As for Bayern, winning has always been the norm. Nearly half, 25 of 52, of the Bundesliga seasons have ended with Bayern on top and they also have five European Cups tucked away in the trophy cabinet.
None of those trophies however were won under such sensational and dramatic circumstances as the league title in 2001, and no moment in Schalke's history has ever been as heartbreaking.
The equation for Schalke on the final day of the 00/01 was simple enough. They had to beat already relegated Unterhaching and hope that Bayern lost against Hamburg in order to win the Bundesliga on goal difference.
Schalke, who had already shot themselves in the foot the week before by losing in the last minute at home to Hamburg, started the final day in terrible fashion, going 2-0 down after half and hour to Unterhaching. Over in Hamburg, Bayern, knowing only a point would be good enough to win the league were being kept in the game thanks to a string of great saves from captain Oliver Kahn.
By half-time however Schalke had pulled back to 2-2 through a Nico van Kerckhoven tap-in and a Gerald Asamoah back-heel, while Bayern had a Carsten Jancker effort incorrectly ruled out for offside on the hour mark, and then with 20 minutes left of the season complete chaos kicked off both in Hamburg and Gelsenkirchen.
First, Unterhaching took the lead again, Jan Seifert heading in from a free-kick. Three-minutes later Schalke hit back when Jorg Bohme drilled in from 25 yards, and 60 seconds later Schalke took the lead for the first time as Bohme ran through and chipped the keeper.
In Hamburg the news of each Schalke goal was met with an uproar from a crowd desperate to see the title snatched away from Bayern. With Schalke leading 4-3 and Bayern looking decidedly lacklustre Hamburg knew a single goal would see Schalke win the league.
Danish striker and that season's Bundesliga top scorer Ebbie Sand then tapped in a fifth for Schalke to make the game safe at 5-3 in the 90th minute. The Hamburg-Bayern game however was running five minutes behind the Schalke one due to a bizarre pre-game incident where Kahn had to clear a bunch of bananas from his penalty area.
Bayern had retreated to full park-the-bus mode as time ticked down, repelling wave after wave of Hamburg attacks. But at 5:18pm with the game entering stoppage time the pressure finally got to Bayern and Hamburg took the lead through Sergej Barbarez's flicked header.
Ottmar Hitzfeld and the Bayern team slumped in despair, while Hamburg's players and fans celebrated as if they had just won the league themselves. Kahn, ever the pragmatist simply grabbed the ball and screamed at his teammates to get on with it - they had four minutes of stoppage time to find a goal. A stoppage time that has since come to be known as the four-minute championship.

It was carnage and chaos across both grounds. Seconds after Barbarez had given Hamburg the lead the referee blew his whistle for full time over at the Veltins Arena in Gelsenkirchen. Schalke's fans, having just heard the news of Hamburg's goal promptly invaded the pitch in ecstasy. Bayern meanwhile got a corner and following a terrible miss by Sammy Kuffour (at 1:50 of the video) all kinds of handbags were had.
20 seconds remained in Hamburg. Schalke fans were hugging and kissing each other in Gelsenkirchen. Bayern mounted one last attack, Stefan Effenberg playing the ball hopefully forward towards Paulo Sergio. Hamburg defender Tomas Ujfalusi intercepts and plays it back to his goalkeeper Matias Schober.
Schober, who was actually on loan at Hamburg from Schalke decided to inexplicably pick the ball up. The Bayern players went up in arms and Hamburg rather strangely just accepted the referee's decision to award an indirect free-kick eight yards from goal. Of all the times to violate the back-pass rule, and from a goalkeeper still employed by Schalke no less.
Step forward Patrik Andersson, Bayern's Swedish centre-back who had never scored a goal or taken a free-kick ever before for Bayern. Kahn, who had sprinted a hundred yards to simply wind up some Hamburg players later asked Effenberg why he had given the free-kick to Andersson.
"Because he hits it the hardest" was Effenberg's supposed reply.
And so Effenberg laid the free-kick off and Anderson rammed it under the Hamburg wall and into the net. It was the very last kick of the entire German football season.
Bayern's bench erupted in joy, Franz Beckenbauer and Karl-Heinz Rummenigge were going mad in the directors box and the usually reserved Hitzfeld was hugging everyone around him. The referee blew the whistle as soon as the celebrations calmed down and Bayern were champions once again.
In Gelsenkirchen the tears of happiness and delight quickly became tears of disbelief and despair among the Schalke fans (At 2:10 of the video below), while in Bavaria the pubs were preparing for a long night.

Kahn got to lift the Bundesliga trophy after celebrating with the corner flag, and just four days later he would go on to lift the European Cup after Bayern beat Valencia on penalties in the Champions League final.
The last minute goal is football's most precious commodity. Very few things in any walk of life bring such jubilation and misery in equal measure, most of all when it decides a championship. Schalke fans have since tried to erase this day from memory while May 19, 2001 is a date engrained in the minds of many a Bayern fan.
The rest of the world simply gets to look back on such a moment in amazement.
Read past articles