England v Nigeria: The likely Three Lions line-up, tactics and how Southgate may experiment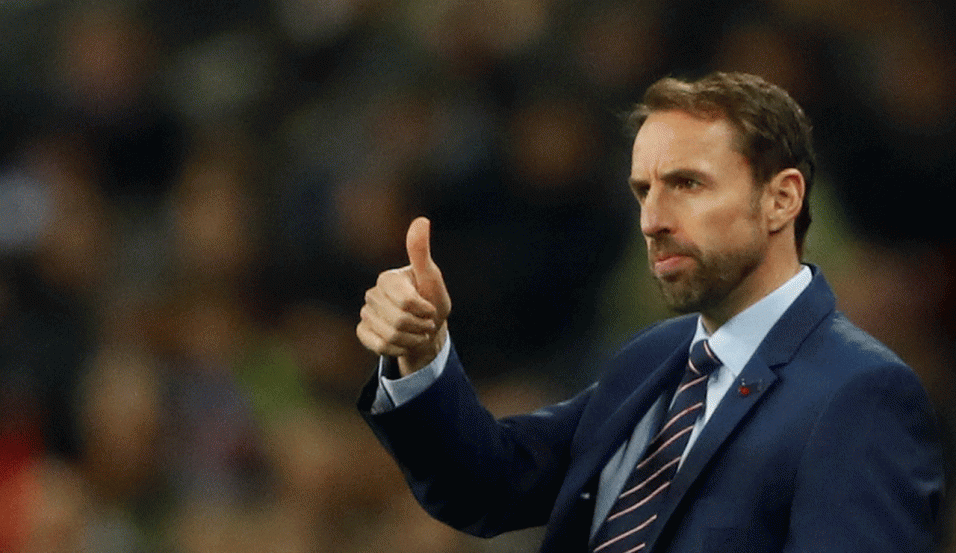 Gareth Southgate has big decisions to make in defence and midfield.
Alex Keble preview the upcoming friendly between England and Nigeria and picks out three attractive bets.
"This is a chance for Southgate to work out how to break down defensive opposition. The Tunisia and Panama group games could prove to be very difficult contests for an England side increasingly confident on the counter-attack and increasingly lackadaisical in possession."
As the first of two friendly matches before England's World Cup campaign gets under way on June 18, Gareth Southgate will most likely pick a strong first 11 for the upcoming game against Nigeria at Wembley.
Southgate's 3-4-3 formation is locked in, and yet there are plenty of positions still up for grabs, including in goal, central defence, and central midfield. There is an awful lot to be sorted out over the next two weeks, but after a run of friendly fixtures against top nations - including France, Germany, and Brazil - the Nigeria friendly is not necessarily about preparing for the tournament as a whole.
Instead, this is a chance for Southgate to work out how to break down defensive opposition. The Tunisia and Panama group games could prove to be very difficult contests for an England side increasingly confident on the counter-attack and increasingly lackadaisical in possession.
Here's a tactical preview of the game, along with three betting tips:
England's 3-4-3 will struggle to break Nigeria down
England have scored just four goals in their last six matches, and although the majority of these games have been solid, composed displays against nations ranked among the top ten in the world the Three Lions' lack of creativity is alarming. Lithuania and Slovenia were only beaten 1-0 thanks to their low-block frustration tactics. Tunisia, Panama, and first Nigeria, will follow suit.
The biggest issue is that Southgate's 3-4-3 is too reliant on the free movement of the dual inside forwards and the speed of overlapping wing-backs, despite the fact defensive opponents don't leave enough space in the number ten zone for the former to work and England don't have a target man for the latter. There is a certain inevitability to England's lethargy on the ball, particularly given that Nigeria have a sturdy and well organised defence.
The safest betting options for Saturday are those based on this being a low scoring contest. England won't be fluid enough to pull the visitors out of shape, and although Nigeria have built an effective counter-attacking system England's back three should easily negate the likes of Alex Iwobi and Kelechi Iheanacho.
Southgate set to experiment with his midfield
An injury to Alex Oxlade-Chamberlain, plus the surprise exclusions of Jack Wilshere and Adam Lallana, suggests Southgate's two-man midfield will be a defensive pairing. This is understandable for the latter rounds of the tournament and the third group game against Belgium, but could prove problematic when England hold the majority of possession.
Consequently Southgate will be experimenting on Saturday, which means game time for Ruben Loftus-Cheek and possibly a place in central midfield for Dele Alli. Jordan Henderson and Eric Dier is too static a partnership for this sort of match; even if Southgate starts both, at some point he will be forced to switch to something more dynamic.
Unfortunately, Loftus-Cheek will probably struggle to play at his commanding best when up against John Obi Mikel and Wilfried Ndidi, leaving Southgate with very limited options. Again, this points to a low-scoring game at Wembley.
Kane needs game-time; Vardy & Rashford will have to wait
One area of the pitch that's definitely settled is up front. Harry Kane is in need of game-time having missed each of England's last four matches, and having been named captain this month Kane's starting spot in friendly matches is surely secured.
Marcus Rashford and Jamie Vardy might get some time off the bench (and one might start against Costa Rica), but getting Kane on the score sheet should be a top priority before the World Cup begins. If we see any goals at Wembley, there is a good chance Kane will be responsible; he scored six in the final seven games of the Premier League season, including a brace against Leicester City on the final day.
Walker's new role to continue, but who will join him?
Kyle Walker was very impressive in the last set of friendlies as a right sided centre-back, so much so that he is arguably the new first-choice defender for Southgate. It is slightly odd that England are so settled on a back three despite its members constantly changing.
John Stones is increasingly finding himself on the team sheet, largely because his ball-playing abilities help England control possession. But who will join the two Manchester City team-mates? Phil Jones and Chris Smalling have both been error-prone this season, opening the door to Gary Cahill, who found himself back in the first 11 for Chelsea from March onwards.
Cahill, Stones, and Walker offers a nice balance of experience, technical ability, and pace. Assuming that after months of chopping and changing Southgate wants to nail down his defensive partnerships before the World Cup starts, these three should play the full 90 minutes. That spells trouble for goal-shy Nigeria, making an England clean sheet one of the more attractive betting options.