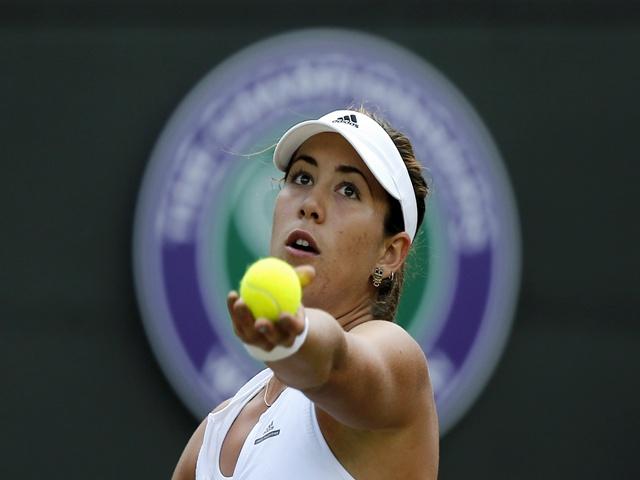 Garbine Muguruza has significantly over performed on break points at SW19...
Thursday's action at Wimbledon sees the ladies semi-finals take place, and with both matches available on Betfair Live Video, our tennis columnist, Dan Weston, assesses them in detail...

"On grass in the last 12 months, Muguruza has won 61.6% of service points, and 41.7% on return, and these numbers are far from elite level. Indeed, Rybarikova (60.9% and 47.1% respectively) has a higher combined percentage and also does if we extend our sample to 24 months."
No clear favourite for ladies singles title

As Wimbledon gets to the latter stages, we have two superb looking semi-finals on the ladies side, and unlike the men's event, where Roger Federer is a heavy favourite to take the title, there is no clear favourite for the women's event.

At the time of writing, Garbine Muguruza is the slight [2.68] outright winner market favourite, with Johanna Konta at [3.45] and Venus Williams [4.2] narrowly behind the Spaniard. Magdalena Rybarikova, at [9.2] is the outsider of the quartet, but still has over a 10% implied chance of winning the tournament.
Muguruza over-rated against surprise package Rybarikova

In the first semi-final today, due to take place at 1pm UK time, Muguruza takes on Rybarikova, and as I mentioned earlier in the event, I predicted that Muguruza would be over-rated later in the competition.

This is indeed the case today, with her priced up as a strong [1.40] favourite to progress against the surprise package of the event, Rybarikova, but when stats are analysed, it's tough to make a case for Muguruza being such a short price.
Muguruza's grass data far from elite level

On grass in the last 12 months, Muguruza has won 61.6% of service points, and 41.7% on return, and these numbers are far from elite level. Indeed, Rybarikova (60.9% and 47.1% respectively) has a higher combined percentage and also does if we extend our sample to 24 months.

Furthermore, Rybarikova also schooled Muguruza 6-3 6-1 on grass several years ago in Birmingham and it is incredibly difficult to make a case for Muguruza at such a low price, unless you are somehow convinced Rybarikova will choke at her first Grand Slam semi-final.

In fact, readers are probably wondering with such mediocre stats on grass, how Muguruza has got to this stage, dropping just one set, and tournament data has the answer.
Tournament data shows Muguruza has over performed on break points

I analysed data for each player in the semi-finals and found that Muguruza, with a combined 108.3% service points won (65.26% on serve, 43.04% on return) actually ranked third out of the remaining four for this metric. However, Muguruza was 129.52% combined for break point save and break point conversion percentages, significantly in excess of any other player in the field.

This lets me draw an easy conclusion - Muguruza isn't the best player in the field, but she has been the best - by far - at key points, and her win over Angelique Kerber in the fourth round was a good illustration, with the German actually losing despite having more break point chances than Muguruza.
Is Muguruza's over performance variance or mental strength?

The question is this - has Muguruza benefited from positive variance, or is the huge over performance on break points due to her mental strength?

Given the fact that she's slightly over performed on break points this year, and did so also in 2015 and 2016, you could certainly make a case for her being stronger mentally than the average player on the WTA Tour, but the incredible extent that she has over performed compared to expectation in the last fortnight at SW19 suggests that she has benefited from positive variance also - the answer, as with many things in life, is probably somewhere in between.

Given this, we can still say that Muguruza is flattered a little by her performances at Wimbledon this year and therefore Rybarikova at [3.45] is today's recommendation, with the handicap line of [2.28] giving the Slovak a 3.5 game head start can also be considered for those who are a little more cautious.
Konta slight market favourite against Williams

Moving on to today's second semi-final, the market has found it difficult to split both Venus Williams and Johanna Konta, with the Brit now a [1.84] favourite to progress. My model largely agreed here, pricing her at [1.82].

Having said this, it is clear that the American veteran, Williams, is far from without a chance based on the tournament data. Konta (56.64%) has the lowest game win percentage of all the players left in the event, the worst return points won figure (39.01%) and also the lowest serve and return points won combined figure (107.95%).

Conversely, Williams (111.19%) has the highest combined figure for the event, as well as the best service points won figure (69.08%). Where Williams has under performed is break point conversion, taking a mere 33.33% of her chances on return, although Konta (36.17%) is barely any better.

Personally, I feel this second match is probably best watched, as opposed to having much of a financial interest in, and it certainly will be a good prospect, with the British national media getting rather excited about Konta's chances of glory.

Recommended Bets
Back Magdalena Rybarikova at [3.45]

***

Follow Dan on Twitter @TennisRatings
New on the Betfair Sportsbook – Tennis Player Stats
Now it's possible to see a player's age, nationality, height, ranking, previous tournament record and head-to-head record! Just click on the 'Player Stats' tab on the match pages.