Davis Cup Betting: If Bedene wins his appeal, Britain must pick him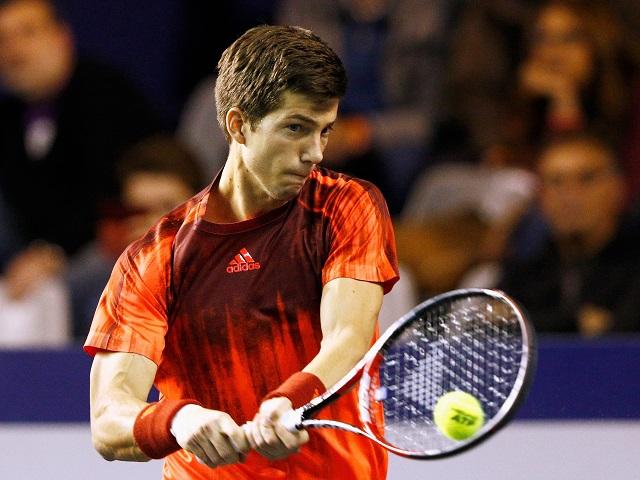 Rapidly improving - Aljaz Bedene has hit a career high ranking
Aljaz Bedene's rapidly improving form is opening a can of worms over who takes the second singles role behind Andy Murray in the Davis Cup final. Ralph Ellis says lessons must be learned from England's rugby world cup diaster...

"Murray has set his heart on winning the Davis Cup, and Britain are 1.454/9 to achieve it. It won't be that easy, playing away from home and on clay."
Among many bad decisions made by Stuart Lancaster in the run-up to the disastrous Rugby World Cup campaign, refusing to pick European Rugby Player of the Year Nick Abendanon was among the most ridiculous.
Because he plays his club rugby in France he could only be included, under RFU policy, if the coach deemed it to be "exceptional circumstances". Quite what could be more exceptional than a World Cup on home soil I'm not sure. But Lancaster still chose to ignore him.
What really made it daft, though, was the reason he gave. Bringing in Abendanon or Steffon Armitage, who was also in outstanding form for Toulon, would "risk upsetting the outstanding team spirit in the group".
The answer to that should have been that any team that wouldn't welcome better players into the camp doesn't actually have an outstanding team spirit. It is full of people thinking only of themselves. And it is a thought worth remembering as Aljaz Bedene prepares to argue his case to be allowed to play for Great Britain in the Davis Cup Final.
The Slovenian born 26-year-old who is breaking into the world's top 50 will argue his case to be available for selection in front of the ITF in two weeks time. Granted British citizenship in March, he is at the moment excluded because several years ago he played two dead rubber matches under the flag of his old country.
If he wins the appeal, and there's a good chance his lawyer will argue it right, he could go straight into the Davis Cup final against Belgium at the end of this month.
Bedene himself has showed his rapidly improving form by beating Marcel Granollers in straight sets in the BNP Parisbas Masters, meaning his ranking will rise to at least a career high of 46.
Next challenge is to face giant John Isner in the second round tomorrow, and he is 3.9 to go further.
Already the arguments are being raised that it would be "not fair" on James Ward or Dan Evans who have shared the singles roles with Andy Murray so far. And strangely it seems even Bedene himself has been sucked into the same way of thinking. "I would talk to all of the other boys just to see how they feel about me joining the team for the final," he said.
Well sorry, but the only member of the team he needs to listen to is Murray himself. Way back when bringing Bedene into the side was first a possibility, Britain's one world class player laid out the hard truth. "If he is available I would hope the guys below him in the rankings would use it as motivation," he said. "They are going to have to work harder to prove themselves."
That's how top level sport - or come to that competitive sport at any level - ought to work. You get picked because you are the best available and for no other reason.
Murray has set his heart on winning the Davis Cup, and Britain are 1.454/9 to achieve it. It won't be that easy, playing away from home and on clay, and if captain Leon Smith wants to call in a player who is in the top 50, and the ITF say he's allowed to, he should do it.
Stuart Lancaster's errors showed that if you want to win World championships, you can't afford a cosy club, you have to have the best. The tennis team should not make the same mistake.
Discover the latest articles