Brexit Latest: If you want to back Brexit, back No Deal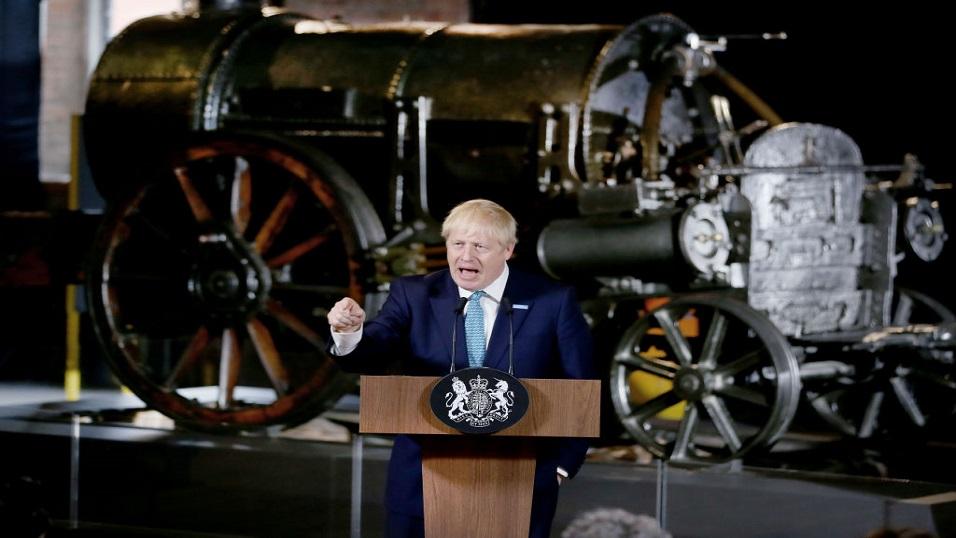 Johnson's proposals are primarily about his party's electoral interest
As the EU consider Boris Johnson's new Brexit proposals, Paul Krishnamurty suspects they are merely an electoral tactic and always bound to fail...
"These developments have not altered my view that this is merely political theatre intended for a domestic audience - to blame the EU when no deal can be reached."
At last, four weeks from the Brexit Date, we know what Boris Johnson considers to be a good withdrawal deal. The task now for the EU, media, parliamentarians and punters, is to decide whether it has any realistic chance of success.
The PM laid out his plan to the Tory party conference yesterday, hours after the EU received the first draft. Check out this BBC analysis for the full details but in short, Johnson has proposed an alternative to the Irish backstop that would involve customs checks away from the border, and leave Northern Ireland at least temporarily in the single market, whilst mainland Britain leaves it.
Today PM @BorisJohnson has set out a fair and reasonable compromise for replacing the backstop so we can get Brexit done by 31 October.

https://t.co/V0Ay8MRmu3

Read the PM's letter to the EU pic.twitter.com/JgFLpoNjUx

? UK Prime Minister (@10DowningStreet) October 2, 2019
Ireland unlikely to be convinced
While the EU have acknowledged it to be a serious proposal, the early indications are not promising for an imminent deal. It is very unlikely to be acceptable to Ireland - countering the spirit and probably letter of the Good Friday Agreement. Nor does it address EU concerns about smuggling and lacks detailed proposals regarding technological solutions.
Jonathan Powell, Chief of Staff to the Tony Blair government and key architect of the Northern Ireland peace process, could not have been more damning about the plan's workability and the PM's good faith.
A hard border undermines the basis of the Good Friday Agreement - Jonathan Powell told us in August.

But what does the former Northern Ireland negotiator make of reports of the PM's latest offering on the backstop? He joins us at 22:30https://t.co/Qhrwo8Aank#Newsnight pic.twitter.com/lr4XBw4l47

? BBC Newsnight (@BBCNewsnight) October 1, 2019
Johnson plan smacks of an electoral ploy
These developments have not altered the view I've been laying out for months - that this is merely political theatre intended for a domestic audience - to blame the EU when no deal can be reached, for 'instransigence'. Buzzfeed report that Tory ministers are already being told to call the EU 'crazy'.
The Irish solution is anything but that and might actually represent the worst of all worlds. It creates an extra border with the UK, ignores those complaints about breaking the GFA but ensures the NI Assembly will get a say every four years. A repeat incident liable to trigger a divided island into sectarianism and making a unity poll extremely likely. I expect the EU to retain their commitment to solidarity with Ireland, who will reject it.
Nevertheless, the talk in England is of parliament potentially voting for this deal. Michael Gove claimed there was a majority for it, although I suspect he has only canvassed Tories and DUP. Jeremy Corbyn was clear it didn't meet Labour demands ensuring current standards on labour and environmental standards.
Would this really appease Brexiters?
Nor is it truly clear that, even were Ireland and the backstop to be magically resolved, hardline Brexiters wouldn't find another complaint. The £39BN divorce settlement, for example. Predictably, Nigel Farage wasn't impressed.
Boris only wants to change one part of the Withdrawal Agreement.

Despite his words there is no guarantee that we will leave the customs union, and any future trade deal needs good faith from the EU side.

It's like putting your head in a crocodile's mouth & hoping for the best.

? Nigel Farage (@Nigel_Farage) October 2, 2019
Here's how I see the next few weeks panning out and the implications for various Betfair's markets. I do not expect a deal to be done by the EU Council meeting on 17th October. In fact, I don't believe Johnson and Dominic Cummings want one - it would spoil the theatre and revive those other problems their fellow Brexiters have.
Showdown over Benn Act looming
Therefore, the showdown they have gamed out will happen. The new Benn Act requires the PM to seek an extension to Article 50. Johnson won't sign it. His Queens Speech, set for 14th October, will already have failed before that EU Council showdown.
At some point during that week, Labour will call a Vote of No Confidence in the government. This is available to back at 1.548/15 to take place in 2019 - rock-solid in my view. If and when that materialises, I'll analyse its chances of success.
Even then, what happens next is extremely unclear. The government could fall and be replaced by a caretaker administration that signs the extension and triggers a general election. But if it fails, Johnson stays in charge. I would be amazed if he asks for an extension, as it could destroy his credibility and the Tories' electoral prospects.
Perhaps in that scenario, he sets an election date after 31st October and makes his opponents take implementation of the Benn Act through the courts. That would allow the Tories to frame the election as 'Parliament versus the People', with his opponents forced to own the Brexit delay at a moment of maximum public engagement.
Extension and election the likeliest outcomes
To be clear, I do not think Brexit will happen on 31st October but the likeliest way it could is with no deal. Yet at 5.85/1 that outcome is much bigger odds than the simple exit, or indeed anytime in 2019. The only alternative to no deal is a deal - but that first requires the EU to agree. The Meaningful Vote is rated 30% likely to pass in 2019 at odds of 3.39/4.
If the EU did agree, there is a narrow path to a parliamentary majority. As this tweet from ex-Tory Remainer Nick Boles demonstrates, a number of MPs could end up voting for anything just to avoid no deal. Plus Johnson has offered the MPs he sacked a way back into the party if they back it.
Johnson's proposal is flawed. It would be much better for the UK as a whole to stay in the Single Market as envisaged by Common Market 2.0 But above all I want to see the UK leave the EU with a deal. So I must compromise. I would vote for this deal if the EU accepts it.

? Nick Boles MP (@NickBoles) October 2, 2019
Before playing any of these related markets, note the date differentials. The 31/10 deadline can be missed but both the No Deal and Meaningful Vote options could still happen, theoretically at least, this year.
How so? Well, the Tories could win a majority and immediately exit on no deal having repealed the Benn Act. Or, in theory, the MV could win after further changes later this year, under this or the next government.
I don't rate either likely at all. There will be precious little parliamentary time left this year following an election. Either A50 will be extended into 2020 or Britain will leave without a deal on 31st. Were Labour to take power, the new deal wouldn't be ready until next year and would require a confirmatory referendum. I'm a layer of both a 31/10 Brexit and a successful Meaningful Vote.
However No Deal in 2019 could yet go much shorter as the drama develops and will remain relevant until A50 is actually extended. If you're prepared to take a small risk about an imminent deal getting through parliament, it might make sense to hedge between two markets - lay Yes in 31/10 at 3.711/4, Back No Deal in 2019 at 5.8. If the first indeed loses, we can pocket the difference between the two at worst, whilst retaining a slim chance of no deal.

Follow Paul on Twitter and check out his website, Political Gambler.
Bet on UK politics here
Brexit on 31/10/2019
No Deal Brexit in 2019
Brexit Date
Boris Johnson Exit Date
Prime Minister after Boris Johnson
Year of Next Election
When Will Next Election Take Place?
Meaningful Vote to pass in 2019
Most Seats at Next General Election
Second Vote of No Confidence in 2019
Article 50 to be Revoked
First to Happen - Brexit or General Election?
Discover the latest articles
Read past articles