World Cup Warm-Up: Things could get Messi for undercooked Argentina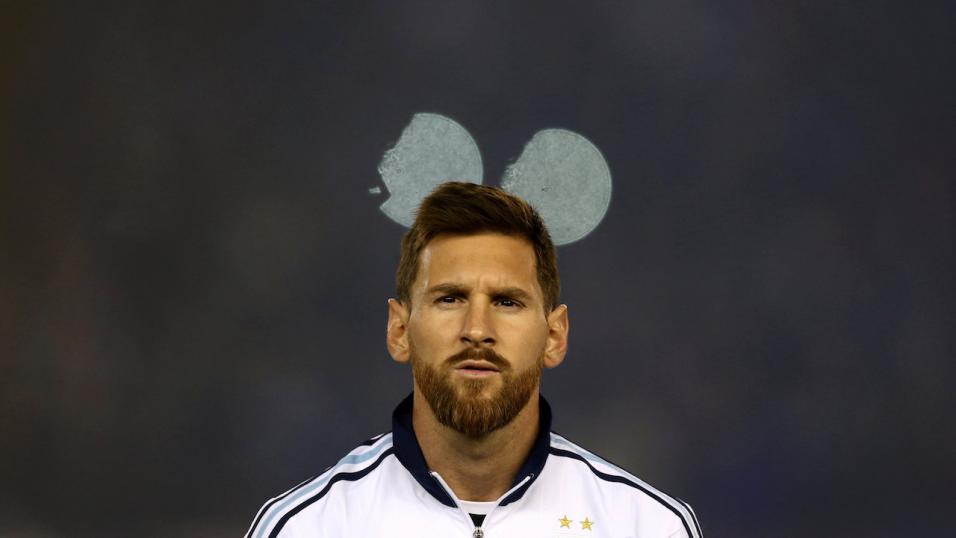 Something something Mickey Mouse team
Jack Lang runs the rule of the Albiceleste, who look rather dependent on one man in particular...
"Could Argentina win the thing? It's not beyond the realm of possibility. But as things stand – and you should bookmark this page now – they look just as likely to fudge things up completely"
It's fair to say that Argentina have been busy since the last World Cup. Two Copa América finals, two Copa América final defeats, the retirement of their best player, the unretirement of their best player, one of the least convincing qualifying campaigns in living memory... and that's before we even get to their prolific managerial turnover. Rumour has it that there's an adult male living in the outskirts of Rosario who hasn't yet had a stint in charge of the Albiceleste - a shameful clerical error that officials should look to rectify at their earliest convenience.
This being an article about Argentina at the World Cup, we are of course legally obliged to ask the following question: Can Lionel Messi really be considered the greatest player ever without winning football's biggest prize? The answer, quite obviously is yes.
All clear? Good. Now that's out of the way, we can get on with the minimally more serious business of laughing at Argentina's defence.
Don't look behind you
The Albiceleste actually kept things fairly tight in qualifying - only Brazil conceded fewer in the CONMEBOL - but recent friendlies have set alarm bells ringing. Nigeria stuck four past them late last year, but that was just a warm-up for the meeting with Spain in March, which provided six reasons to be skeptical about their chances this summer.
Nicolás Otamendi and Federico Fazio are decent enough players in the right context (don't laugh, Tottenham fans). But this isn't the right context: Javier Mascherano doesn't provide the cover he once did, there's no top-class left-back, and the overall lack of pace means that Jorge Sampaoli's trademark blitz-ball - perfected with his high-pressing, high-risk Chile side - is not really a goer.
To make matters worse, an injury to Manchester-based bench expert Sergio Romero means Sampaoli must choose a new first-choice goalkeeper on the eve of the tournament. Willy Caballero, Franco Armani and Nahuel Guzmán are hardly novices, but they only have eight caps between them and precisely zero World Cup experience.
Messi and messiness
The options are rather more plentiful at the other end of the pitch, to the extent that Mauro Icardi, Diego Perotti, Javier Pastore, Ángel Correa and rising star Lautaro Martínez failed to even make the squad. Instead, it's the usual suspects - Messi, Gonzalo Higuaín, Ángel Di Maria, Sergio Agüero - plus wildcard winger Cristian Pavón and Paulo Dybala, whose late-season purple patch came just at the right time.
Dybala has yet to score for his country and caused a minor ruckus when he conceded that he found it hard to play alongside Messi. But that was a refreshingly honest assessment and pointed to the main issue with this side: the structure - or lack thereof - around the side's talisman. Argentina are not just overly reliant on Messi; they also struggle to create the ideal conditions for him to shine.
Sampaoli will be well aware of this, and pointedly claimed that he would willingly swap warm-up matches for time on the training ground, the first few months of his stewardship having been devoted more to fire-fighting than long-term planning. Yet the buck will ultimately stop with him if Messi continues to spend a sizeable chunk of each game dropping into the centre circle in search of the ball.
Group D full of banana skins
The outlook isn't hugely bright for Argentina, then, and if any coach at this World Cup is going to spend his evenings praying for rapid advances in cloning technology, it is surely Sampaoli. Yet the 58-year-old does have the trump card to end all trump cards, and for all the background issues, Messi is more than capable of winning games single-handedly - see the 4-0 warm-up win over Haiti on Tuesday night.
This will be his fourth World Cup, and while there's every chance he'll still be knocking around in 2022, running games if not running fast, this does feel like D-day. That will only reinforce his sense of purpose, and 2014 was solid proof that Messi regards useful team-mates as an optional extra rather than a standard feature.
Their group is tougher than it was four years ago, however: Nigeria won't be running scared after November's meeting, Croatia are a fine side on their day, and Iceland could be a tough nut to crack. All will have watched Argentina's constipated displays in qualifying and all will be aware that their threat often boils down to one eleventh of their starting line-up.
Could Argentina win the thing? It's not beyond the realm of possibility. But as things stand - and you should bookmark this page now for when this comes back to haunt me - they're just as likely to fudge things up completely.
Recommended bets
Lay Argentina to qualify from their group at [1.18]