This Week in Football History: The 1962 European Cup final and the curse of Bela Guttmann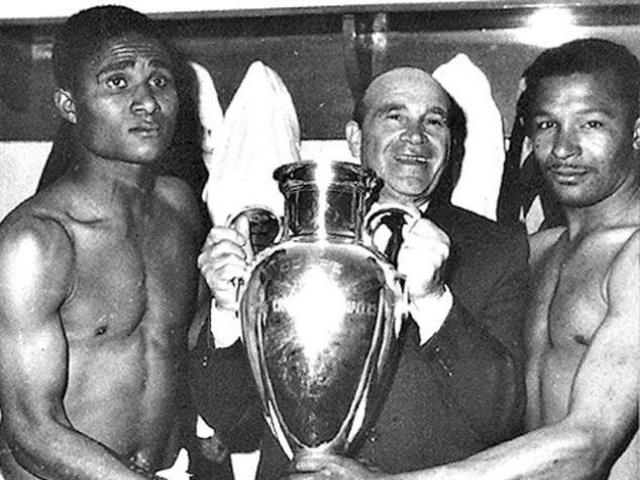 Eusebio (left), Bela Guttmann (centre) and Mario Coluna (right) celebrate Benfica's 1962 European Cup triumph
The early days of the European Cup were dominated entirely by Real Madrid. But in 1962 European football saw a changing of the guard when Benfica and Eusebio took on Ferenc Puskas, Alfredo Di Stefano et al. Adrian North looks back on the best pre-Champions League European Cup final, and the curse that has come to haunt Benfica ever since...
"This fluid transition from the WM to the 4-2-4 saw Benfica turn around a 3-2 half-time deficit, following a spectacular first-half Puskas hat-trick. After 50 minutes Coluna equalised from 25 yards before Eusebio took centre stage by winning and scoring a penalty after 64 minutes and smashing in a 30-yard free-kick five minutes later."
2nd May 1962 - Benfica 5-3 Real Madrid: Olympisch Stadion, Amsterdam.
During the first decade of European Cup history, the ruling footballing powers of the continent came almost entirely from the western Mediterranean. With the exception of Stade de Reims in 56' and 59' and Eintract Frankfurt in 1960 the first ten European Cup finals saw representatives from only Italy, Spain or Portugal.
And it was the Iberian peninsula above all that saw the biggest boom in post-war European football. A boom centred on two clubs - Real Madrid and Benfica.
In Madrid, under the presidency of Santiago Bernabeu and the occasional watchful eye of Francisco Franco, Real built a team throughout the 50s that came to dominate club football in a manner never to have been replicated before or since. Alfredo di Stefano came over from Colombia in 1953 and with the arrival of Ferenc Puskas in 58' Madrid won the first five European Cups.
In hindsight, the rise of Real Madrid in the late 50s was hardly surprising. Emerging from the backdrop of the Spanish Civil War, they had the most money, the best players and the backing of Europe's most powerful dictator. But over in Lisbon, another footballing revolution was brewing under the regime of Europe's second most powerful fascist leader, Antonio Salazar.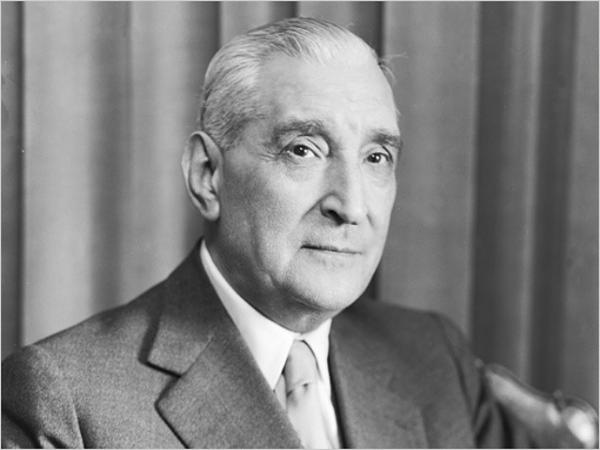 Antonio Salazar
In Spain and Portugal the preservation of a purely fascist state in post-war Europe was slowly becoming economically impossible. As a solution Franco and Salazar opened up their countries to a mass of returning migrants from all over Europe (and Angola and Mozambique in Portugal's case), and perhaps more importantly, to tourism.
With the tourists and returning migrants came a growing passion for football across Iberia. In Madrid, this foreign influence, manifested by Di Stefano and Puskas above all, formed a coalition with the old ways of Bernabeu and Franco, leading to football's first great club dynasty. Portugal meanwhile, was still playing catch up.
Just as Real Madrid were ruling the continent Portugal began on their own journey of footballing metamorphosis. Returning workers from the colonies of Angola and Mozambique, along with the increasingly oppressed and marginalized peasantry and working class of Salazar's regime saw football as an escape from the trials of life. And so Salazar, who had no great love for the game, was forced to accept the emergence of football in Lisbon and Porto. But rising above Sporting Lisbon and FC Porto were Benfica - the team that took Portuguese football to unprecedented heights.
Benfica, owned at the time by coffee magnate Mauricio Vieira de Brito, began their meteoric rise following De Brito's signing of the great Hungarian coach Bela Guttmann in 1959, who's unique coaching methods of man management, rigorous fitness programs and tactical innovation and education had already played indirect roles in the success of Hungary's Mighty Magyars and Brazil's 1958 World Cup winning squad.
It was Guttmann, along with Mozambican born inside-right Mario Coluna, and Angolan born players Joaquim Santana and Jose Aguas who served as the foreign contingent for Benfica's first European Cup winning side in 1961. A 3-2 victory over a Helenio Herrera influenced Barcelona in the final saw the westward shifting of footballing power across Iberia for the first time. A shift that was solidified later that summer when Benfica poached a Mozambican prodigy named Eusebio da Silva Ferreira from under the noses of rivals Sporting.
Eusebio was a revelation, scoring 27 goals in 30 games during his first season before lining up to face Puskas, Di Stefano, Gento and Co. in the free-flowing 1962 European Cup final on May 2 at the Olympisch Stadium in Amsterdam, which depending on your belief in the supernatural is either the best or worst night in Benfica's history.
The game was an epic, far more exciting than the more celebrated 1960 final (which was really just Madrid hammering a helpless Eintracht Frankfurt).
Both Benfica and Madrid lined up on paper in a traditional WM formation. But where Madrid were largely rigid in their tried and tested formation, Guttmann's Benfica transitioned into the more innovative 4-2-4, the formation pioneered by Hungary and Brazil, as the game wore on. Fernando Cruz would drop into the defensive line to form a flat back four, and playmaker Coluna would also drop back into midfield, partnered by Domiciano Cavem.
This fluid transition from the WM to the 4-2-4 saw Benfica turn around a 3-2 half-time deficit following a spectacular first-half Puskas hat-trick. After 50 minutes Coluna equalised from 25 yards before Eusebio took centre stage by winning and scoring a penalty after 64 minutes and smashing in a 30-yard free-kick five minutes later.
Benfica and Eusebio had snatched the heart of European football from Madrid and taken it to Lisbon. Puskas and Di Stefano were 33 and 35-years old respectively with their careers coming to an end while Eusebio was now Europe's new superstar and poster child, outshone on the global stage only by Pele.
But despite the world seeing the end of Madrid's reign and the talents of Eusebio for the first time, the legacy of the 1962 European Cup was defined by the actions of Guttmann the following morning.
Guttmann, who had never served as manager of a club for longer than two years prior to his appointment by Benfica, went to see the board of directors the next morning and demanded a pay-rise to stay on as manager. Incredibly, especially considering he had just led Benfica to consecutive European Cups, the board rejected his offer.
Guttmann, as a parting gift angrily declared "Not in a hundred years from now will Benfica ever be European champions again!".
And in the following 52 years Benfica have been defeated in eight European tournament finals. Since 1962 the European Cup has seen Benfica lose finals to AC Milan in '63, to Inter in '65, to Man Utd in '68, to PSV in '88 and to AC Milan again in 1990. Meanwhile, in the 1983 Uefa Cup final Benfica lost 2-1 to Anderlecht, before losing 30 years later in the same competition, and by the same scoreline to Chelsea, and their eighth European final defeat came last year on penalties to Sevilla, also in the Europa League final.
Just 48 years left to go...

Read past articles