Rivaldo Exclusive: Messi and Barcelona could enjoy swansong season
Has Messi played his last Clasico?
Betfair Ambassador Rivaldo says Messi and Barcelona will make it work if he stays and risks the wrath of Everton fans by saying James Rodriguez is too big for the Toffees...
"James Rodriguez is being linked with a move to Everton, but with all the respect to them, I still think he's a big club player... "
Negotiations are continuing between Lionel Messi and Barcelona, as player and club try to reach an agreement about his future. If Messi stays for at least one more season it won't be a problem.
Blaugrana fans still have lots of love for him and know that he is a legendary player who made and can still make the difference at the club, so things can still end up nicely.
A lot can happen in the next few weeks - he can leave, he can stay for one more season or even extend his contract, so we must wait. But if he stays at the club I'm not imagining a scenario of fans booing him at the Camp Nou or anything similar, not at all.
Bayern was the last straw for Messi
Lionel Messi may have decided to leave Barcelona after the humiliation against Bayern Munich in the Champions League. After a season of internal problems at Barca and losing the La Liga title to Real Madrid, the 8-2 defeat was the last straw that made Messi want to leave.
He has taken responsibility for the team for too long and is probably tired of the pressure. The club have signed many players in the last couple of seasons, but no one has stepped up to help him and relieve some of his burden.
Messi's father met with Barca's president Josep Bartomeu yesterday and I think the player made the right decision in not being present. Tense negotiations could damage the player's relationship with Barca's board which would be unhelpful while there's a chance he will stay at Barca.
Sad to see Barca stars leave through the back door
Over the years too many star players have left Barcelona in tough circumstances and through the backdoor. It happened with Romário, Ronaldinho and also with me as I left the season after winning the World Cup with Brazil.
I had one more year of my contract left, but the club offered me the option of terminating my contract or joining Lazio on loan, with the chance of returning to Barca despite knowing that Louis van Gaal didn't consider me part of his plans and I had already said I wasn't interested in working with him.
The club preferred the manager to me when I was still playing good football and I left that season for free. Real Madrid and AC Milan made their proposals and I accepted the best one - made by the Italians.
Rodriguez is too big for Everton
James Rodriguez is being linked with a move to Everton, but with all the respect to them, I still think he's a big club player and, if he stays at Real Madrid, for another season he might well regain his place in the team.
I really admire him and honestly still think he could regain his place in Madrid's starting 11, so I don't think a move to Everton would be positive for him in this phase of his career.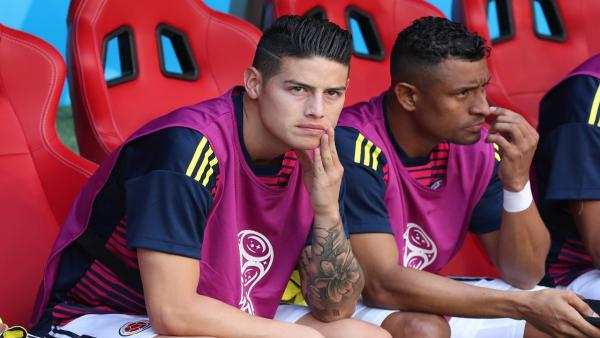 At the same time, it looks like Allan will sign for Everton and that might be a great chance for the Brazilian player to compete in one of the world's best leagues.
Based on the quality he has been showing lately, I believe he has the ability to make a good impression in Carlo Ancelotti's team, so it might turn out to be a great step in his career.
Suárez-CR7-Dybala could form a threatening trio
Luís Suárez is reportedly negotiating to join Juventus where he could be part of an important trio with Cristiano Ronaldo and Paulo Dybala which would certainly generate lots of goals for La Vecchia Signora.
If that transfer happens, Juventus will have made an excellent signing for next season and give them a better chance of winning the Champions League.
Neymar is right to stay at PSG
After everything he went through since his arrival at PSG, I think Neymar has to be congratulated for reaching the Champions League final after three seasons with the club.
He had a tough time in France after he tried to return to Barcelona, being booed at his own stadium, but he managed to turn things around and I admire him because of that.
Today, he is totally focused on the club and playing well, so the fans are supporting him. He has no reason to leave the club now, especially given the chaos at Barca.
PSG shouldn't make too many changes to their squad for next season, so their understanding will improve a bit more and they should be strong contenders again in the Champions League.
Good decision by Brazil Football Confederation to award equal pay to both men and women
I think it is a good decision from CBF and their president by equalling salaries between both genders. This will motivate even more women players to keep doing their job and could also be an example for other countries to adopt such measures. I hope that other countries could follow our country's decision and also adapt equality on their nation's football.
This is a totally fair decision from CBF and I don't see it bringing any kind of polemic, after all no one should criticise it as they are playing the same sport and deserve to have the same rights, so the president acted well.
It's important to give the example and start somewhere to try to give a sign to others to also start developing women's football, and putting both genders together in terms of payment on the national teams is a great step towards the future.
In the past, football was predominantly a male sport, but women are now showing their talent and capability of producing good performances and producing entertainment also, so this is a decision that could be important in the future of women's soccer in Brazil.
Clubs should try to follow the example from CBF and focus more on women's soccer, adding that rivalry to the matches, bringing the fans to the stadium to support the girls, so the CBF president's decision could not just be important in the present, but also in the future, calling other football authorities to focus on women's football development.

Discover the latest articles
Read past articles