Premier League Tactical Preview: Ramsey v Silva and other key battles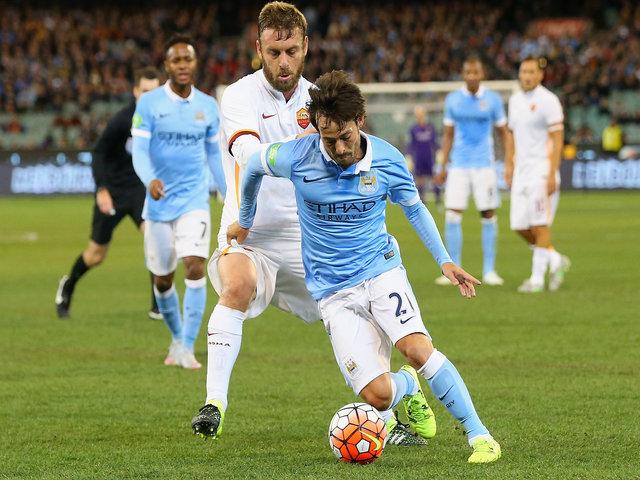 David Silva may thrive in the pockets of space vacated by Aaron Ramsey
Alex Keble returns with his regular analysis of four key tactical battles ahead of the weekend action in the Premier League, including why Villa might finally record a win and how Ramsey could be Arsenal's downfall...
"In a tight, congested game of quick-tempo interchanges and restricted space, the slightest positional indiscipline could settle the encounter; as such, Aaron Ramsey's propensity to charge forward could be Arsenal's downfall."
Newcastle v Villa
Villa's wingers v Jack Colback
Saturday, 17:30
Live on Sky Sports 1
Newcastle United's back-to-back victories may indicate a revival, but closer inspection of their results suggests otherwise; Steve McClaren's team are best suited to the psychological position of underdogs, and struggle when expected to dominate games. As a result, Aston Villa's wingers could flourish in the huge gaps between defence and midfield that open up when Newcastle attempt to play attacking football.
Newcastle have earned just two points from the six matches in which they have held the majority of possession this season, and 14 points from the 10 games in which they have enjoyed less than 50%. In the recent victories over Spurs, Liverpool, and Bournemouth, Steve McClaren abandoned the open shape and short-passing system he has tried to instil at St James' Park; in a narrow, compact, and deep shell, defending is simplified and Newcastle's haphazard players cope much better.
At home against the league's bottom club, Newcastle will succumb to the pressure to attack. This will suit Aston Villa, who complete more dribbles (12.0 per match) than any other team bar Arsenal. Remi Garde has instructed Villa's wingers to play far more narrowly than under Tim Sherwood, which should allow them to work in the too-large spaces between their opponent's defence and midfield (Newcastle have conceded more goals from outside the box - six - than any other Premier league team).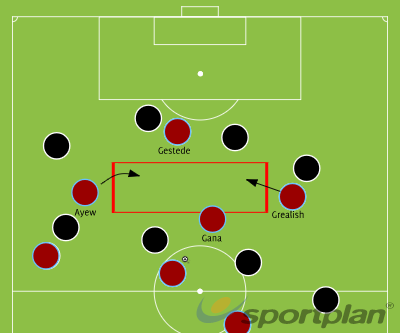 Jack Colback must work hard to close out the gaps and prevent the likes of Jack Grealish (2.1 dribbles per game) and Adama Traore (2.3 dribbles per game) from storming towards goal unchallenged.
Recommended Bet
Back Villa to win at 3/1
Arsenal v Man City
Ramsey v Silva
Monday, 20:00
Live on Sky Sports 1
Arsenal have reacted well to their latest injury crisis, but this weekend's game against Man City is the first real test of their title credentials without Santi Cazorla and Francis Coquelin controlling midfield. In a tight, congested game of quick-tempo interchanges and restricted space, the slightest positional indiscipline could settle the encounter; as such, Aaron Ramsey's propensity to charge forward could be Arsenal's downfall.
Arsenal have conceded just once since Ramsey was moved to central midfield (an own goal by Olivier Giroud), but the game against Olympiakos was the only contest in which they were threatened. Here, Ramsey's commitment to attack and poor defensive work (five missed tackles) allowed Olympiakos to dribble through the centre too often.
David Silva is back in a Man City shirt, and he may be given the opportunity to return to form if Ramsey does not show enough discipline. Silva will be supported by the infield-drifting Raheem Sterling, and together these two could overwhelm Mathieu Flamini on the counter. Silva has amassed six assists in seven matches this season, creating twice against Chelsea in a game defined by Cesc Fabregas's absence from defensive positions.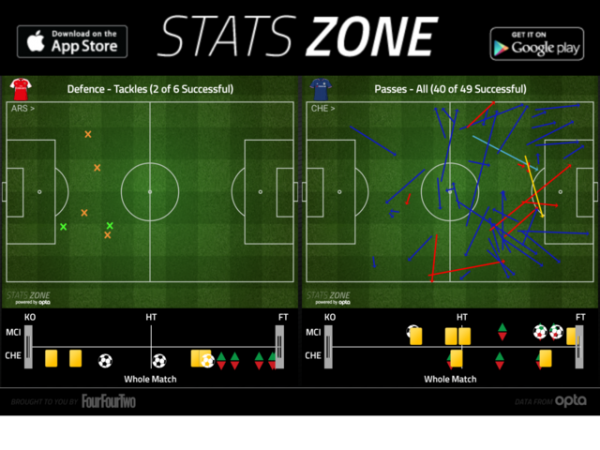 Recommended Bet
Back the draw at 23/10

Everton v Leicester
Deulofeu v Albrighton
Saturday, 15:00
Leicester City's excellent defensive shape against Chelsea typified their work this season and, with the TV cameras on Claudio Ranieri's team, should help bring mainstream attention to this underappreciated aspect of their game. However, the narrow model - that relies on Marc Albrighton to shuttle between central and left midfield - could be vulnerable to the way Everton and Gerard Deulofeu utilise width.
Leicester play in a very narrow shell with minimal gaps between the lines of defence and midfield, in order to congest the central zone and concede the flanks (confident that Wes Morgan and Robert Huth can clear any crosses). Oscar was crowded out of the game, and Chelsea's attacks were nullified. Key to this is both wingers playing almost as central midfielders when off the ball, with Albrighton in particular sprinting between two positions constantly.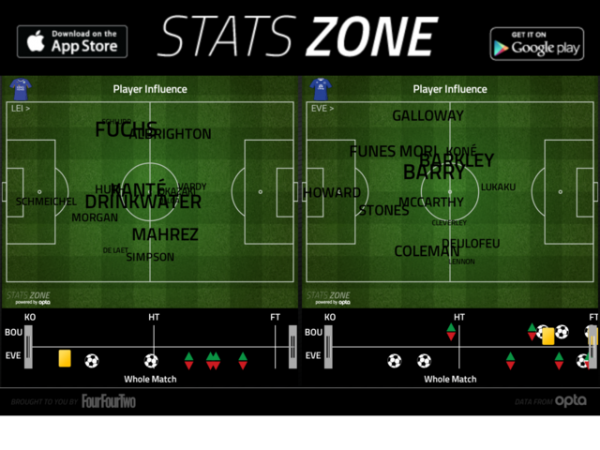 However, Deulofeu is outstanding from the wide positions that Leicester leave unoccupied. He has amassed seven goals and assists in his last seven games, largely from an extremely wide position on the right touchline; and if he is allowed space to cross, then Romelu Lukaku could outmuscle Morgan, with Huth suspended for this one.

Recommended Bet
Back Everton to win and over 2.5 goals at 9/5

Chelsea v Sunderland
Oscar v Allardyce's 5-4-1
Saturday, 15:00
Don't expect a classic. Chelsea have scored just twice in their last five league games, and looked particularly static against Leicester City on Monday night (a team playing in a similar defensive shape to Sunderland). Meanwhile, Sam Allardyce's team have scored four goals in their last five. Chelsea will dominate the ball, but could struggle to find gaps in between Sunderland's new flat five defensive shape.
Sunderland's games against Southampton and Arsenal offer a clue as to the tactical pattern we will see at Stamford Bridge; they held 38% possession against the Saints, and 32% at the Emirates. In the absence of the injured Lee Cattermole, Sunderland have reverted to a 5-4-1 formation that restricts space in a very simple model. This is far from the ideal opponent for confidence-stricken Chelsea to face.
Diego Costa has begun making runs into the channels again, but elsewhere the attacking patterns are static and lifeless; Oscar was unwilling to seek out space against Leicester, whilst Eden Hazard continues to look disinterested under the current coach. Sunderland should be able to hold Chelsea at bay.
Recommended Bet
Back double chance Sunderland/draw at 23/10
Discover the latest articles
Read past articles