India v England T20 Betting: The Alternative Facts that make England a decent bet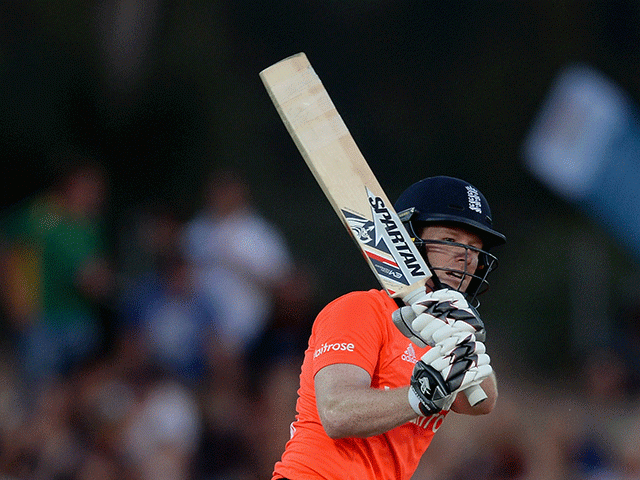 Eoin Morgan hit a century for England in the second ODI against India
A miserable tour of India starts its final chapter in the T20 series, but Ralph Ellis has been looking for reasons for England's cricket team to be more cheerful.
"Tymal Mills will add genuine pace to an England attack which has been a bit one-dimensional in the ODI games."
There are times when you think England's cricket team would fit quite well in the new Donald Trump era of "Alternative Facts". You can almost hear Trevor Bayliss telling us it has been "the best tour of India undertaken by any team, period."
The mainstream media are telling you that we've lost a Test series 4-1, then been beaten 2-1 in the ODIs despite scoring more than 300 each time. But that's just typical of those evil journalists, suggesting that some of the bowling, captaincy and field placing might not have been up to scratch.
If you go with the Alternative Facts then England batted and bowled superbly in the five-day version, hammered an unprecedented number of runs in the white ball game, and were no worse than "a little disappointing" when it came to the bowling.
There were other triumphs among the Alternative Facts too. Ben Stokes, for instance, might not have been trusted to bowl the last over in Kolkata when India needed 16 to win. But according to skipper Eoin Morgan he didn't need any protection from the memories of being hit for four sixes in the last over of the T20 World Cup final.
So now it comes down to a three-match Twenty20 series which starts on Thursday. India are inevitably the favourites, 4.1 to win the series with a 3-0 whitewash.
But I'm actually quite tempted to go with the Alternative Facts and back England at 2.26/5 in the match odds for the first encounter in Kanpur which starts at 11am our time.
For a start there are signs that skipper Eoin Morgan has rediscovered his mojo with the bat at just the right time. His 102 in the second ODI might have been in a losing cause, but it was followed by a promising 43 in the next game and has ended any doubts about his captaincy.
Then there has been the explosive hitting of Stokes, whose 57 from 39 balls in Sunday's game followed an equally belligerent 62 off 40 including five sixes in Pune.
And finally comes the arrival of Tymal Mills, the 24-year-old Sussex fast bowler who will add genuine pace to an England attack which has been a bit one-dimensional in the ODI games.
Left-armer Mills is the epitome of the modern cricketer, flying round the world as a mercenary in the shortest form of the game. Already this winter he's been in Bangladesh, New Zealand and Australia.
Unable to bowl long spells because of a back condition that once threatened not just his career but his ability to lead a normal life, he can be devastating in the four overs that T20 restricts everybody to. He has flown into India after clocking 93mph in two Big Bash League games and looks certain to go straight into England's team in Kanpur.
Given that the bowling, rather than the batting, has been the problem it could make a key difference to the tourists' chances. In his one England game to date he conceded just 22 runs from his four overs against Sri Lanka in Southampton.
The Alternative Facts say there has been only marginal difference between England and India all winter. Just possibly there are now some ways to bridge that gap.
Discover the latest articles