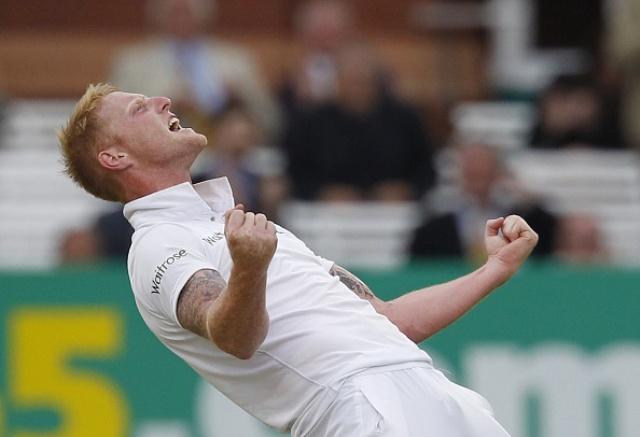 Stokes will boost England on his return but he is one of the few proven top-class talents in the England team
Our cricket correspondent says the England cricket team appear to be getting carried away with their 'success' and says they still have a lot to prove...
"The shorter England get in ODI without having shown that they can, in fact, also bowl brilliantly when under pressure, the better price their opponents become"
There is nothing unusual for England, or the English, to suffer a bi-annual collective crisis. Every major football tournament administrators, managers, coaches, players and fans the length and breadth of the country question their place in the world order following a fresh humiliation.

This is the impact a national sport has on a country's consciousness. Success or failure is one of the few barometers the layman understands when it comes to wondering how proud he should feel of his country. So acute can it be that a win here or a loss there can actually affect economies.

Yet there was something groundbreaking about England's latest exit - and we're not solely talking about defeat by Iceland, a country so tiny that one in ten of its population was in France to offer support. This loss came in tandem with a political, social and economic cluster-calamity the like of which has never been seen.

If one subscribes to the notion that English Brexiteers voted the way they did because of a misplaced arrogance about how great their country could be again (!?), there was something delicious about their multi-millionaire, pampered footballers - the men they revere as papermache deities - being outwitted by a team managed by a dentist.

The response, naturally, has been to blame foreign players. Just as it was the fault of foreigners that some folk have no jobs, flashier cars or 46-inch flatscreen TVs leading, in part, to the referendum results. What has this all got to do with cricket, then? Well, we're getting there.

After the Iceland loss, Wales players were videod celebrating as if they'd won the whole tournament. The same players who either earn their living from English football or, in the case of Sir Gareth of Bale, honed their skills there. Bit rich, I thought. How can it be that England and the English can be hated so?

And then a few days later I finally, truly and unequivocally understood the reason which from Australia to Austria has been trotted out when discussing our brethren. Arrogance. Unfettered, entitled, dim-witted, baseless arrogance.

The lightbulb moment wasn't watching Ian Wright and Lee Dixon answering a question at half-time - when England were losing - from their ITV host whether Joe Hart should play in the quarter-final against France. You have to allow a little bit of room for the lowest common denominators, after all.

It was hearing Paul Farbrace, the assistant coach of the England cricket team, boasting that the national team could call on more than 20 players in ODI and they would still provide a winning combination. What contemptible, conceited balderdash.

Let's put this into context shall we? England have never, ever won a World Cup. In the last six tournaments they have been routinely embarrassed. Or to put it another way, they have failed to uncover more than a couple of individuals capable of playing at the required standard.

By the way, one of the reasons for such inertia was, for a while, blamed on "foreigners". You surely recall the Kolpak controversy which stifled emerging talent in the county game and had our boys hamstrung when attempting to challenge for honours abroad.

But now, just 15 months after the end of the last World Cup when England could only beat Scotland and Afghanistan we are told that England don't just have a XI capable of reversing such pathetic fortune but another one in reserve just in case.

"There's some very exciting people on the fringes and people know they've got to play well to stay in the team," Farbrace said.

"There's probably 21 players who could play in the England side at any time and we'd still be a strong side."

Such hyperbole might be expected if England had just beaten Australia, the world champions. Perhaps coming after a consecutive run of dominance over other pretenders to world domination. Nope.

England, who had won one of their previous three series, duffed up Sri Lanka. A Sri Lanka who were one place above them in fifth in the official ICC rankings. A Sri Lanka shorn of its first-choice bowling attack. A Sri Lanka whose resources and money-starved structure will ensure that it will take years for them to replace Messrs Sangakkara, Jayawardene and Dilshan, the bedrock of an ODI team that actually had experience of winning combinations in most of the World Cups in which England limped home early.

Farbrace's over-eager emissions are like an England football manager - and for this part reader I urge you to suspend common sense - sticking out his chest after winning all three group games to qualify for the knockouts and proclaiming: "Yeah, we've got another 15 lads on the bench who could play and we'd still win."

Crazy. When would any coach or manager honestly believe that he could even make five or six changes to a starting team and still get the result they desperately need? Ahem.

English arrogance is all pervasive, then. In cricket, England are an exciting, emerging team. But that is all they have proved. We know that they can bat brilliantly. We are still not sure whether they can defend a target against a fully-functioning rival.

But we're adamant that they don't have ten replacements ready to come in if the XI which secured a 3-0 results against Sri Lanka on Saturday were all suddenly to be struck down by the lurgy.

Yes, Steven Finn is unfortunate to be getting regular games. He's good. Yes, Ben Stokes is injured. He's good, too but far from infallible (remember the World T20 final?). And James Vince looks to be made of the right stuff.

But that's three. Who are the other six or seven that Farbrace is referring to? Dawid Malan and Liam Dawson have been mentioned. Great. But they are totally unproven at international level. There are doubts also about the longevity of pacers Reece Topley and Mark Wood.

Farbrace may well be right if the context is potential. Those listed above have the potential to ensure England can keep on winning. Australia, New Zealand, South Africa, West Indies, Pakistan and India could all say the same.

But that's a totally different argument to claiming that England have this pool of players who are ready now to deliver knockout blows in ODI. It's premature, ill-thought rubbish. We don't even have time to go into the England players who are not actually performing to a high-enough standard at the moment - Ali, Bairstow, Jordan?

Of course we love to hate this arrogance. And the more people buy into it the better. The shorter England get in ODI without having shown that they can, in fact, also bowl brilliantly when under pressure, the better price their opponents become.

These opponents, of course, should be stronger than a Sri Lanka outfit in rebuilding mode. Pakistan, whose strength is with the ball rather than the bat, will provide a stiffer challenge at the end of the summer. England might win. If they do, be prepped for a bit more nonsense. In-Ger-Lund will be classed as good but they're not great until they've actually won something. Even the footballers know that.
Ed Hawkins P-L
2016: +81.02
2015: +£380.50
2014: +315.10
2013: +250.80
To £10 level stakes (unless otherwise stated), based only on available prices. Does not include back-to-lay in-running match advice or commission rate.
*Follow Ed on Twitter @cricketbetting