Ed Hawkins: Why are touring teams so bad?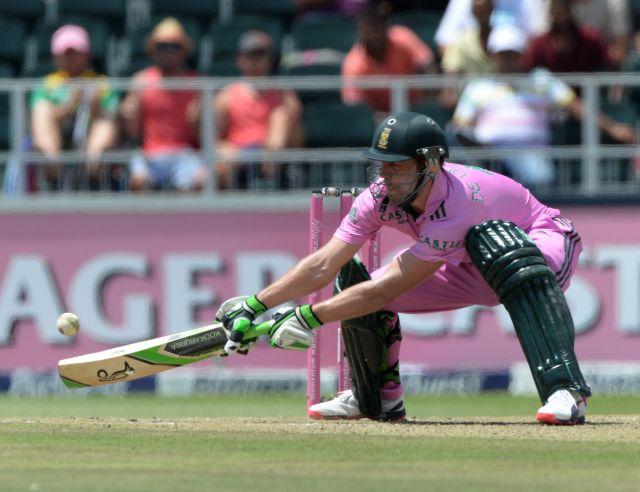 De Villiers and South Africa travel better than most
Our cricket expert crunches the numbers to reveal that the away team are almost unbackable - and it doesn't matter whether it's in the Test game or ODI format...
"It would have been reasonable to assume that the split between home and away wins would have been much closer to fifty-fifty"
There was little that was surprising about Australia talking a 1-0 lead in the five-match one-day series against England. It won't be surprising if they go on to claim the series. After all, they were as skinny as 1.558/15 to do before a ball was bowled.
But victory for Australia will be worthy of a raised eyebrow. That's because it will be a rare example of a touring team winning a two-team ODI series. A trend will be bucked.
In the last five years there have been 51 series played between the top eight nations. Only 15 of those have been won by the visitors.
That statistic is consistent with home teams dominating in the Test arena. Over the same study period and, of course, including only series between the top eight, the bias is heavy. From 50 series only 15 have been won by the away team. It's no coincidence the numbers are almost identical.
As if you need a reminder, Australia were considered one of the shoo-ins of recent history to turn that particular formbook upside down with victory in the Ashes, available at around 1.42/5 to win the series.
So why are touring teams so poor? Who are the ones we can trust? And, most importantly, how should we bet in the future?
None are particularly easy questions to answer. The first is probably the toughest as one would expect ODI teams to fare significantly better away from home than their Test counterparts.
That is because the paucity of away series wins in five-day cricket can be explained by the importance of conditions. India, for example, are tough to beat on spinning dustbowls because teams like Australia have virtually no experience of first-class cricket in such an environment.
England have this summer proved how important home advantage can be. They usurped 1.42/5 shots thanks to the seaming and swinging pitches. And with no little help from Australian batsmen who were unable to adjust their techniques.
But in one-day cricket it is assumed that conditions are not as important. The white ball does not swing anywhere near as much. Fielding restrictions, two new balls and the limit on the number of overs a bowler can bowl all make it a batsman's game. In other words, bowlers don't have the time or assistance to make those 'alien' conditions count.
If one was to hang an ODI series on the same rationale as a Test series bet it would be greeted with quizzical looks. England to win this current contest because the Aussie weaknesses exposed in the Tests will be laid bare anew? It doesn't cut it.
Or so we thought. In a format far more unpredictable than Tests, it would have been reasonable to assume that the split between home and away wins would have been much closer to fifty-fifty.
Instead it is clear that seaming, swinging, spinning or road-like wickets are important and gulf between teams can be reduced or lengthened. Maybe home support is a factor. Getting cheered instead of jeered plays as important a part as it has done in other sports like football. Hell, maybe England will hit back to win the series on a wave of partisan support?
What is particularly fascinating is what this means for the hunt for value. We can spend hours poring over old scorecards, averages, historic results and pitch reports to decipher whether a team is worth backing or not.
And by and large it is all irrelevant. Backing the home team at an average price of, say 1.68/13, in every ODI series in the last five years would have paid off handsomely to level stakes.
When the crucial nature of Test home advantage is also taken into account, it rather explodes the mystery of cricket betting. Back the home team and you will be absolutely fine.
Granted it is far more exciting and rewarding to unearth the one team that upsets the odds but there is no guaranteed formula.
South Africa are the most reliable. They have won 50% of their away ODI series and it is interesting that they perform far better on the road than others.
As the number 1 ranked Test team they could also be considered to be the outfit who fit best to all conditions. They have bowlers who bowl with pace and bounce. They have seamers and swingers. And mystery twirlers, too.
It is contradictory, however, that India are next best. Despite a recent Test series win in Sri Lanka they are awful on the road in the longer format and their batsmen are not only prone to struggle when the ball moves, but when it gets up to around their ears, also.
Home is where the value is.
Win percentages in away ODI series (last five years)

50% South Africa
43% India
38% Australia
29% England, Sri Lanka,
25% New Zealand
0% West Indies
Ed Hawkins 2015 P/L
2015: +£331.80
2014: +315.10
2013: +250.80
To £10 level stakes (unless otherwise stated), based only on available prices. Does not include back-to-lay in-running match advice or commission rate.
Follow Ed on Twitter @cricketbetting
Discover the latest articles