Ed Hawkins: Win at all costs Australia a stain on cricket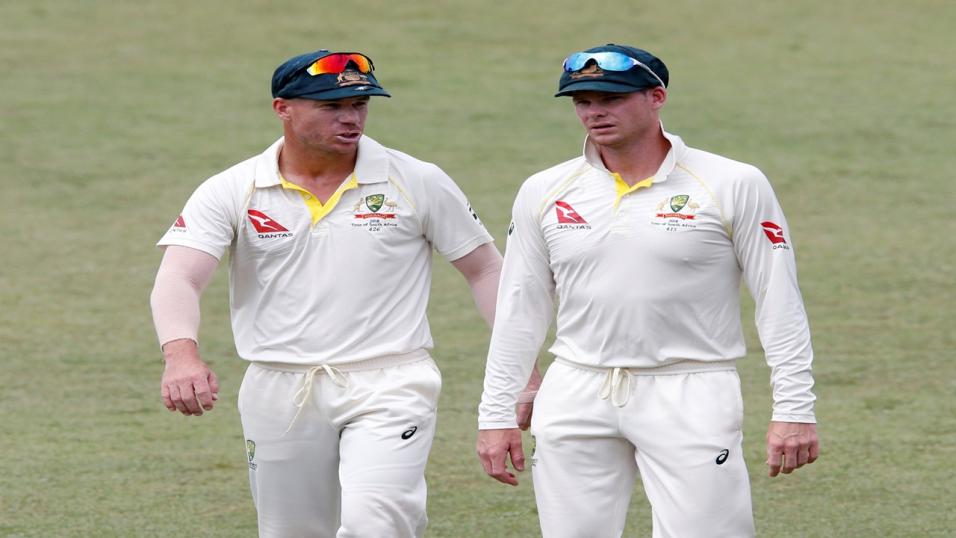 David Warner and Steve Smith, two of the 'leadership group' in hot water over cheating in the third test between South Africa and Australia
In the wake of Steve Smith admitting that Australia's 'leadership group' arranged to cheat against South Africa during the third test, our top cricket correspondent Ed Hawkins talks about the team as a whole and what must now happen...
"Already stood down from the Cape Town Test and banned for the fourth by the ICC, it seems inconceivable that he will not be sacked."
Aussie cheating was planned
Almost four months ago to the day, Steve Smith and Cameron Bancroft sat next to each other, cosy and cackling in cahoots, in a press conference after Australia's victory in the first Ashes Test in Brisbane.
They were laughing at Jonny Bairstow. They lampooned and humiliated him. Just a joke? A bit of a laugh? Or something more sinister? Was this Australia team willing to disrespect opponents and the game in such a way to gain any sort of edge?
The admission of cheating by Smith yesterday in the third Test against South Africa at Cape Town proved that the comedy double act with Bancroft was the thin end of the wedge. Australia had prearranged to cheat. Their "leadership group" had sat down, talked about it and planned it. And then Bancroft had carried it out, ham-fistedly in the full glare of the television cameras.
No doubt the same group had probably had sat down and planned to turn Bairstow's high jinx in a Perth bar into something that it wasn't. In the same way that their distasteful snarling and sledging had marred the Test series with South Africa before the nadir of Saturday.
Inconceivable that Smith won't be sacked
Make no mistake, this Australia team are a stain. They abuse the opposition with apparent impunity, monotonously reckoning that they are the adjudicators as to where the 'line' is. They never cross it but are judge, jury and executioner if a rival gives it to them back.
David Warner is thug-in-chief. Look at his ludicrous eye-bulging celebrations from Test one. He sets the tone. Nathan Lyon is another. Remember how he threw the ball down at AB De Villiers after a run out in the same game? And, of course, there was the unseemly altercation between Warner and Quinton de Kock.
Smith has held his hands up, naively reckoning that if he swallowed his pride and called it an "error of judgement" then he might be dealt with leniently. He has gravely misjudged the situation. Already stood down from the Cape Town Test and banned for the fourth by the ICC, it seems inconceivable that he will not be sacked.
These mealy-mouthed mumblings from Smith expose the culture in the Australia team more than any of their on- or of-field shenanigans. They just do not understand the sport that they play or the spirit which binds it. This isn't about breaking rules. It's about breaking hearts.
Test cricket is supposed to be the ultimate examination of character. That is why it is held in such esteem. And those who play it are supposed to grasp that. Australia do not.
The game has been perfectly designed to allow an ebb and flow so that altering the condition of a ball to gain an advantage or to mount a comeback is not necessary. Field settings, the new ball, scoreboard pressure, changing pitch conditions and the weather all potentially provide the opportunity that Smith and Australia were seeking.
Naive Bancroft put in impossible position
Perhaps the hardest part to understand is that Australia are such a fine team that they do not need to do it. So one wonders why they do?
The pathetic sledging has always suggested an insecurity about their own game (or games), as if they need to feel they are at "war" (Warner's stupid claim before the Ashes) to get them juiced for the contest. Further questions are raised. Where has this win-at-all-costs mentality come from? And what other tricks would they pull to get their own way?
One trick, and the most disgusting of all, is the way the "leadership group" have preyed on a naïve and eager-to-please Bancroft to do their grubby work for them. The guy has played eight Tests. And he hasn't set the world on fire. How the hell was he going to say 'no!'. Bullies and crooks always pick on the weak to do their bidding for them. Bancroft, essentially, has been classed as collateral by his own team-mates. There's no Band of Brothers here.
Do most teams do it? Yes. England, with Marcus Trescothick king of working the ball, debated which the best sweets were to suck to get the best lacquer on the ball. That was cheating. It altered the condition of the ball. But those tales - as so often with the passage of time - become something to be laughed at over a pint. Like wise Mike Atherton's 'dirt in the pocket' scandal.
Cricket has long had a problem with admitting to its many, many ills, from ball tampering to corruption and more modern-day problems like the slave trade IPL auction or the conflicts of interest which threaten its competitiveness. But this isn't a debate about any of those things. It's about Australia, a superpower, disrespecting a sport it is supposed to pedestal.
Justice should be served quickly in Cape Town, where South Africa are in a commanding position on day four. And in game four at Johannesburg, which starts on Friday. Australia, surely, will be too embarrassed to show any fight. Smith will not be there. Nor should Warner or Bancroft. In the short-term context of the series Australia must be punished for their ills. In the long term they need to find a remedy.
Discover the latest articles
Read past articles