Ashes Betting: The five major battles of the 2017/18 Series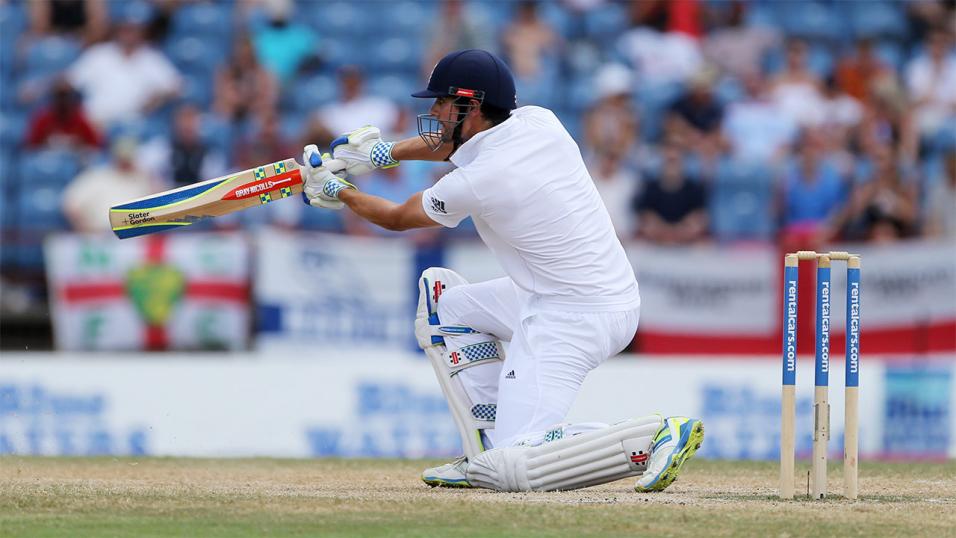 Alastair Cook needs to get the better of Mitchell Starc.
One of the beauties of Test match cricket is that it's not just about the battle between one team and another but also the individual battles that take place between players within the game. These five may well shape which way the Ashes are headed, says Jamie Pacheco.
'With everyone so obsessed with Australia's young pacers, Lyon has become almost the forgotten man from amongst Australia's bowling attack.'
Steve Smith v Joe Root
It's almost an unwritten rule of the Ashes that the two captains are also the team's best batsmen. Unless you happen to be 'He had a Degree in People' Mike Brearley or Don Bradman, who was never that fussed about being Australian Test Captain and only filled the role during a short spell.
Some would argue that David Warner and Alastair Cook are just as important with the bat as the two skippers but there's no doubting that for the bowlers, Root and Smith are the two prize wickets in the match. Maybe that's because more than in any other Series, there's a feeling that if you can get the skipper out, the others will fold.
The two are pretty new to their roles so it's hard to assess who might come out on top from a tactical and leadership point of view.
From a batting perspective, Smith shares favouritism with Warner for top Series runscorer honours at 4.03/1 with Root at 6.05/1 and you could do worse than spread your stake across the two skippers for leading honours.
Verdict: Both skippers to score lots of runs.
Mitchell Starc v Alastair Cook
When your 147 Tests that have included 31 centuries and 55 fifties make you the highest runscorer in English Test history, it's not hard to see why Cook is so vital to England's chances. But his importance this time round goes a little beyond how many runs he might score.
Cook has seen raw pace like that of Mitchell Starc before but the likes of Mark Stoneman, Dawid Malan and James Vince probably haven't. So as important as getting runs on the board is, Cook also has a vital role in seeing off the new ball and trying to ensure England's inexperienced top order don't have to face Starc at his freshest with the new ball in his hands. Or else 15-1 could easily become 30-3. Or 3-30 as the Aussies call it. Starc is 3.711/4 for Top Series Wicket taker and if he stays fit for the whole Series, will be hard to beat.
Verdict: Starc to do more damage to Cook than Cook does to Starc.
Tim Paine v Jonny Bairstow
Tim Paine's inclusion in the Ashes squad was arguably the most controversial of all in what was already a much-debated one. Let's remember that he hasn't played Test cricket for seven years, hasn't scored a first class hundred for almost twice as long as that and hasn't even been keeping for his State side of late.
In the other corner is Bairstow, whose glovework is ever-improving and whose Test average is almost 40. It's not a huge exaggeration to say he'd get into plenty of Test sides just as a batsman.
Paine is a tougher character than his innocent boyish looks would have you believe but it would still be a considerable surprise if it wasn't the Englishman who performs better with both gloves and bat over the course of the Series.
Verdict: Bairstow to trump Paine in both disciplines.
Nathan Lyon v Moeen Ali
In truth this is a slightly unfair comparison because Lyon is just a spinner whereas Ali has a huge role to play with the bat as well as England's main all-rounder. But when looking at the two merely as each side's chief spinner, the preference must go to Lyon.
Not only does the Aussie have almost twice as many wickets as Ali (admittedly from more matches) and a better average, he's also more used to taking wickets on bouncier pitches than what the Worcestershire man is used to, where the ideal lengths to bowl are a little different.
With everyone so obsessed with Australia's young pacers, Lyon has become almost the forgotten man from amongst Australia's bowling attack.
But as the only man likely to play in all five Tests and with his ability to bowl very long spells, his 10.09/1 for top Series wicket-taker isn't to be sniffed at.
Verdict: Lyon to take more wickets than Ali.
Aussie fans v Barmy Army
The Series will be played on the pitch but the mood of each team's supporters will be vital in keeping the players' intensity up when on top and not letting their heads drop when behind the eight ball.
Australian cricket fans have a reputation for being a fickle bunch. Rowdy, cocky, confrontational and brash when winning but a different beast when things aren't going their team's way. They've even been known to jump ship and side with the enemy when things get really bad.
Not the Barmy Army. Having used up all their yearly holiday leave for this, paid their expensive airfares and accommodation, they're going to make the most of the experience. And that means supporting their team whatever happens. England may not win the Ashes but it won't be through a lack of support from this lot.
Verdict: Barmy Army to out-drink and out-sing the locals.

Discover the latest articles