Women's Cricket World Cup: Why you should give this great competition a go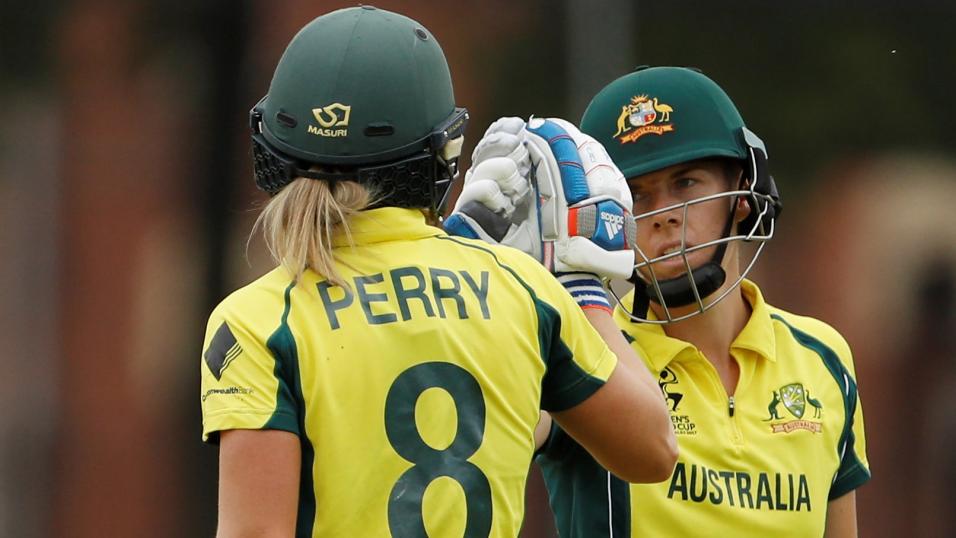 Elyse Perry might be the best women cricketer at the current World Cup
There's a World Cup going on at the moment and whereas you may not recognise most of the names in action, it's certainly worth tuning into, says Jamie Pacheco.
"They (West Indies) are admittedly a bit top-heavy in their batting but if two of these three come off in any given game, they'll be extremely hard to beat. They are after all the defending champions and are on home soil. They're currently 8/1."
Sky going to town on the World Cup
The Women's T20 World Cup kicked off on Friday afternoon in the West Indies. People can say what they like about Sky Sports, the cost of subscriptions and plenty of ad breaks, but never let it be said that they don't show enough live cricket.
And they've certainly given women's cricket a fair crack of the whip. A few years ago Sky broadcast all the matches from the Ashes, last summer they showed the 50-over World Cup and earlier this year there was action from the English Kia Super League (the equivalent of the T20 Blast). And now you can watch all the matches from the T20 World Cup.
There's at least one match on every day and on some days, two. It's a combination of day games and day-nighters.
Super cricketing skills on show
Now, the laws of anatomy dictate that it's virtually impossible for a woman to steam in and bowl at 90mph or hit sixes that travel 100 metres, the way that the likes of Chris Gayle, Andre Russell or Chris Lynn occasionally do. If that's what you're expecting to see, you'll be disappointed.
But while they lack that raw power, they don't lack in brains, guile and versatility. The seam bowlers make up for a lack of speed by varying their lines and lengths and mixing up slower balls with yorkers and off-cutters. Some of the spinners have beautiful actions and one or other can really rip the ball, albeit in Caribbean conditions that assist spin bowling.
Knowing that most of them couldn't clear the boundary even if they really wanted to, some of the batters have taken to playing all of the unorthodox shots that you'd expect from a Jos Buttler or Glenn Maxwell: reverse sweeps, scoops over the keeper, deliberate edges to third man, you name it. One such exponent of playing shots to just about every part of the ground imaginable is England's Tammy Beaumont. At 5ft 3 she's never going to have the strength to clear the ropes very often but she's a delight to watch if it's improvisation and imagination you like to see in a batter.
There will inevitably be mis-matches
Sadly, one area of criticism is that there's a huge gulf in ability between the tournament favourites and some of the weaker nations. A good example of that was Sunday's game between Australia and Ireland.
The latter limped to 93 off 20 overs, at times the Irish batters struggling to get the ball off the square for a full over. When it was the Aussies' turn to bat, they made light work of chasing the total, getting there in just 9.1 overs with Alyssa Healy's 21-ball half-century proof of the difference in ability between the two teams.
It's worth remembering that every one of Australia's players is a full-time pro whereas virtually the whole of the Irish side are amateurs.
It's also worth remembering that these mis-matches happen in the men's game at World Cups, too.
The betting
Australia (5/4) started the tournament as favourites and certainly haven't done anything to suggest they're not the team to beat, with two comprehensive victories.
India have also impressed with two straightforward wins and are the big movers in the winner market. Having started out at 7/1, they're now into 16/5.
England (3/1) can consider themselves pretty unlucky. Their match against Sri Lanka was washed out and with no reserve day, it mean they shared the points in a game they would have been expected to win comfortably. It puts them in a bit of a precarious position. The top two from each group of five progress to the semis and though they'll start as favourites against both the West Indies and South Africa, defeat in either of those matches could see them crash out because of that washed-out match.
And speaking of the Windies, they're arguably the best value bet to win the thing. Yes, Australia have the best players, the most options with bat and ball and are the best-organised team, no doubt about that. But the Windies are similar to the men's T20 team with raw individual talent, big boundary hitters and fearlessness their key assets. In skipper Stafanie Taylor, Hayley Matthews and Deandra Dottin they have a top three in the batting who do the lot: bat, bowl, field.
They are admittedly a bit top-heavy in their batting but if two of these three come off in any given game, they'll be extremely hard to beat. They are after all the defending champions and are on home soil. They're currently 8/1.
Players to watch
The aforementioned Windies trio just mentioned are box-office stuff but it's worth tuning into an Australia game. Elyse Perry is womens' cricket's poster girl with model looks and huge amounts of athletic ability (she's also played football for Australia, no less). She's among the quickest bowlers in the game and whereas she bats at 6 or 7 in this format, could easily be batting at 3 for another side. She's probably also the world's best fielder.
There's a lot about Aussie skipper Meg Lanning that reminds me of Ricky Ponting. Short in stature, steely in personality and a batting rock at number three.
For England, Natalie Sciver is a smart all-rounder whereas Anya Shrubsole, heroine of the previous 50-over World Cup final, is a fine death bowler.
All games have plenty of pre-match and live betting markets on both the Sportsbook and Exchange.

Discover the latest articles
Read past articles