US Election Latest Odds: Betfair account bets £1m on Biden to beat Trump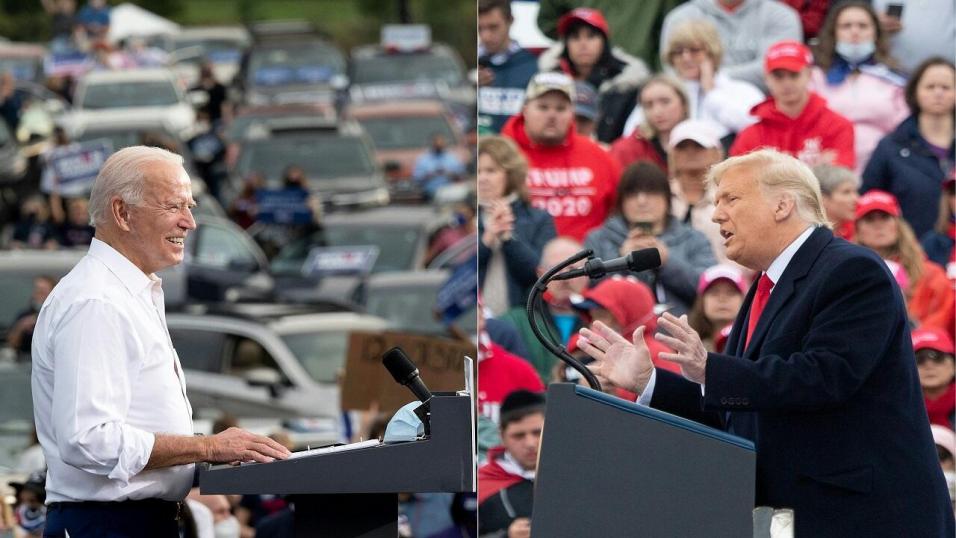 Will it be Biden or Trump on November 3?
Single wager smashes record for a political bet on the Exchange as latest US Election odds show Joe Biden leading Donald Trump on eve of vote, reports Max Liu...
A Betfair account has bet £1m on Joe Biden beating Donald Trump to win the American presidency - the biggest single bet of US election 2020.
With one day to go until voting Biden 1.528/15 leads Trump 2.8815/8 in the betting and most polls.
Betfair Spokesman Sam Rosbottom said: "The (£1m) bet is the biggest political bet of all time on the Betfair Exchange and returns a handsome £1,540,000 if Biden wins the keys to the White House.
"The 2016 US election's record for being the biggest single betting event of all time was broken by last week and the £271m bet on the 2020 election means it remains on-course to hit £400m."
Trump's odds improved over the weekend from a 33% to a 35% chance. Anybody tempted to write off the president should note that Trump's average odds one day before polls opened in 2016 were 18%.
Based on the odds alone, Trump is in a stronger position today than he was at this stage four years ago.
As the candidates prepare for a frantic final day of campaigning, the stakes could not be higher, so follow events as they unfold on the election thread:
Monday's #Election2020 Thread

The penultimate day is upon us! Will we see a big market move or will the odds stay within the consistent range seen over the past 11 days? pic.twitter.com/ehFsawLLvN

? Betfair Exchange (@BetfairExchange) November 2, 2020
The candidates have already engaged in a war of words amid reports that he plans to declare victory early on election night. Trump has denied the claims but Biden has been quick to hit back, saying:
"The President is not going to steal this election."
There has long been speculation that, if he loses, Trump will refuse to accept the result of the election. The Democrats think they need to win decisively so that Trump is left with no option but to concede.
There will be plenty of punters who believe Trump can pull off another upset and win four more years as president. Paul Krishnamurty explains in his bet of the day how you can back Trump at around 7.06/1 by backing him in the electoral college.
This morning a final poll from the crucial state of Pennsylvania, where Trump squeaked home in 2016, gave Biden a five to seven point lead. On the Exchange the Democrats are 1.528/15 to win there.
Discover the latest articles
Read past articles