The 2018 US Masters: The Punter's Preview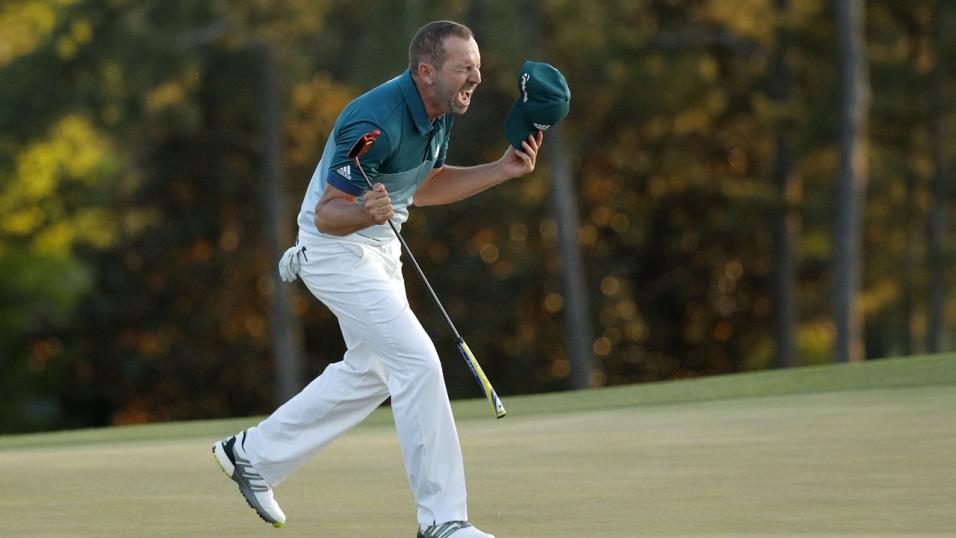 Sergio Garcia - last year's winner of the US Masters
It's the eve of one of the most hotly anticipated majors in recent years and Steve Rawlings has everything you need to make an informed selection or two in his 2018 Masters betting preview...
"Red-hot recent form has been a great angle in of late. An eighth place at the AT&T Pebble Beach Pro-Am was the best form 2010 winner, Mickelson, could boast but every winner since has brought really solid form to the table and the last four winners all won one of their five previous starts before teeing it up at Augusta."
Tournament History
One of the most eagerly awaited majors that I can remember is now just a few days away. With Tiger Woods back in some sort of form and with the likes of Rory McIlroy, Justin Thomas, Dustin Johnson, Bubba Watson, Jason Day, Jon Rahm, Justin Rose, Rickie Fowler, Phil Mickelson and Paul Casey all winners on the PGA Tour this season, we could be set fair for one of the greatest renewals of the US Masters ever witnessed.
Played at the iconic and stunning Augusta National, the US Masters is the first of four major championships played throughout the year and it's the only one played at the same venue year after year.
Augusta National was founded at the start of the Great Depression and when the first edition was staged in 1934 the club had just 76 paid up members - someway short of the planned 1,800 - and the inaugural winner, Horton Smith, along with all the top finishers, had to wait for 17 members to club together to raise the purse before he received his winnings.
As you'll see from Ken Brown's tweet below, the tournament was first called the Augusta National Invitation Tournament, a name it kept for five years, and it wasn't initially a major, but it was obviously a fairly exclusive event given the admission fee of $5.50. That would equate to more than $100 today.
A ticket to the first @TheMasters before it was called the Masters and before it was regarded as a major. pic.twitter.com/pGdhEEqEoj

? Ken Brown...... (@KenBrownGolf) March 28, 2018
The US Masters have a number of quirky traditions that add to its appeal. Since 1949, the winner has been awarded a famous Green Jacket, on the Tuesday of Masters week there's a Champions Dinner, at which the previous year's winner chooses the menu, and since 1960, there's been a relaxed par three contest held on the eve of the main event on the most beautiful little course you're ever likely to see. And finally, anyone that makes an eagle at the US Masters receives a pair of Waterford Crystal goblets and those that shoot the lowest individual rounds receive a crystal vase.
This is the 82nd edition and believe it or not, it's now 21 years since Tiger Woods won the first of his four Green jackets, and 13 years since he won his last!


Venue
Augusta National Golf Club, Augusta, Georgia.
Course Details
Par 72, 7,435 yards, stroke average in 2017 - 73.89
Originally the brainchild of Rees Jones, Augusta National was founded by him and Clifford Roberts - a wealthy New York investment banker. Designed by Jones and Alister Mackenzie, who died before the course was finished, Augusta National was built on the site of an old nursery and all the holes are named after a tree or shrub.
It officially opened in January 1933 and it's been evolving ever since and to such an extent recently that the original designers would barely recognise the place. The Bermuda greens were changed to bent grass and the fairways were tightened at the end of the last century before a major overhaul was orchestrated by Tom Fazio in 2002. More than half the holes were lengthened and tightened and at almost 7,500 yards now, it's a long course.
Augusta plays longer than it's already demanding yardage because the fairways are all cut in the same direction - towards the tee-boxes - so balls tend to land and stop fairly quickly.
For details of each and every hole, please see Dave Tindall's fantastic guide here, produced before last year's renewal, with lots of stunning photos from his own collection.
TV Coverage
Sky Sports is the only place to see all four days live in the UK and their coverage is comprehensive. They have live bulletins from the range on Monday, Tuesday and Wednesday, the Par Three Tournament is live on Wednesday and they have breakfast show recapping the action from the day before on Saturday and Sunday.
Live coverage of the event itself begins at 19:00 on Thursday but there is plenty of other coverage in the UK. Featured group coverage will cover two of the morning marquee groups for the opening two rounds, with that stream available from 14:15 on the Sky Sports red button, Sky Sports Xtra and Sky Sports iPad app and you can also track players' progress through Amen Corner on SkySports.com, with a live feed from 15:45 to 19:00 on each day during the first two rounds.
That stream is also available on red button and the app, where cameras focused on the 15th and 16th holes will be live from 16:45 as the early starters get towards the end of their rounds.
There is also live coverage on BBC2 on Saturday and Sunday, and they also have Red Button coverage from mid-afternoon over the weekend, showing featured groups, Amen Corner, and holes 15 and 16.
Last Ten Winners
2017 - Sergio Garcia -9 (playoff)
2016 - Danny Willett -5
2015 - Jordan Spieth -18
2014 - Bubba Watson -8
2013 - Adam Scott -9 (playoff)
2012 - Bubba Watson -10 (playoff)
2011 - Charl Schwartzel -14
2010 - Phil Mickelson -16
2009 - Angel Cabrera -12 (playoff)
2008 - Trevor Immelman -8
What Will it Take to Win the US Masters?
Sergio Garcia's stats were incredible last year and it's hardly surprising he won. He ranked sixth for Driving Distance and second for Driving Accuracy, second for Greens In Regulation, fourth for Scrambling and Sand Saves and 12th for Putting Average but rankings that high are rarely needed off the tee.
Although Augusta is tree-lined, Driving Accuracy is the least important stat to consider. The trees are well-established, and the branches high so errant drives aren't always punished. Length of the tee is advantageous and historically much more important than accuracy but it isn't an absolute imperative. The two winners before Sergio, Jordan Spieth and Danny Willett, only ranked 52nd and 32nd respectively for DD.
Greens In Regulation and Scrambling are the most important stats to consider and nobody wins at Augusta unless they have a good week with the putter. To provide an at-a-glance picture of what's required, here's the average rating for the last 10 winners in all the key stats.
Driving Accuracy - 28.5
Driving Distance - 17
G.I.R - 6.0
Scrambling - 4.9
Putting Average - 10.8
Those stats show that the secrets to success here are to find plenty of greens, get up-and-down successfully when one is missed, and to putt really well but what's often the most important factor is how you play the long holes. Here are the total scores to par for the last 10 winners on the par threes, fours and fives.
Par threes -6
Par fours -24
Par fives -86

Trevor Immelman played the long holes in three-under-par in 2008 and up until 2016 that was the lowest score any winner had recorded on the par fives dating all the way back to 1995 so the fact that Danny Willett won two years ago, having played the long holes in just level par, is astounding, and it has to be viewed as an anomaly. Sergio played them in seven-under-par last year and even that was an unusually low score.
Phil Mickelson played them in 13-under-par in 2006 and yet his winning total was just seven-under and even when relatively short hitter, Zach Johnson, won with an over par winning total 11 years ago, he still played the long holes in a dozen under-par. If you're only going to look at one stat before the off, Par 5 Performance would be the one I'd suggest.
Augusta Trends
Sergio won the US Masters at the 19th time of asking and at the age of 37 and us stats fans were grateful to see a return to the norm. The two winners before Garcia, Spieth and Willett, had only played Augusta once before they won and that really went against the grain given previous course form is usually vital.
Other than the first two winners of the event, Fuzzy Zoeller (in 1979) is still the only debutant to win the US Masters and most winners have been around Augusta National enough times to get to know its unique nuisances. On average, first-time winners have played the event six times and I loved the way Ernie Els highlighted how much of a knowledge bank gets collected over the years when he said after round one last year that conditions had reminded him of the third round in 2000!
It's not just course experience you need - a weekend of Augusta employment 12 months earlier appears essential too. Every winner, apart from Tiger Woods in 1996, stretching all the way back to Zoeller's debut win in 1979, made the cut here in the year before they won.
Although plenty of experience is a big plus and the average age of the winners is 32.5, age does seem to have been a bit of a barrier of late and Mark O'Meara, who took the title at the of 41 fully 20 years ago now, is the last winner in his 40s. That's a negative for Phil Mickelson (47), Tiger Woods (42), Henrik Stenson (41) and Paul Casey (40).
Up until 2015, 23 of the previous 24 winners had all previously shot a round in the 60s at Augusta and I'd still consider that a big plus on someone's CV but Spieth and Willett both won having not broken 70 in their single previous visits.
Course form stands up really well and past winners have a fine record. As many as 17 different players have won the title more than once.
Red-hot recent form has been a great angle in of late. An eighth place at the AT&T Pebble Beach Pro-Am was the best form 2010 winner, Mickelson, could boast but every winner since has brought really solid form to the table and the last four winners all won one of their five previous starts before teeing it up at Augusta.
The 2011 winner, Charl Schwartzel, hadn't been in stellar really recent form but he'd won on the European Tour three months before he won the Masters. Bubba Watson had finished second at the WGC-Cadillac Championship (now the WGC-Mexico Championship) and fourth at the Arnold Palmer Invitational before he won the first of his two titles in 2012. Adam Scott had been third in the WGC-Cadillac in his penultimate start before his 2013 victory. Bubba had won the Genesis Open at Riviera and finished second in the WGC-Cadillac before a strange withdrawal in his final start before his second win in 2014. Spieth had won the Valspar Championship and finished second in both the Texas Open and the Houston open in his three starts before he won here three years ago. Danny Willett had won the Dubai Desert Classic and finished fourth at the WGC-Cadillac and Sergio had ticked over nicely in his four starts before Augusta 12 months ago, having also won the Dubai Dsert Classic.
It's a shame we don't still visit Doral for the Cadillac as that's clearly flagged a few recent winners but form at the Genesis Open is worth more than a cursory glance. Following Bubba Watson's third victory at Riviera in February, a total of 11 Masters Champions have now won 22 editions of the Genesis Open. Bubba, Phil Mickelson, Sam Snead, Ben Hogan and Tom Watson have all won multiple PGA Tour events at both Riviera and Augusta so the courses obviously correlate quite nicely.
I'm not sure how much credence we can give it but recent history suggests a late start on day one is beneficial as the last seven winners have all teed off late on day one. The weather hasn't been a huge factor so maybe playing later in the day is just easier than going off early and pushing too hard? Or maybe it's just a bit of an anomaly? It will be interesting to see how long the sequence can stretch but I certainly wouldn't be put off backing a morning starter.
Ordinary Putters Can Shine at Augusta
The greens at Augusta are unique, very undulating and lightning-fast and they're one of the main reasons first-timers struggle. They're also so severe that they can be a bit of a leveller. Even the very best putters will be made to look a bit daft at times and players that are often considered poor or perhaps ordinary putters can actually thrive here.
Anyone that follows the PGA Tour closely will know that last year's playoff protagonists, Garcia and Justin Rose, are often let down by their putting. Justin Rose ended the 2017 season ranking 112th for Strokes Gained Putting and Garcia ranked only 168th! I certainly wouldn't go out of my way to find a poor putter but it's perhaps a bit of myth that only the best putters win here.
In-Play Tactics
The first round leaderboard last year looked like this.
Charley Hoffman -7
William McGirt -5
Lee Westwood -2
-1 bar
Those front three fell away badly. The first two eventually finishing tied for 22nd and Westwood finished tied 18th (guess who backed the Hoff for a top-20 finish!) but up with the pace is still the place to be. The two playoff protagonists ended the first round six off the lead but tied for fourth and only one of the first eight home (Schwartzel in third) was more than seven behind the leader and tied for 12th or better.
Augusta National is NOT a catch-up course and a fast start is imperative. No year advertises that better than 2010, when Hunter Mahan, who finished tied 8th, was the only player to finish in the top-11 places that hadn't been within two shots off Fred Couples' first round lead. He'd sat tied for 22nd and five back after round one.
Willett sat tied ninth and four adrift after day one two years ago but 12 months earlier, Spieth and Rose sat first and second after the opening round and that's how they finished the tournament, with Spieth winning wire-to-wire.
Bubba took a very typical route to the title in 2014 when he sat in a tie for second, just one off the lead, after opening the event with a three-under par 69 and he was three clear at halfway after a second round 68. A slightly sticky 74 in round three saw him lose his outright advantage before he kicked three clear with a closing 69.
Adam Scott's journey to victory in 2013 also followed a very typical route - he was never more than three off the lead but he wasn't in front too early. The ideal scenario, as was the case again last year, is to be up with the pace but not in front too soon. Spieth and Immelman are the only first round leaders to win since Ben Crenshaw in 1984 and they're the only wire-to-wire winners since Seve Ballesteros achieved the feat in 1980.
You can also look to 2012, when the first four names on the day one leaderboard - Westwood, Louis Oosthuizen, Peter Hanson and Bubba - were all in the first six places at the finish.
Tiger and Phil repeatedly buck the trends at Augusta and they're the only two men to win the event having finished day one outside of the top-10 since Mark O'Meara won from tied 25th and five off the pace 20 years ago.
And finally, make sure you lay back some profit if your pick looks like winning and goes odds-on. Rose hit a low of 1.171/6 as Sergio took a penalty drop on the par five 13th last year but he's far from the first long odds-on shot to get beat. It's almost an annual occurrence!
Spieth was five clear at the turn on Sunday two years ago and he was matched at a low of 1.091/11 before his infamous debacle at the par three 12th on Sunday. Jason Day hit 1.75/7 in 2013 but missed out on the play-off by two strokes and Angel Cabrera, beaten by Scott in extra time, traded at 1.9110/11.
In 2012, Oosthuizen was a heavy odds-on shot when Bubba found the trees before that famous miracle recovery shot at the second play-off hole and there were all sorts of shenanigans in 2011. Rory McIlroy began the final day four clear and a 1.84/5 shot but he could finish no better than tied 15th and Scott backers were cruelly denied after he'd been matched at just 1.374/11 when Charl Schwartzel birdied the last four holes to win.
Mickelson cruised to an emotional third victory in 2010 but a year earlier two players traded at odds-on before losing in a play-off. Kenny Perry, who bogeyed the last two holes, was matched at just 1.331/3 in-running and Chad Campbell, who bogeyed the first extra hole to be eliminated, touched odds-on when he found the fairway and Cabrera the trees.
Augusta is famous for it's drama on the back-nine on Sunday and laying back some profit at odds-on is definitely the sensible thing to do if you get the chance.
Market Leaders
Having been matched at a high of 22.021/1, Rory McIlroy raced to the head of the market with a scintillating victory at the Arnold Palmer Invitational a couple of weeks ago. He'd been lost on the greens for a while but a three hour chat with Brad Faxon just before the off at the Arnold Palmer worked the oracle and he topped the stats with an average of 1.61.
This will be Rory's ninth appearance at Augusta and although he's finished inside the top-ten in each of his last four visits, he's only once finished inside the top-six places. He famously blew a four stroke 54-hole lead in 2011, when he shot 80 in round four, and he only trailed by a stroke at halfway two years ago but lost his way with a 77 in round three. This is the major he needs to complete the Grand Slam and there must be a slight chance that completing the full set is a proving a bit of a mental barrier. I'd be more concerned about whether his performance at Bay Hill was a flash in the pan and whether he'll make too many mistakes.
Having won the USPGA Championship in August, Justin Thomas has now won four of his last 14 starts and if he claims his second major in-a-row on Sunday he'll move to the top of the Official World Rankings. He would have done so if he'd have reached the final of the WGC-Match Play final two weeks ago but he admitted after his loss to Bubba Watson in the semi-final that moving to the top of the rankings was constantly on his mind. That's one concern, and so is his poor Augusta record. In two starts he's only finished 39th and 22nd and he's never shot a round in the 70s. It's only a matter of time before he performs well here though and he could well be the man to beat.
Having won three tournaments in-a-row, Dustin Johnson was a warm favourite here 12 months ago before he was forced to withdraw when he fell down the stairs. He's not in the same sort of form this time around but he does have improving course form with figures reading 30-38-38-13-MC-6-4.
He was hopeless when defending his match play title last time out but that wouldn't put me off. His win aside, he has a very poor record in the event and he just looked uninterested. More worrying for DJ backers is the number of mistakes he usually makes here.
He enjoys the par fives and he made a record-breaking three eagles in round two back in 2015, but to counter that, there were far too many errors for him to contend seriously for the title. He made three bogeys in round one and six more over the next three days, which was damaging enough, but he also double-bogeyed a hole on Friday, Saturday and Sunday and that wiped out completely the shots gained by his three eagles on Friday. And there were a similar amount of errors in 2016 - nine bogeys and three double-bogeys ruined any chance he may have had and fourth was a great effort considering.
Tiger Woods' return to form following back surgery has been quite incredible and he's contended in each of his last two starts. At 42, age is against him now though and the fact that he hasn't won a major in ten years, a US Masters in 13, or a PGA Tour event in five years is off-putting. He's understandably a shorter price than he perhaps should be and he's definitely not for me.
Jordan Spieth is a fascinating contender. His course form record is sensational and in three of the four years he's played here he's traded at odds-on. His first three visits produced form figures reading 2-1-2 and he was bang in-contention through 54 holes 12 months ago, despite opening up the tournament with a 75.
Spieth's recent putting woes have been well documented but with a round to go in Houston he was ranking first for Greens In Regulation and Strokes Gained Tee to Green so his long game is in tip-top order and it would be no surprise at all to see him contend again at a venue he clearly loves.
Justin Rose was a little underwhelming in Houston, eventually finishing tied 52nd but he's been in decent from for most of the year to date and he's been putting well too. His form figures here read an impressive 39-22-5-36-20-11-8-25-14-2-10-2 and his first round finishing position figures are even better, reading 12-1-1-1-70-49-29-13-67-2-4-4. He was a very unlucky loser last year and you'd do really well to find anyone that world begrudge him redemption this time around. He's one of the nicest characters in the world of sport, let alone golf, and he has a fabulous chance but it's all there to be seen and his price is bang on.
Selections
I backed Jordan Spieth last week at 17.016/1 and I'm more than happy to have him onside. I'm a big fan of course form at this event and after a decent week in Houston he looks nicely primed to perform well here again. He's edged his way back towards the head of the market and rightfully so. He's a multiple major winner with an iron will to win and he's the man to beat.
Bubba Watson was my idea of the value around Christmas time, when I wrote this piece, and he's onside at 50/1. He's won twice already this year, claiming the WGC-Match Play a fortnight ago after winning at Riviera for a third time in February. He's a mercurial character but if he starts well on Thursday he'll be a force to be reckoned with. I'm obviously more than happy to be on at 50's but he still looks a fair price at anything bigger than 20.019/1.
I didn't want to go in to the event without a leftfield pick, so I've thrown a few pounds at Kyle Stanley at a huge price. Stanley missed the cut here on debut back in 2012 so that's a negative, as he hasn't been back since, but he was a winner on Tour last year, at the Quicken Loans National, and he's in fair form at present, having finished 25th in Mexico, 14th at the Arnold Palmer Invitational and having reached the last eight at the WGC-Match Play two weeks ago. He's an extremely accurate player and a notoriously poor putter but his putting improves considerably on really fast greens.
Selections:
Jordan Spieth @ 17.016/1
Bubba Watson @ 50/1 (ante-post)
Kyle Stanley @ 560.0559/1
*You can follow me on Twitter @SteveThePunter

Discover the latest articles
Read past articles