Betfair Big Interview: A chat with 2008 Ryder Cup star Oliver Wilson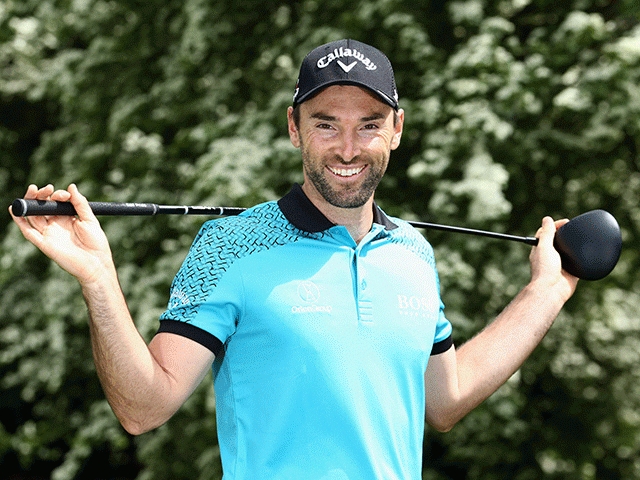 Oliver Wilson was a member of Nick Faldo's 2008 Ryder Cup side
Oliver Wilson was part of Nick Faldo's team at Valhalla in 2008 so knows all about Ryder Cup, from the pleasure of making the team, the pressures of participating and the pain of losgin. Here he talks first tee nerves, good captaincy and all things Ryder Cup with Ralph Ellis...
"I'm not sure I really buy into the rookie thing. There are elements when you want experience and the first tee is one of them, but even so I'm not sure even somebody like Lee Westwood ever gets used to that first tee shot."
Half of Darren Clarke's team are playing for the first time - so Betfair met Oliver Wilson to ask what it's like to be a rookie in the Ryder Cup.

Hi Ollie. So, back in 2008 you were playing with Henrik Stenson and found yourselves four down against Phil Mickelson and Anthony Kim, but somehow won 2 and 1. Your memories?
It was just a very special week, probably the most important week of my career and something I'll never forget. It was special to have qualified and not needed a pick - mainly because I wouldn't have got one - but to be on the team with guys that I had grown up watching and been inspired by was incredible. The only thing that could have been better was the result.

Tell us about the nerves. We've all had that first tee feeling, how many times do you multiply that by for the first tee of a Ryder Cup?
I knew I wasn't going to play in every game, but once you have qualified you start thinking about the week. Lee Westwood called me after I'd qualified for a chat to try to prepare me, and that was quite important for me. It gave me an eye opening.

So what did he say?
How it starts with that first tee shot, and basically I visualised that for a few straight weeks beforehand. That really helped. Even then for the 10 minutes you stand on that tee for the first time, it was unlike anything I had ever experienced in golf before. The most tense, energetic, electric atmosphere in golf I could imagine.

We're scared just listening!
For a golfer it's why you play the sport, to experience those things and be part of it. I'd always wanted to tee off on that first hole, so when I partnered with Henrik we went through the strategy and it worked out with me teeing off on the first. I was thrilled about doing it, because I wanted to put myself in that situation, and then you kind of regret it when you get there. It is hard to describe. When you are nervous at other times you get a bit shaky and the feeling in your hands changes. That was just heightened. I felt I dealt with it quite well, but it was still incredibly intense.

That doesn't sound good news for Europe's six rookies.
I'm not sure I really buy into the rookie thing. There are elements when you want experience and the first tee is one of them, but even so I'm not sure even somebody like Lee Westwood ever gets used to that first tee shot.

So will it be just as daunting for him as for somebody the first time?
I don't know, I've not asked him, I just think no matter who is on that first tee they are going to be scared and nervous. Look at the history. I think Webb Simpson took a divot about a foot long with his driver. We've seen all kinds - Tiger hitting it in the water at the K club and he was the best player in the world.

Tell us about the captain's role. A recent book called it 'the most overrated job in sport'.
I can slightly understand that - if you do it well it is probably not that important. But if you don't you can seriously mess up the team and the players. There have been some big spectrums between doing it right and wrong in the past.

Name names.
Well Paul McGinley the last time did it exceptionally well, in fact I'd say he laid a blueprint for every captain going forward. He went into such detail.

What about when it goes wrong?
The biggest role is getting the pairings right. That's where the communication between the captain and the players is the most important thing, especially for the rookies. You have to make sure that a rookie is 100% confident with their partner, so if they are playing badly they don't feel that their partner is looking down on them, thinking "I can't believe I'm paired with him, he's letting me down". Each player has to be very comfortable with the other. If you don't know the players that well you can get them wrong. That's definitely what happened in 2008, I don't think we got the pairings right.

So how will Darren Clarke get on?
Well, I think. He knows the players, his vice captains know them, the guys have already discussed who they want to play with, and the biggest thing is for the captain to get that right. I think you need to let your players know what is going on, but just don't get in their way. A bit of inspiration here and there, a few stories, kind of explain in the moment what it is all about. The players don't need much inspiration, they are there to win, just don't get in their way, don't alienate any, don't take away any confidence, don't say the wrong thing. Just let them play.

Is it a boost for Europe to have Rory McIlroy arriving with $10m in his pocket?
Absolutely, it is a great bit of positivity for the team. His game and confidence on the greens is rejuvenated and he could be off and running again. I'd look to him to lead the team and hopefully he can inspire everybody else.

America are the favourites in Betfair's market, is that right?
I think you have to go with it, all the stats suggest they should be, but I think that plays in our favour. We have been underdogs pretty much every Ryder Cup. But if you can take pressure off the players, going in as underdogs and with a chip on our shoulders from some of the comments that have flown around, I think that can only help. Let them be favourites and we will see what happens.

Thanks for your time and we've a free £50 bet for your favourite charity.
Great, I support the Rainbow Trust - and I'll back my team Nottingham Forest to win at Chris Wood's side Bristol City on Saturday at 3.185/40.

Click here for all our Ryder Cup content
Discover the latest articles