Next Real Madrid Manager: Conte or Sarri most likely to replace Zidane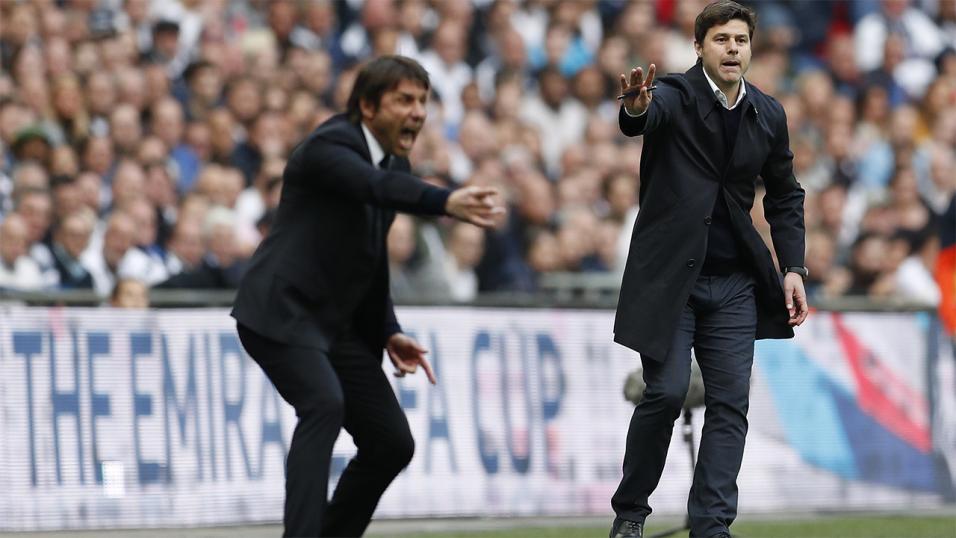 Pochettino and Conte are two of the names being linked with Real Madrid
Alex Keble takes a look at the six early favourites to take charge of Real Madrid following Zinedine Zidane's shock departure on Thursday...
"After three successive Champions League wins Real want domination in La Liga; Conte's aggressive tactics will certainly shake the Real players into action."
The Tottenham Hotspur manager signed a new contract just one week ago, and according to The Times no release clause was inserted. This would make it extremely difficult for Real to bring the Argentine to the Bernabeu, although conflicting reports from around Europe throw into doubt the exact nature of Poch's new deal.
In theory, he is the perfect appointment. Pochettino would probably bring Harry Kane along with him, adding exactly the sort of goalscorer Real need to win back La Liga. His tactical organisation, which is based on fluid attacking football, would certainly be welcomed by the European champions, although this strange collection of individual superstars would not necessarily take to Pochettino's methods. In fact, the closer you look the more the move makes very little sense.
Spurs are about to begin life at their new stadium, something Pochettino has been looking forward to for a long time, and having been handed extra funds by Daniel Levy he certainly seems settled in north London. By contrast, the Real job is extremely unstable, with very little room to build a lasting project - and virtually nothing left to be achieved after Zidane's ridiculous success. Why would Poch trade in what he's got? Don't back him to be the next Real Madrid manager.
Stylistically, Wenger would offer the sort of slick aesthetic football that Real have craved for some time. Certainly Wenger would know how to get the best out of the Toni Kroo/Luca Modric partnership, and given he rarely presses it wouldn't be a huge tactical transition from Zidane. Wenger would also hand Real the chance to take over from Barcelona as the most elegant team in La Liga.
Neutrals would no doubt love to see Wenger in charge of Real, but frankly it seems highly unlikely the biggest club in the world - run by an egotistical president - would risk hiring such an abrasive figure as Wenger, particularly after a good 10 years of relative failure in English football. His appearance so high on this list reflects our collective willingness for this move to happen, rather than a genuine likelihood. Don't back.
It is easy to forget that Antonio Conte is still the Chelsea manager. He hasn't been sacked - yet - and after Max Allegri committed his future to Juventus and Napoli appointed Carlo Ancelotti, the Italian is running out of places he can escape to. He isn't the most exciting name on Real's shortlist, but assuming Pochettino turns them down Conte is the next most experienced man available. Real won't want to wait for Joachim Lowe to finish with Germany in mid-July and Maurizio Sarri is expected to join Chelsea any day now, leaving Conte with an almost clear path to the hot seat.
He would be a very good appointment, too. Not only has Conte won the Premier League and Serie A title, but he has done so with a fierce, no-nonsense tactical approach that is perfect for domestic football. After three successive Champions League wins Real want domination in La Liga; Conte's aggressive tactics will certainly shake the Real players into action. The main stumbling block for Conte is his poor record in Europe, but a change of direction after the laissez-faire Zidane years is just what the club need.
Real shocked everyone by appointing Castilla coach Zidane last time they were looking for a new manager, which explains why Guti has appeared as one of the bookmakers' early favourites. Guti, currently in charge of the under-19s and expected to seek a first-team management position this summer after winning the title in 2017/18, made 387 appearances for Real between 1995 and 2010. He is a club legend and as such will get a look in should Perez opt for another promotion from within.
However, when Rafa Benitez was sacked in January 2016 Real had very few options, whereas this time they have several weeks to mull over candidates before picking one of the five other high-profile names on this list. Guti's chances are very slim at the moment, particularly given he hasn't even managed the Real reserve team - and is nowhere near as popular with the current set of players as Zidane. Don't back him.
Would Real Madrid be willing to wait until July 15 to appoint a new manager? That's how long it will be until Germany head coach Joachim Low becomes available this summer, which would leave just four weeks for Low to prepare for his first club game in 14 years. There is surely far too much to do - and to re-learn - for such a short space of time, making Low an unlikely candidate for the post. Germany might have been superb under his leadership, but Real's new priority is La Liga dominance, and in that respect international achievements mean little.
Before joining Germany in 2004 the highest profile club Low had managed was Stuttgart, while his three most recent jobs have been Austria Wien, Tirol Innsbruck and Adanaspor. These are not the credentials Perez is looking for; Low would stand little chance of getting an interview even if he was available immediately, which he most certainly is not. The German will have to prove himself slightly lower down before the likes of Real Madrid come knocking.
Complications surrounding Sarri's contract have delayed Chelsea's approach for the former Napoli manager. Amazingly, he is still technically under contract at the club despite Ancelotti's appointment last week; it is a mess that will hopefully be cleared up once the £7 million release clause in Sarri's contract expires on Friday 1 June. It is believed that Sarri has agreed terms only for the Napoli president to demand Chelsea pay a huge fee for his services, which could be negotiated even higher than £7 million in June. It's all rather confusing.
This could open the door to Real Madrid, who are far less likely to be put off by a big compensation fee. Sarri's attractive pressing football has caught everyone's attention this season, and having topped 90 points in Serie A Perez will be intrigued by the prospect of improving their style of play. If Chelsea don't make significant progress in the next few days, expect the odds on Sarri to Real to plummet.