Ed Hawkins: Cook a master of the mind games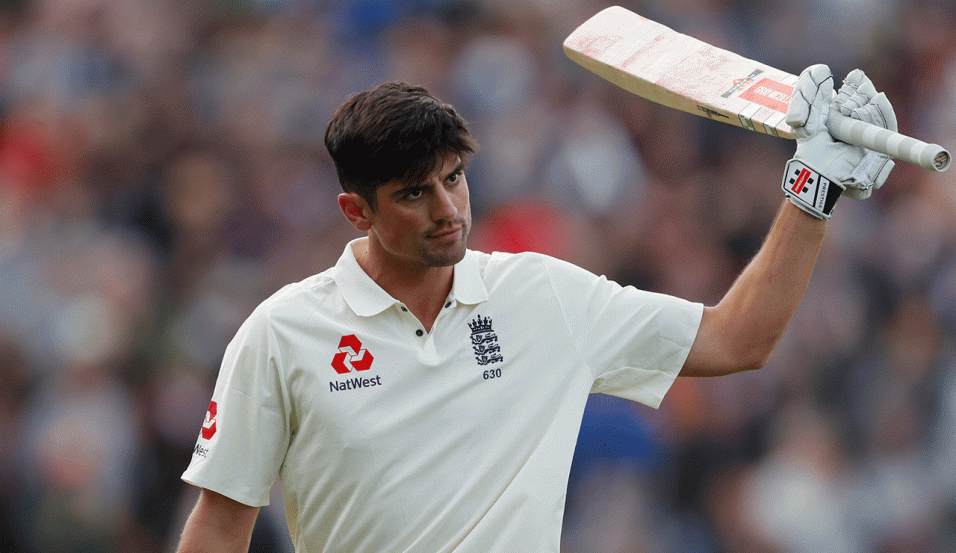 Cook a dying breed
After Alastair Cook bowed out of international cricket with a century at The Oval, Ed Hawkins explains why the England opener provided a fascinating insight into the mind of the Test match batsman...
"Cook is a throwback to a bygone age when you paid for Test runs with toil and hard work, eking, scratching, raging and battling."
Alastair Cook's century in his final Test innings at The Oval served as a reminder to what international sport is all about, what separates the great from the good, the good from the average and so on. Mental toughness. You can't succeed without it.
Cook, for the majority of his career, had it in spades. He was renowned for sweating very little in the fiercest of furnaces, the sort of physical evidence that can give an insight into what is going on behind the inscrutable narrow-eyed gaze of the pro sportsperson.
"I'm quite lucky," he said in Adelaide in 2010 during England's historic Ashes triumph, "I don't really sweat that much." Cook may as well have said that he didn't stress or worry much. It amounted to pretty much the same thing.
It was his greatest strength. Some might say his only strength. It sounds perverse for man who is the highest left-handed runscorer in Test history, and the fifth overall, but Cook was a technical car crash. He could fall over to the off side, he planted his feet, he got squared up and, when he was really struggling for runs, he would just dangle his bat and nick off.
The purists would often wonder exactly how he scored any runs at all, let alone enough to inexorably accumulate ascend to the pantheon. Cook was never easy on the eye. He was not a strokemaker. Hell, he only had about three. At a push maybe four.
Ian Bell, Cook's antonym, said this week that county cricket would never produce another like him. It is possible that Bell could have gone further. Maybe the game will never produce anyone like him again. Cook is a throwback to a bygone age when you paid for Test runs with toil and hard work, eking, scratching, raging and battling. When the triumph was to still be there with a strike rate of 30 instead of a boundary-laden 37 off as many balls.
History man
Not many kinds growing up, one suspects, want to be Alastair Cook. They want to be a Jos Buttler or Moeen Ali, swashbuckling their way to the cheers of the beery faithful in the afternoon sun. And then shaking hands on a lucrative IPL deal in the hotel in the evening.
The Cook story is just not as sexy. It's all very well bashing a few sixes against a tiring attack but, hey, what about surviving a morning session under grey skies with the ball doing everything and actually only hitting it five or six times?
The likes of Buttler and Moeen are no doubt in awe at what Cook achieved. In terms of natural talent he was some way behind. That is, unless, you disregard what's going on up stairs. And, of course, the modern game does exactly that. As we have said consistently throughout this summer, the England-India series has been thrilling precisely because of it.
Cook has struggled himself for some time. When he said "there's nothing left in the tank" he was almost certainly referring to his will to continue to wage psychological warfare. Being a Test match batsman is about facing your demons every single ball. At the other end is man trying to humiliate you, trying to end your career. It takes its toll on everyone. In the end.
Nothing proved that more perfectly or poetically than his haul at The Oval. With the pressure off, Cook was able to bat with freedom. He didn't have to worry about scoring enough to protect his reputation or career. He felt loose and relaxed.
Any sports psychologist worth their salt will tell you that Cook was in the perfect frame of mind to score runs. When a sportsperson is under pressure or burdened by expectation, muscles feel heavier or tighter. The technical movement required to execute their gameplan is short-circuited. Find a way to keep all the parts well oiled and, more often than not, you will succeed.
Irreplaceable
Test match batting is all in the mind. It's not about how many strokes you've got. Whether you can switch hit or hook. It's about whether you have the mental fortitude to reproduce your technique under the greatest scrutiny.
To a man, every professional batsman has a perfect eye and perfect timing. These guys are freaks who, at the ages of ten or eleven, were taking tons off men in provincial first-team matches. They can do it all. Some, though, can't replicate the natural game in the goldfish bowl of the county treadmill and fall away. Others find it easy and score oodles of runs. But the next step up proves too much. Mark Ramprakash. More recently James Vince.
It is why that when England search for a replacement for Cook, the amount of runs scored will not be as important. Michael Vaughan, if memory serves, had an average county record week in and week out. But in big matches he shone, earning his England chance.
Who that man is anybody's guess. A chart of psychological profiles would be more beneficial than run charts to head selector Ed Smith. And one has to feel a little sorry for him. Not only will he have to find the new Cook, he is still looking for the new Strauss. And he quit six years ago.
Keaton Jennings doesn't sweat much, either. But the insight into his mind is there for all to see, twice leaving balls at the Ageas Bowl and The Oval to be bowled without offering a shot.
It would be extraordinary if he went on the tour to Sri Lanka given his paucity of runs in this series. But it might be smart. Tell him he will play every Test. Take the pressure off. Free the arms and slacken the sinews. He can ask Cook about that.
Ed Hawkins P-L
2018: +10.7pts
2017: +12pts
2016: +18.1pts
2015: +38pts
2014: +31.5pts
2013: +25pts
Based only on available prices. Does not include back-to-lay in-running match advice or commission rate. Figures 2013-2016 on 1pt level stakes. New points system (0.5pt-5) introduced for 2017. Includes Hawk-Eye stats column p-l
Read past articles