Ed Hawkins: More boredom to come in the UAE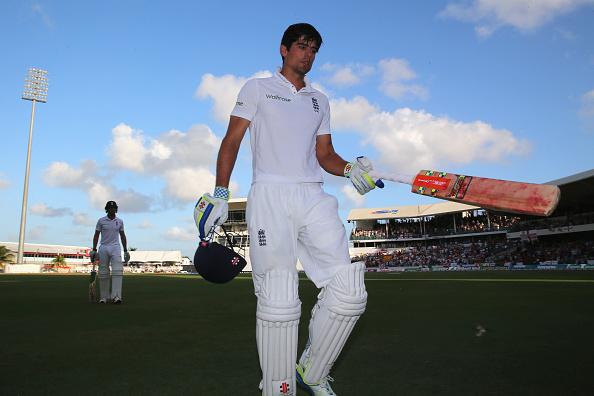 Even Cook worked up a sweat
Our cricket correspondent looks at the wickets in Dubai and Sharjah and asks whether the dull fare in Abu Dhabi is a sign of things to come for the Pakistan-England series...

"Poor old Shoaib ended up on a drip. Statisticians are checking whether this was the first occasion someone had almost bored themselves to death"
In the week that Pakistan and England appeared to be cruising towards a stupefying draw on a pitch which resembled one of Abu Dhabi's super highways, the ICC signed a sponsorship deal with Nissan.
Such is the self-interest at the world governing body, based next door in Dubai, that it would surprise no one if the road, sorry wicket, at the Sheikh Zayed Stadium had been prepared specifically as a sweetener. Perhaps the new backers wanted to test drive one of their latest models?
No doubt the bigwigs at the ICC and Nissan respectively spent so much time back slapping each other they did not care to look over their shoulder to spot that the supposed pinnacle of the sport - the Test game - that they were so interested in was eroding with each ponderous, ankle-high delivery.
The derision of players and pundits alike would not have been heard, either, lost as it was in the cavernous echo of empty stands.
And to think there are still two more Tests to go. Are we likely to suffer the same slow, painful death in Dubai and Sharjah? The draw price for the series is shortening by the hour.
As much as that question is worth answering, it is also worth noting that we should not be surprised by the festival of ambled twos and skipped threes in the sapping heat of Abu Dhabi this week.
We knew it was going to be dominated by batsmen. After all, the venue's reputation came before it.
Batsmen averaged 38.25 runs per dismissal there, which is the highest they average at any venue in the world that has hosted at least five Tests. In the previous seven Tests, batsmen had hit an incredible 21 centuries and 33 fifties.
But even Alastair Cook and Shoaib Malik, double centurions both, are unlikely to hope for a repeat of such a surface. They suffered for the art of concentration.
Cook, who supposed to never sweat, did actually perspire and required a change of shirt at one point. This is prime facie evidence of how arduous the whole thing was.
Poor old Shoaib ended up on a drip. This could have been exhaustion or the vital salts were required for a severe case of boredom. Statisticians are checking whether this was the first occasion someone had almost bored themselves to death.
Unfortunately, no one would be foolish enough to reckon that the medics will not be needed again. The Dubai and Sharjah wickets lie 18th and 21st respectively in terms of highest averages per dismissal in the whole of Asia. They both make the top 27 when the study is expanded across the planet.
There have been 19 centuries in eight Tests in Dubai and 15 in Sharjah in seven games.
In Dubai there have been only two draws but there are warnings from history. In the first Test staged there, Pakistan and South Africa topped up their batting averages nicely on a soporific surface, which - some achievement this - actually got better to bat on as the game progressed.
A result looked surefire after South Africa had been dismissed for 380 and Pakistan 248. But then the pitch died. It needed to be put on a drip, or something.
Only five more wickets fell in the last 212 overs. That's an average of a wicket every 42 overs. Bu the close on day three in Abu Dhabi, Pakistan and England had been on a rollercoaster of thrills by comparison - a wicket fell every 22 overs.
In the last Test played in Dubai, there was a hint of deterioration. It had been dull fare to begin with though. New Zealand posted 403 at 2.58 runs per over and Pakistan were ten runs behind them at a slightly quicker 2.67.
Pakistan were five down off 67 overs 'chasing' 261 but the first-innings procession had trampled on any hopes of a result. There were four centurions in the game, including a double from Brendon McCullum.
What will encourage the prospect of a result in the series is injury lists, significantly the return of Yasir Shah, the Pakistan legspinner, and the exit of Steven Finn.
Yasir, as we have said before, is a major threat. He is expected to fit for the second Test and he was the difference between another stalemate and victory in 2014 in Dubai against Australia. Yasir ripped through Australia's middle order with four second-innings wickets and the prospect of a pitch which turns will be welcomed by all, even England.
The tourists will be desperate to fight fire with fire, knowing full well that their fast-bowling resources, although superior, will surely be depleted by the time of the final Test. Pacemen just cannot get through such huge workloads in such a short space of time. It is why the injury to Finn is potentially crucial.
With a fit Steven Finn ready to come in for the last Test for any flagging bodies (the brittle Mark Wood will surely not complete the tour), England had a shot in the arm just when they might have needed it.
Not that they felt the same. The decision to call up Chris Jordan as his replacement was baffling. Jordan is an admirable cricketer and on helpful wickets is a handful.
But in the UAE his pace will be absolute fodder. There will now be no injection of pace or bounce when England need a replacement. Mark Footitt or David Willey would have been smarter picks.
Still, the pitches for the last two Tests are not the sorts one would wish to be debuting on. They could kill a career, a fate worse than boredom.
Discover the latest articles