Hawk Eye on New Zealand v England Second Test: Wagner to hit all right notes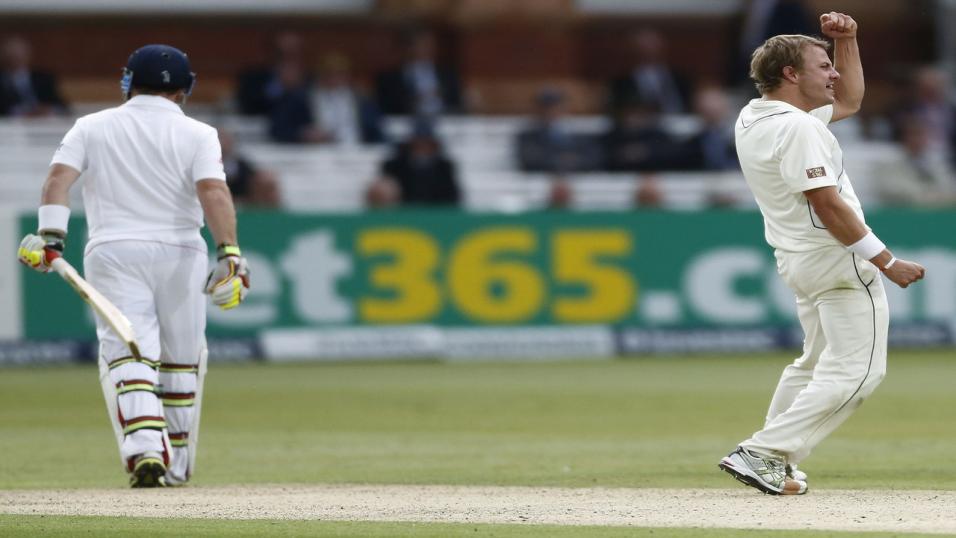 Neil Wagner has a great record
Ed Hawkins analyses the top New Zealand bowler market which looks highly competitive for the Christchurch contest, which starts on Thursday night
"Wagner was the second fastest New Zealand bowler to 100 wickets (26 matches), one slower than Sir Richard Hadlee"
Wagner our man for top Kiwi bowler
Trent Boult's booming swingers left England befuddled in the first innings in Auckland before Neil Wagner terrorised them with some chin music in the second innings. Tim Southee was no mug either. And even a leggie, the unheralded Todd Astle, got in on the act. This Kiwi attack can do it all it seems.
So one could be forgiven for feeling confused as to who to bet for top New Zealand bowler in the first innings at the Hagley Oval. Or maybe not. Hell, Boult took six wickets in that first-innings with a masterful display of swing bowling. Surely he is a gimme at 15/8 to cop again?
Look, we're not going to say don't bet on him because, clearly, the guy is doing something right and England's batsmen something wrong, although we utterly reject the notion that their batsmen were somehow guilty of ill-discipline against a moderate attack. That has been suggested in some quarters and it is absolute nonsense. This Kiwi attack is the real deal. Read our match preview here as we fail to understand why they're so big.
But we're also going to tell you to bet on someone else. As dangerous as Boult is - and boy do we respect him - he couldn't be considered a 'wrong price'. And we're only supposed to bet if the price is wrong, folks. Forget your hunches, cod-psychology, complex algorithms and cute theories on an individuals' technique, we only wager if we have a clear edge on odds.
And on this market, we do. And it's not Southee, either. Step forward Wagner, who didn't even bowl in that first dig in Auckland.
We were very close to betting him in that contest for the same reason we will bet him here. We are, naturally, mighty relieved we didn't because we would have looked rather stupid considering he didn't even warm-up. The reason we didn't? There was a feeling that the pink ball would possibly reduce the gulf between Wagner and his two pacer team-mates.
Wagner, is in in fact, the better bowler of the trio. Well, statistically at least. His strike rate of 51.9 trumps Boult at 56 and Southee at 61. He has an identical average of 27.8 to Boult whereas Southee comes in at 31. And get this, Wagner was the second fastest New Zealand bowler to 100 wickets (26 matches), one slower than Sir Richard Hadlee.
Pacer should be 15/8 not 7/2
The key stat though is how often Wagner cops on this market. He should be a 15/8 chance on his past record. That is an extremely impressive hit rate. So what do we think when he's chalked up at 7/2 by Betfair Sportsbook? We think it's a mistake.
By contrast Boult is ranked as the 15/8 favourite. He should be 100/30 on his record. Southee is second favourite at 11/4. Now, he should actually be 9/4. This confuses things slightly. If both Wagner and Southee have been underrated who do we plump for?
On past scorecards (only four mind you at the Hagley for Tests) it could be argued that Southee is the man. The venue could well suit swing bowlers. And overcast conditions should also assist. His strike rate of 49.5 just about beats Wagner's of 51.5. Southee (20) has three more wickets in the same four matches.
But are those theories convincing enough and the margins sizeable enough to ignore the huge gulf in Wagner's price from what it is and what it should be. As aspirant betting purists we would have to say 'no'. It would be a dereliction of duty not to take a 7/2 shot when we have numbers saying he should be 15/8. It's child's play.
Hawk-Eye P-L
2018 - points p-l: -4.39 (31 points staked)
2017 - points p-l: +5.29 (26 points staked)
Recommended bets
Discover the latest articles
Read past articles