India v England Second ODI Betting: It's make or break for struggling Morgan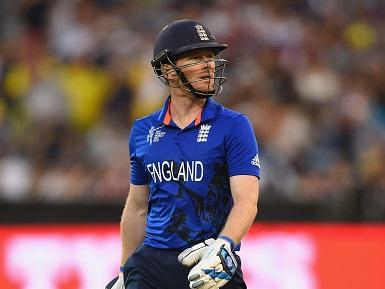 England captain Eoin Morgan hasn't made an ODI ton since June 2015
Virat Kohli began his term as India's ODI captain with a blistering century - Ralph Ellis says that has turned up the heat on England's skipper.
"India go into Thursday's second game as huge 1.538/15 favourites to win again and so wrap up a series win for which they are now as short as 1.141/7."
If Eoin Morgan wasn't already at a crossroads in his captaincy of England's One Day team, he is now. His next two matches could well decide if he keeps the job.
Morgan faced huge criticism for his decision to duck out of England's tour to Bangladesh because of his fears over safety. And it still seems strange that a leader could stay away from perceived danger while allowing his players to take their chances.
But it isn't about that any more. For Morgan, it is now about the only thing that really matters for any captain: his team's results, and his own contribution to them.
As we observed last week, India's new One Day skipper Virat Kohli was under every bit as much pressure, and probably even more, before Sunday morning's first game of the current series. There was gossip and intrigue over how legend MS Dhoni came to be standing down.
Well Kohli answered that very simply, with runs. And with more runs. And with fours, and huge sixes. By the time he'd hammered 122 from 105 balls he'd turned a guaranteed defeat into a pretty much certain win and showed his troops that anything was possible.
India go into Thursday's second game as huge 1.538/15 favourites to win again and so wrap up a series win for which they are now as short as 1.141/7.
Their preparation has hit a slight hitch, being forced to stay in Pune an extra day after they discovered the hotel they were supposed to move to in Cuttack had been double booked because of a wedding. But it's hard to see that minor inconvenience making any difference.
Kohli's blistering performance has caught the imagination of the public, with fans queuing from midnight around the Barabati Stadium to buy tickets. But more than that, it's inspired his team.
So if England are going to turn that round they need their own skipper to come to the party and add his contribution with the bat. It's no longer any good being just the calm dressing room influence, or setting tactically astute fields. He has to lead from the front with runs.
There's little sign of that happening. His 28 in the first game in Pune was just the latest in a run of low scores which make you question if he's worth his place in the side. Going back to the start of 2016 he's scored just 359 in 14 visits to the crease, only twice getting more than 50. In fact you have to go back now to June 2015 for his last ODI century and that isn't enough to say he deserves to play at all, never mind be the captain.
His form elsewhere hasn't been great, either. After missing the Bangladesh trip he took himself to Australia to earn a few quid with Sydney Thunder in the Big Bash League. And while he did finish with 71 not out off 50 balls, including a match winning last ball six, before that he'd got 26, 2, 52 and 8.
England have got to get their side right in time to host next summer's Champions Trophy, where in home conditions they are 4.3100/30 favourites. That means they need a captain who can lead with performances, and Morgan is running out of time to prove he can do that.
Discover the latest articles