India v England Build-Up: Tendulkar back to his best?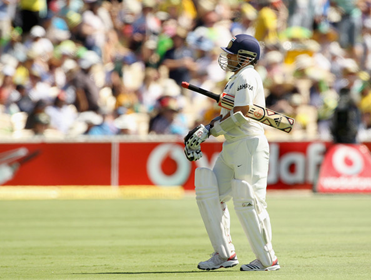 Will Tendulakr finish the series as Top Indian Batsman?
Ralph Ellis tells us about the grandson of an England batting legend, and why Sachin Tendulkar is value to be India's top batsman in the forthcoming test series...
"Tendulkar is fifth favourite at 6.05/1 in the early market to be India top series batsman and if he's walking out at Ahmedabad full of renewed confidence that's value."
The good news for England is that the grandson of a batting legend may have found his touch just in time for the Test series. The bad news is that a real, live, living legend seems to have rediscovered his form for India.

Even I'm not old enough to remember seeing Denis Compton play. I was exactly a month old when he scored 94 in his final Test against Australia to secure the 1956 Ashes, despite having just had his right kneecap removed. But everybody said he could bat better than he drank - and having seen him drink that's some recommendation!
I spent a couple of years early in my career working for legendary Fleet Street figure Reg Hayter, who had been Denis's agent. I have a memory of the wonderful, cavalier figure of the sporting 1950s coming to the Christmas party, regaling us all with wonderful stories, while filling hollow legs from the bottles of gin and tonic that littered the tables.

Thankfully it seems only the batting and not the drinking genes have been passed on to his grandson Nick. But 1,191 County Championship runs from 11 matches with Somerset this summer is confirmation of his talent. Now his 64 not out in the warm-up match against Mumbai A has almost certainly won him the job of becoming Alastair Cook's new opening partner when the Test series starts at the end of next week.

So that's one problem settled for England coach Andy Flower. But with injury doubts surrounding two of the key figures of his pace attack in Steven Finn and Stuart Broad, the last thing he needed was to learn that Sachin Tendulkar is back in the runs.

The Little Master has been less than himself in the last couple of years. You'll remember the struggle to reach the hundredth international hundred, and they haven't exactly followed like London buses once it finally arrived. In fact he had gone more than a year without a first class century - that was until the weekend when he got 137 from 136 balls with 21 fours and three sixes for Mumbai against Railways at the start of the new Ranji Trophy season.

It was a statement of intent from the 39-year-old. There are those who think he will retire at the end of this Test series (although they've said that about the last four or five series that India have played, so don't count on it). And he rubbed home the psychological impact on England by deciding not to bat in the second innings of a drawn game that finished yesterday.

Tendulkar is fifth favourite at 6.05/1 in the early market to be India top series batsman and if he's walking out at Ahmedabad full of renewed confidence that's value. Like all of the greats, he has the temperament to come alive on the biggest stages and a series against England, who took away his country's status as number one Test nation in the world, is a perfect chance for revenge.

India's batting line-up is strong, while England are in a transitional stage and losing half of their established opening partnership is going to make it tougher. The series will be decided by who can put enough runs on the board. I'd love Nick Compton to give us a flashback to his grandad's great era - but I fear it's more likely it will be The Little Master who is turning back the clock and that's why India deserve to be 1.558/15 favourites to win the series.
Discover the latest articles