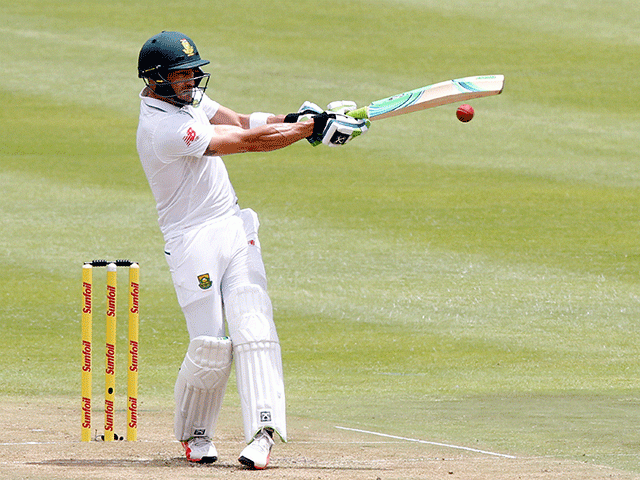 Du Plessis leads South Africa
Ed Hawkins worries about South Africa's mindset ahead of the four-Test series against England, which starts at Lord's on Thursday
"It has been reported that AB will quit Tests in August, a story that is being given far more relevance than necessary because he is not even in the squad to play England"
The England versus South Africa Test series is supposed to be the highlight of the summer. It pits two fierce, well-matched rivals against each other in a four-game contest which has had more ding-dongs over the years than Big Ben. So why with just a few days to go until the start of Thursday's first Test at Lord's does it feel like a damp squib?
I'm going to put the blame firmly at the feet of the South Africans, which have been twitching anxiously ever since they got here. We could well be about to start the denouement of a tour which could go down as one of their most embarrassing of recent times. What, precisely, has been wrong with them?
Ever since they arrived in mid-May there has been a collective 'meh' as if they couldn't be bothered about a trip which had the potential to define careers. They had the opportunity to put a resurgent England ODI team in their place before the Champions Trophy. Not interested. Their performances - aside from a win on a helpful Lord's pitch - were terribly listless.
And then there was the Champions Trophy itself. Finally, it would be their time one felt. They were the no.1 side in the world and they had an easy group to slip out off in second gear, straight into the semi-finals. Sri Lanka and Pakistan had awful records since the last World Cup. But no. They couldn't really be bothered with that, either.
Unless they were, if you get me. So desperate were they that arms and legs stiffened, muscles fluttered and ligaments went all wobbly. Batting collapses against India and Pakistan were either a symptom of a general malaise or trying too darn hard.
Still, there has been precious little evidence that South Africa want to be here. And that is mighty alarming for punters looking to get with them in the Tests. The squad has overgone an overhaul and it has the feel of the experimental.
They are [3.85] to win at Headquarters with England [2.12] and the draw [3.6]. For a series win they are [3.15]. England are as skinny as [1.5] with the draw [3.4].
We are often looking to get the favourite beat in this column so it is a pertinent question to wonder whether South Africa have the mental ability to last the course for this one. That's not a query we like to have to answer, by the way. Trying to get inside the heads of teams, individually and collectively is notoriously difficult.
It's hard not to try, though with South Africa because of their past of crumbling under pressure. The signs from the present are not too favourable, either.
The saga with AB De Villiers is a sideshow which the player and the team could surely do without. De Villiers has been on a poor run of form since the Indian Premier League and his demeanour during the Champions Trophy - withdrawn and a little grumpy - was picked up on by those that follow the team closely.
It has been reported that he will quit Tests in August, a story that is being given far more relevance than necessary because he is not even in the squad to play England. Will-he-won't-he? Who cares? Concentrate on the here and now.
Faf Du Plessis has been another will-he-won't-he. Du Plessis, the captain, was in danger of missing the first Test to be at the birth of hid child. Fine. Absolutely nothing wrong with that. It's the right thing to do. But it still adds to the uncertainty surrounding the South Africa camp at the moment.
I guess we just want to see some chutzpah, some grit and some energy from this South Africa team. Hey, we want you to do well, we want you to be competitive. The last thing we want is a dull, uncompetitive series.
England v South Africa contests are rarely that. They normally come with plenty of close contests, on-field bitching and regicide. On their last three visits South Africa have killed the king of the English game - the Test captain. Nasser Hussain, Michael Vaughan and Andrew Strauss' reigns were brought to an end by feisty and ferocious South Africa displays.
Nasser referred to Graeme Smith as "whatshisname", a disrespectful dig that bit him hard. Vaughan departed in tears. And Strauss was rung out. South Africans do something very strange to England leaders.
That won't happen this time with Joe Root taking charge for his first series but it's a reminder of what South Africa are capable of. They have won their last two series in England and lost only one in six. Maybe that's where the disappointment stems from. In those days it was England who were in flux, now it could be South Africa's turn.

Ed Hawkins P-L
2017: +11.73pts
2016: +18.1pts
2015: +38pts
2014: +31.5pts
2013: +25pts
Based only on available prices. Does not include back-to-lay in-running match advice or commission rate. Figures 2013-2016 on 1pt level stakes. New points system (0.5pt-5) introduced for 2017.
*Follow Ed on Twitter @cricketbetting