Ed Hawkins: I don't care what the weatherman says...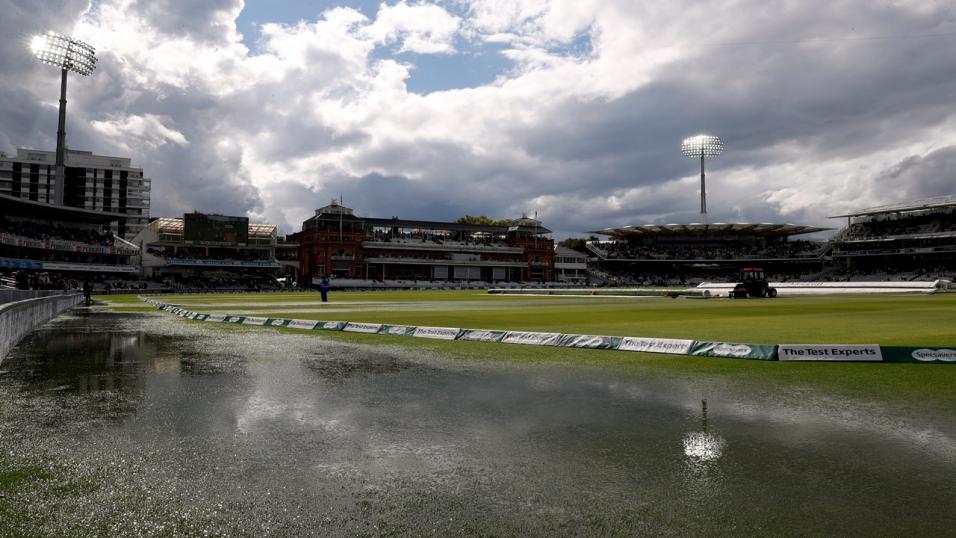 A wet Lord's
Our cricket correspondent is sore about the weather spoiling the second Test at Lord's, not that England would agree
"They chuck in every symbol they can get their hands on. The favourite is the light-coloured cloud offering a sprinkling of rain. And just for good measure, a coquettish sun teasing a few beams above it"
Every time it rains, it rains pennies from heaven
Don't you know each cloud contains pennies from heaven?
You'll find your fortune's fallin' all over the town
Be sure that your umbrella is upside down
Trade them for a package of sunshine and flowers
If you want the things you love, you must have showers
So, when you hear it thunder, don't run under a tree
There'll be pennies from heaven for you and me
Pennies from heaven
It was Frank Sinatra who sang about 'Pennies from Heaven'. Frank was many extraordinary things - good at craps, even better crooner and a bit of a rogue considering uncomfortable relations with the mob - but we're pretty sure he wasn't inspired to warble that ditty after having it off in a weather trade on a Test match.
What is, I hear you say above the distant rumbling of thunder, a weather trade on a Test match?
It's a good question. Although the concept is child's play, the culture is not. Most folks are more than happy to wager on the historic tradition for sporting supremacy. One human, or team, is faster, fitter, stronger, higher, further, smarter. But wagering on whether, and when, water will fall from the sky is anathema to some.
Yours truly included. It's not for me. Never has been. Never will be. Only on the rarest of occasions - and we're talking almost 15 years of trying to find winners in cricket - have I backed the draw because I think rain is going to ruin affairs.
And when I say 'think' I actually mean 'have been told'. That's because we're putting our faith in the meteorologists. And, as we all know, weathermen are even less trustworthy than tipsters. At least, like the stopped clock, we're right occasionally.
Weathermen, or the faceless weather sites, hedge their bets. That's something tippers and gamblers don't do. We have our bet. Team a will best team b. So-and-so will outscore so and so. The bloody weathermen? They chuck in every symbol they can get their hands on. The favourite is the light-coloured cloud offering a sprinkling of rain. And just for good measure, a coquettish sun teasing a few beams above it. Way to cover all eventualities, guys. It's a bit like recommending a bet like this 'Back India if they score 400 unless James Anderson reduces them to 15 for three with the first two days virtual washouts'.
The cloud-sun-shower forecast was the Met Office's offering for day one at Lord's when, a day before as protocol dictates, this website produced its preview for the second Test of the England-India series. We did not expect such a deluge, particularly after the heatwave in the UK which has been more like high-summer Chennai. But the point is, even if the weather experts had told us there and then that it would more likely be swimming conditions than swinging in St John's Wood we'd have still wagered the same way.
Over these long years of trying to beat the odds, betting on the weather has just never proved profitable. Or rather relying on the forecast. Indeed, I learnt that very early on in my time as a tipster. For a start, the majority of readers just don't want a detailed analysis of high- or low-pressure or what the ruddy Gulf Stream is doing. Or isn't. What's this huff, they say. Just tell me who will win?
The weather forecast has to be monumentally awful for us to start factoring it into our plan. Over the course of a five-day Test, with hugely improved drainage, and room in the schedule to make up for lost overs, it's just no fun. And if you're convinced of a washout like the weathermen, the odds are largely unfavourable.
Bitter
By now you'll note a hint of bitterness. Guilty. Lord's is supposed to drain like a sieve. And where's this rain come from anyway?
What lies behind this frustration is, of course, the grudging acceptance that betting in the weather is an art form. It's not one which the traditional punter recognises or understands because, as I said, it has nothing to do with human endeavour. The struggle. The battle. Whatever you want to call it. The very essence of sports betting.
In a funk I asked Mark Iverson, pro cricket trader supreme, his thoughts. Come on Mark, this is not betting as we know it, is it? We're on a higher plane, you and me, aren't we? Eh? Before quickly, timidly, asking whether he too had had it off on the draw price at Lord's.
"Funny you should say that - hardly ever trade Tests but have done this one," he said, "Stopped this afternoon though so no idea what current conditions are like."
The current conditions - as I wrote this - were wet. From a pre-toss 5.04/1 the draw is 1.9210/11. But it's been much shorter.
Yeah but, you know, proper gambling and all that, eh Mark?
"Just the same as trading the match really. Basically speculating on if rain is going to hit based on weather radars. If you can do that accurately then you can anticipate how the market will react and make money. I know there are people out there with teams of spotters whose job is to report back if its raining five, ten or 15 miles from the ground."
Could there be a more perfect job for an Englishman? Just think how many people would reply to such an advert. Wanted: Person to phone me when it's raining in Tyttenhanger. Paid role.
It's admirable, of course. It's an edge. Anything to steal a march on the odds. If it's raining 10 or 15 miles away from the ground and the weather radar tells you it's heading that way, you bet the draw. And just as those spots appear on the tv camera lens the price collapses. Easy money. And I bet you don't have to pay Clive in Tyttenhanger very much. He probably does it for nowt, save for the chance to rattle on about the weather. Which he'd be doing anyway.
Mark tells me that one website to use for this sort of trade is Rain Today. Some even use the Met Office which is, truly, very accurate so long as you're not looking a couple of days before. For the purpose of the above trade it's good and there's no need for a Clive, who once he has your number will be calling at all hours.
"It's raining here, in Tyttenhanger... just under 0.5 inches which, according to my records, which I've been keeping since the drought of 1976, is...
"I'm going to have to stop you there Clive. The Test match was last week...and it's 3.26 in the morning."
Long term, though, there's a problem. Climate change. Ha. The weather trade, if you're smart enough to eschew the notion that the globe warming up is not some bizarre conspiracy, has about as much longevity as those polar ice caps. Frank didn't see that coming.
Ed Hawkins P-L
2018: +15.21pts
2017: +12pts
2016: +18.1pts
2015: +38pts
2014: +31.5pts
2013: +25pts
Based only on available prices. Does not include back-to-lay in-running match advice or commission rate. Figures 2013-2016 on 1pt level stakes. New points system (0.5pt-5) introduced for 2017. Includes Hawk-Eye stats column p-l
Discover the latest articles
Read past articles