Ed Hawkins: Langer proves that England will face same old Australia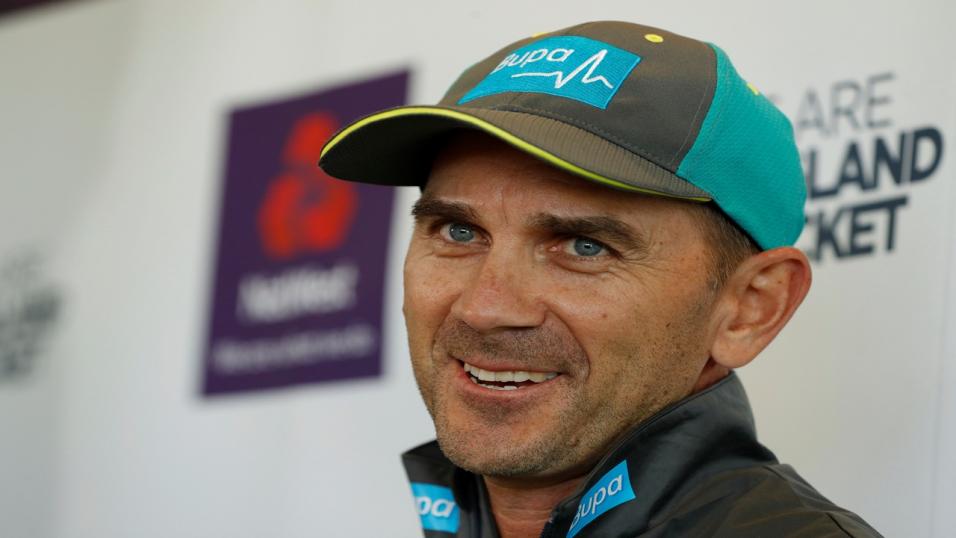 New Aussie coach Justin Langer believes there is still a place for sledging
Ed Hawkins questions whether Australia have really changed their behaviour before the start of their ODI series against England...
"Australia are still trying to define the now infamous line. You know, the one they crossed in South Africa when Nathan Lyon threw the ball down at AB De Villiers after a run out or Warner almost came to blows with Quinton de Kock"
During the 2006-07 Ashes series down under, I stayed in Sydney with my friend Baz for the final Test of Australia's whitewash. He was a typical fair dinkum Aussie. His Facebook profile at the time listed his favourite activity as 'philandering' and interests included 'nurses, inflatable penises, y-fronts, ciggies and beer'.
You get the picture. Baz and I had a disagreement following England's supine performance at the SCG. The defeat, according to him, could be explained by Australia being better at the 'art' of sledging.
"Are you suggesting England lost 5-0 because they didn't do enough swearing?" I asked.
"Absolutely," he said.
Baz explained that England were not aggressive enough. "You've gotta give 'em a stare. Call their wife a slag".
A new era?
I was reminded of Baz this week when Justin Langer, the new Australia coach, and Tim Paine, the new captain, gave a press conference in London ahead of the one-day series against England, which starts on Wednesday.
Langer and Paine are expected to usher in a new era of the sort of behaviour from the national team that, presumably, Baz would have taken severe umbrage at. They said gone were the days of Australia teams belittling and berating opponents.
This was exactly the sort of news that most rational observers of the world game would have wanted to hear. Australia had been exposed as bullies and cheats in the series defeat by South Africa. They lost their captain in Steve Smith, their next best batsman in David Warner and an emerging talent in Cameron Bancroft. It was a heavy price to pay.
Which was why it was surprising, nay startling, for Langer to suddenly leave the door open for a return to the bad old days. There was, he said, a difference between abuse and "banter". Banter is a word which should send a shudder down the spine.
It is one trotted out by bullies and cowards when they are called out. It was just a joke, they might add. Jokes which, to those on the receiving end, are not funny. And, by the way, those who dish out the 'bants' are almost always not joking. It's just a thinly-veiled way to say what they really think.
According to Langer banter is okay because he indulges in it with his daughter over a game of cards. "Everyone talks about this word 'sledging', but there's a difference between banter and abuse," Langer said. "Abuse is no good - it doesn't matter if you're off the field or on the field, there's no room for it ever. But there's plenty of room for banter, or what we call sledging. It's a fun part of the game!"
Bants or abuse?
What you will note here is how Australia are doing what they have always done, albeit using different language. They are still trying to define the now infamous line. You know, the one they crossed in South Africa when Nathan Lyon threw the ball down at AB De Villiers after a run out or Warner almost came to blows with Quinton de Kock. Apart from the fact they didn't cross it, because they are judge, jury and executioner.
This time Langer will adjudicate on what is banter, or sledging, and abuse. He decides, and his team culture, when 'bants' becomes something more personal.
Perhaps we are doing Langer a disservice. Perhaps not. Langer is one of Steve Waugh's lieutenants from days of yore when Australia treated cricket matches as if they were a war. It wasn't even sledging in those days. It was called 'mental disintegration' by Waugh, a man who is pedestalled by all and sundry but bears a heavy responsibility for allowing subsequent Australian teams to act like thugs.
Michael Atherton and Nasser Hussain joked this week that Langer "probably" has a picture of Waugh in his bedroom. If you have any doubt about Langer's attitude to winning and fair play - and why he might not recognise the latter - look at this video. Just banter, eh Justin?
If Langer's ill-advised theorising is an example of things never changing, here's the opposite. England are the shortest they have ever been to beat Australia in a one-day international. The hosts are no better than 1.558/15 to win at Lord's on Wednesday with Australia 2.526/4.
That could be considered value, whether the Aussies are at their snarling, sweary worst or just indulging in banter about Eoin Morgan's heritage. Still, it is worth remembering that there is no Smith, Warner, Starc, Hazlewood or Cummins.
As for Baz, his Facebook profile has changed. Activities and interests have been deleted. His profile picture shows him holding a beer in one hand and the form guide for a racing meet in the other. Between the two he's squeezing his baby daughter.
Ed Hawkins P-L
2018: +13.62
2017: +12pts
2016: +18.1pts
2015: +38pts
2014: +31.5pts
2013: +25pts
Based only on available prices. Does not include back-to-lay in-running match advice or commission rate. Figures 2013-2016 on 1pt level stakes. New points system (0.5pt-5) introduced for 2017. Includes Hawk-Eye stats column p-l
Discover the latest articles
Read past articles