Ed Hawkins: Finn's return right on time for resurgent England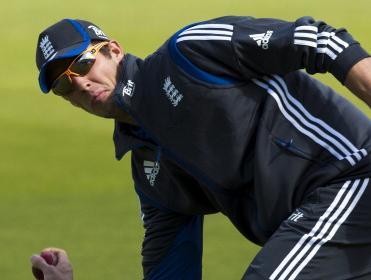 Finn is firing again
Our cricket correspondent says the selection of the Middlesex fast bowler could propel the hosts to an unlikely series victory over India who are badly missing Ishant Sharma...
"When the pundits and commentators talk about Anderson and Broad as England's only two world class bowlers, Finn's supporters are smarting"
England's thumping victory against India at Southampton was proof that a week is a long time in cricket. But not as long as eight months. Just ask Steve Finn.
It was January when Finn faced the prospect of his career hitting the skids. Once heralded as one of the finest young fast bowlers in the world, a harrowing Ashes tour had left him bowling from a standing start. And he didn't even play in a Test series which will go down the annals as one of England's worst.
All rhythm had been lost and confidence had been sapped by the endless meaningless deliveries sent down as a net bowler. Soon the ultimate ignominy followed. He wasn't even considered good enough for practice. He was sent home.
Happily his resurgence as a force - 44 wickets in Division One - has coincided with an upturn in England's fortunes and although we would advise caution of the latter's longevity, Finn might just be able to propel Alastair Cook's team to an unlikely series victory.
Is that asking too much too soon? Nope. Finn is England's classiest fast bowler and has been for some time. Well, apart from when he appeared to be suffering a mild case of the yips. 
His approach to the crease is quick and powerful, generating the momentum to get through the action smoothly. This is when it gets uneasy on the eye for the batsmen. Finn, at 6ft 7in, is capable of steepling bounce and just enough seam movement to unsettle.
If he looks good on grass, he looks good on paper, too. He was the youngest Englishman to 50 Test wickets and with 23 Tests and 90 wickets behind him he has a superior average at 29.40 to James Anderson (29.73) and Stuart Broad (30.66)
It is perhaps unfair to compare him to Anderson as they are two vastly different bowlers. But when the pundits and commentators talk about Anderson and Broad as England's only two world class bowlers, Finn's supporters are smarting.
In the last 10 years only Simon Jones has a superior strike rate to Finn in the list of English fast bowlers. Finn takes a wicket every 48.3 balls. Consider that Steve Harmison, who he has been compared to, took one every 63.2 and it is negligent to forget Finn's talent.
He is actually that not a dissimilar bowler to Broad. But perhaps much better. After Broad's first 22 Tests he had 64 wickets costing just shy of 36 each with a strike rate of 65.4. Clearly, Finn needs to hire Broad's PR manager.
If Finn is picked for Thursday's fourth Test at Old Trafford it gives England a dangerous-looking attack on a wicket which could expose India's frailties.
In the last 10 years the surface in Manchester has been quick and rewarded bowlers who can bang it in. It played perfectly to their strengths when they could call on players like Harmison, Flintoff, Broad and Finn himself. He wrecked Bangladesh there in 2010.
England have a formidable record at Old Trafford. They have won five of their last seven, drawing the other two. One of those victories came against a Pakistan side who could not cope with the fast and bouncy nature of the wicket.
Before the match in 2006, Pakistan prepared in the nets by bouncing throwdowns of a concrete slab to try to replicate the test that waited them. It didn't work. They were beaten by an innings and 120 runs.
The point of that anecdote is to highlight the possibility that India's batsmen could find it as difficult. Fast and bouncy wickets are not the norm in Pakistan. Nor are they in India so when they come up against one it is important to be aware of the potential for carnage.
They were beaten by 10 wickets on a quick strip in Durban last year, in 2012 they could not cope in Perth and Sydney while on their last visit to The Oval in 2011 they were also thumped, although on those last three occasions morale was at a low ebb.
England's timing, and Finn's, could be spot on. Cook's men would have taken great confidence from the victory at the Ageas Bowl. It was a game where everything seemed to go right. Even Cook's captaincy wasn't too shabby.
There could well be a surge on the home side to take a 2-1 lead with patriotic punting taking hold. England are 2.6613/8, India 5.709/2 and the draw is 2.206/5.
Finn's selection is, oddly for an England set-up which drops some clangers, bang on time. Just when they appeared to be too reliant on Anderson, they have added much-needed ballast. Anderson, despite feeling at home, has a poor record at Old Trafford, averaging almost 36.
India's timing is off and concern is growing in the camp. There is a feeling that if they can just get out of Manchester without defeat, they might be capable of turning the screw at The Oval. It could be a disastrous mindset.
Whereas England do have the bowlers who can exploit Old Trafford, India's is injured. Ishant Sharma may be a big miss for the tourists. Without the bounce he can generate an attack comprising Bhuv Kumar (who also has an ankle niggle), Mohammad Shami and Pankaj Singh does not look fit for purpose.
India could bring in Varun Aaron to give England's batsmen the hurry up. He is capable of bowling at an average of 88mph and has been clocked as high as 93mph. 
Using him as a shock, rather than stock, bowler would be smart and Duncan Fletcher, the India coach, has used the tactic in the past notably with Jones. However, Aaron is a skiddy-type bowler and does not possess the height to deliver throat balls. 
Sharma, therefore, just as we suggested before a ball had been bowled, could be crucial to the outcome of the series - England are now 2.0811/10.
Taking his place as MVP could be Finn. Suddenly England look backable again. It's taken 10 Tests. That's a long time, too.