Ed Hawkins: The original Twenty20 should still capture the imagination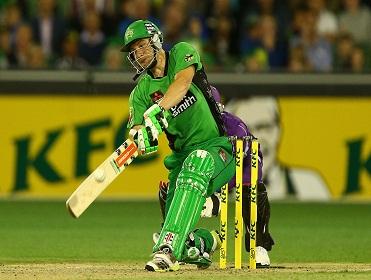 Luke Wright will be a key man for Sussex
England's domestic competition - now called the T20 Blast - starts on Friday. It might not have the glitz and glamour of the IPL but that doesn't mean it's not good to bet on, explains our cricket correspondent
"With the front four in each section qualifying for the quarter-finals, there should be room for trade in Sussex's price."
It might have escaped your attention but the original Twenty20 competition, which spawned copycats around the world and sparked cricket's most exciting, chaotic and controversial era ever is back.
Yes, it's the domestic Twenty20 in England. A bit like the belle of the ball who turned up way before the other lovelies, wowed the suitors in a revolutionary and eye-catching ensemble but then had too much fruit punch, it's not as attractive as it once was.
The T20 was supposed to be the saviour of English cricket. But attendances have slowly fallen and interest has waned since its inception in 2003, particularly as the Indian Premier League, despite its multitudinous problems, continues to be more appealing for fans and the top stars alike.
And for bettors, too. The IPL will turnover millions per match. The T20 Blast - yes, new name - will not. Liquidity is getting there, though and the fraternity who like a tenner and fiver will be sated. By the time the first ball is bowled at 17:30, there could even be a slice for the big hitters.
Hampshire and Nottinghamshire are favourites for the title at 7.06/1 apiece and there can be no denying that with the biggest-price side, Worcestershire, at 32.031/1, there is value in abundance.
Finding a winner is trickier than the IPL, though. No grand statement that considering there are 18 counties to pick from. Indeed, while you can normally rely on identifying spirit and gumption in the IPL, the country treadmill tends to reduce grit to gristle, blown away on the summer breeze.
No matter. We're going to give it a go. But first we need to understand a re-jigged format with the old system of three groups of six replaced two groups of nine, split by the north-south divide. Confusingly, each team plays 14 games in this group stage; home and away against six teams in the group, home or away against the other two.
We're not entirely sure the point of that but, as alluded to previously, the ECB has been rather adept at taking the golden eggs laid by the golden goose and scrambling them. 
Hampshire and Nottinghamshire look fair favourites. Hants can count on Glenn Maxwell when he has finished destroying bowlers in the IPL while the Outlaws appear to have the most balanced, not to mention powerful, squad.
In Alex Hales, Michael Lumb, Phil Jaques and Samit Patel they have one of the best batting units around. Throw in Gary Keedy's spin and the pace of Peter Siddle and they have the recipe for success.
We like to get with teams who have a fast starter, stellar No 3 or No 4 and then lower-order hitters. With the ball we need a good death bowler and a wily spinner.
Who else can match up? Well, Sussex could be there or thereabouts with Ed Joyce, Luke Wright and Matt Prior and Jon Lewis forming an England old boys club. Yasir Arafat's death bowling and the tweak of Michael Yardy appeals. They are appealing at 16.015/1.
With the front four in each section qualifying for the quarter-finals, there should be room for trade in Sussex's price. 
Surrey, who are 12.011/1, the holders Northamptonshire at 15.014/1 and Middlesex, who can call on the musclebound Dan Christian, are likely to see support. 
Essex are another side at 12.5 who have the personnel to do well so long as they're focussed on not larking about. They have a few 'boys' in that dressing room who like a jolly up. They could improve on last year's semi-final.
Finally a word for Worcester. The Rapids are not well fancied given they are the rags at 32.031/1 but should not be discounted because of the presence of Saeed Ajmal, who will be around for the bulk of the tournament but not the death. There are worse bets to have.
Recommended bet 
Back Sussex at 16.015/1

England overrated 
Staying on the Twenty20 theme. England - oh how we've missed them since their implosion in the World Cup - are back in action against Sri Lanka on Tuesday at The Oval. They are 1.794/5 jollies at the moment. Yes, you read that right. Sri Lanka are 2.01/1. Yes, you read that right. It is certainly questionable whether England should be as skinny against any fellow super power in this format but the world champions? Scoff! Fill your boots. The wicket in south London should be dry and hard and perfect for the tourists, too.

IPL notebook
To keep you in the loop regarding the IPL favourites tally, we now have (before last night's match) 41% of matches won by the outsiders.  
There has been something of a rise in upsets with four of the last seven jollies getting knocked over. As for profit-loss per team, feast your eyes: Punjab +£66.51, Chennai +£43.60, Rajasthan +£38.60, Kolkata +£10.80, Hyderabad -£29.10, Bangalore -£33.90, Mumbai -£34.40, Delhi -£57.20.
Kings XI, despite defeat by Kolkata have nearly doubled money for punters from the 24-game stage. But it's Kolkata who are the form team for value hunters. They've seen the biggest positive swing of all teas, going from losing their backers (at £10 level stakes) £22.60 to profits of £10.80. Can KKR maintain it to make the next stage? We suspect they will have another wobble but maybe our pessimism is present because we tipped them when they were the rank outsiders. By the way, seven wins should do it for a top-four spot. 
Discover the latest articles