Euro Elections Betting: Back UKIP to win and prepare for the fallout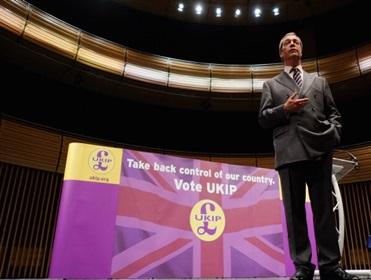 Nigel Farage will be a significant player at the next election
The UKIP bandwagon rolls on, with Nigel Farage's party now clear odds-on favourite to win the looming European elections. Paul Krishnamurty is backing them to win big and believes there could be dramatic knock-on effects in Westminster...
"If the Euro result is as expected, somebody may have to pay a price. My instinct is that Nick Clegg will be the fall guy...Cameron, however, is also in a deeply uncomfortable situation."
Thus far, the coalition's creation of fixed-term parliamentary terms has been terrible news for political punters. Whereas in the past, markets such as Most Seats and Party Leaders were both liquid and volatile, reacting to media rumours, this time they've barely moved. Removing the uncertainty over the election date has made punters less likely to tie money up until 2015 and killed the media's tendency to get overexcited.
Consequently, a series of advised positions remain unresolved. Labour have moved to favourites since I tipped them at 2.4 in 2010. The Lib Dems have doggedly stuck by Nick Clegg in defiance of my repeated prediction that they will have to dump this most devalued of party leaders. Boris Johnson's odds to be Next Conservative Leader are still around the recommended 4.84/1, but Vince Cable has drifted in the market to be Next Lib Dem Leader.
As we enter the proverbial home straight, with just a year until the next General Election, all these positions could swing either way and the picture regarding the last two could be about to become much clearer. For in less than three weeks time, Britain looks set to experience a political earthquake which will send tremors through the entire Westminster Village.
The event in question is of course the European Parliament Elections on May 22nd, for which UKIP are now favourites to win most seats and most votes. Since I recommended them for this market a couple of months ago, Nigel Farage's party have barely been out of the news. We've heard story after story concerning the racist or sexist views of their candidates, racist posters yet with each bit of publicity, their vote share seems to grow. Evidently, the historic power of the Tory press to destroy opponents is waning.
The most recent polls are mixed. In the last two Yougov surveys recorded Labour ahead by one and three percentage points, yet previously TNS-BMRB and Comres had UKIP leading by huge 11 and nine point margins. As in all lesser elections, differential turnout will be decisive and that points strongly towards Farage's better motivated supporters. Labour have a poor record of getting their vote out for contests like this, whereas for the sizeable minority that warm to UKIP's 'Take back our country' message, May 22nd represents a once in a lifetime opportunity.
This is more than just the traditional mid-term protest. What we are witnessing is the growth of a movement, that has long existed within British society but until now lacked a viable electoral choice. Their worldview is one that has proliferated the tabloid press and talk radio for decades. It isn't just going to disappear. UKIP are going to be a significant player, perhaps a decisive one, at the next election. Victory on May 22nd will ensure they remain newsworthy and the extra name recognition could see their vote share rise further.
So long as UKIP's numbers hold up in national polls, promising to deny the Tories any chance of winning an overall majority, the more jittery MPs are going to become. If the Euro result is as expected, somebody may have to pay a price. My instinct is that Nick Clegg will be the fall guy after the Lib Dems are wiped out and perhaps relegated to fifth behind the Greens. Cameron, however, is also in a deeply uncomfortable situation.
Like the rest of Westminster, the PM does not know how to deal with UKIP. His latest plan - to guarantee an In/Out referendum if the Tories win a majority, or make it a core demand in coalition negotiations - is too little, too late. Having reneged on his 'cast iron guarantee' on the Lisbon Treaty, ardent Eurosceptics simply won't believe Cameron, especially as he is ultimately pro-membership. Ideally many Tory MPs would like an electoral pact with UKIP, but Cameron can never be the man to deliver it.
I will be keeping a close eye on any media manouevres from potential rivals, particularly Boris Johnson, who is expected to announce his plan to return to Parliament within weeks. For the Tories to ditch their leader, just months before the next election, remains a longshot but stranger things have happened. The national polls simply aren't moving in the Tories favour and the projected distant third place on May 22nd would be a disaster. 
Clegg is much likelier to go though, because the Lib Dems are faring so badly they have nothing to lose from a change. Either way, 1.558/15 about all three Party Leaders contesting the next election looks worth laying.
Already advised 
Back UKIP to win Most Votes in the European Elections @ 1.910/11, now 1.664/6 and still good value

Discover the latest articles