Frankel: Queen Anne winner is Timeform's highest-rated horse in history on 147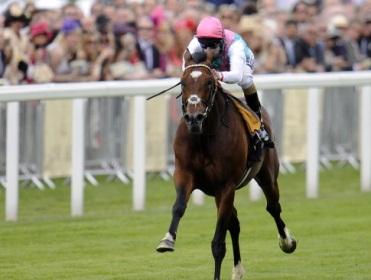 Frankel: The greatest horse in Timeform's history
The unbeaten Frankel increased his Timeform rating to an unparalleled 147 with a scintillating victory in the Queen Anne Stakes on day one of Royal Ascot 2012. Simon Rowlands explains the historical significance and some of the processes involved.
Frankel's stunning Queen Anne Stakes win is emphatically one in which the heart and head can provide the same answer: "Yes. Oh, yes indeed!"
Frankel's performance in winning the Queen Anne Stakes on the opening day of Royal Ascot 2012 by 11 lengths rightly had the scribes reaching for superlatives. As racing fans, we can all take a few moments out to appreciate such a display, instinctively, for what it was: equine magnificence.
Yet, when the dust has settled, Frankel will be judged by history not just for the emotions he provoked and for the memories he gave us, but for his achievements in cold, hard terms.
How, then, do those achievements stack up, in clinical, rather than in visceral, terms?
Timeform was founded in 1948 by Phil Bull, a man who prided himself in dispassionate analysis. That mindset has informed every person who has worked at the company since.

Recent generations have been acutely aware of the legacy of Bull's philosophy, and of the defining horses and performances over what is more than 60 years now.
On the Flat, Sea-Bird (born in 1962, rated 145), Brigadier Gerard (born in 1968, rated 144) and Tudor Minstrel (born in 1944, rated 144) have towered over those who have come since. Until Frankel came along, no horse had breached the 140 rating barrier since the 1970s.

So, it was not done lightly when Frankel was rated 143 at the end of his three-year-old career. And it is not done lightly now that he, on 147, is rated higher than any horse in Timeform's history.

Frankel's 147 rating is not simply a response to just one remarkable performance, either. It might have been plausible to have rated him that highly on his facile win in the Lockinge Stakes at Newbury in May as well, but caution was exercised given the race's position early in the season.
Frankel has now won 11 races out of 11, the last six of them Group 1s by a combined winning margin of 31 and three-quarter lengths. That is an astonishing record even when judged against the greats of yesteryear.
Frankel may have taken his form to a different level at Royal Ascot on Tuesday, but it was not as if the effort came out of the blue, in other words.
An explanation of the mechanics of Timeform's assessment of this year's Queen Anne Stakes is, of course, required.
One important factor is the poundage for distance beaten in use. Margins between horses have, since 1997, been conversions of the time lapses between those horses at the finish. These conversions are made by the racecourse Judge on a fixed scale according to the official going.

It is, therefore, necessary first to come up with a pounds per second figure, into which the lengths per second allowance is divided, in order to come up with pounds per length.
The official conversion in use for the first two races at Royal Ascot on Tuesday was 5.5, in accordance with the official description of the going as "good to soft". Later races were calculated at 6 lengths per second, in line with an overdue change in the going to "good".
It follows that Frankel's 11 lengths winning margin was equivalent, more or less, to 2 seconds. If his race had taken place later on the card, that winning margin would have been returned as 12 lengths instead.
It is also folly to treat poundage allowances the same for a given race distance irrespective of the time of the race. Frankel ran the straight mile in 1 min 37.85 sec - not far off a course record - and it follows that each unit time converted into a length will have been greater than in a race run more slowly.
Both of these factors correctly give rise to a pounds-per-length allowance that is higher than under conventional circumstances.

Also, and very much to the point, Timeform categorically does not favour the dubious convention of rating races "around" cherry-picked horses. As we have explained often before, such "yardstick" handicapping is unscientific and far too subjective.
Instead, a race is tackled statistically according to historical measures (race standards) and information about the achievements of the individual runners themselves (prior-rating standards).
Both of these tried-and-trusted measures place Frankel's Queen Anne win well into the 140s on the Timeform scale. Race standards could justify the figure being as high as 148, prior-rating standards make it a few pounds less.

"Dispassionate analysis" points to a figure in the mid- to high-140s, in other words.

Frankel's 147 rating actually has his old foe Excelebration running a good few lengths below his previous form. It has the third and fourth, Side Glance and Indomito, within 2 lb of their previous form. And it has every other horse that contested the race below its best by between 4 and 34 lb.
We will leave it to others to explain the reasoning behind their own assessments. But it should be pointed out that the BHA - which works with a lower and rigid poundage allowance, and which favours yardstick handicapping - operates at a level that is, at least now, several pounds below Timeform's.
There have been plenty of performances over the decades since 1948 in which the heart has said "yes" but the head has said "no". This is not one of them.
Frankel's stunning Queen Anne Stakes win is emphatically one in which the heart and head can provide the same answer: "Yes. Oh, yes indeed!"
.......
Get unsurpassed levels of analysis & stats for Royal Ascot with Timeform Race Passes. Find Out More.

Read past articles