India v England ODI Betting: Have tourists been exposed as mere pretenders?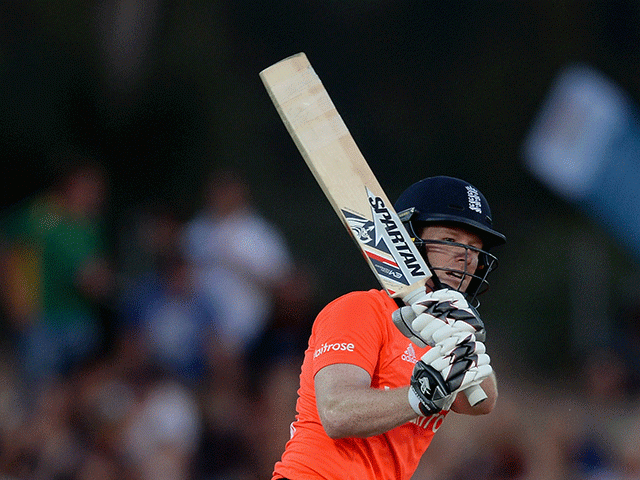 Morgan's England are not learning, says Ed
Ed Hawkins looks at England's performances in India and wonders whether the one-day revolution is beginning to slow...
"Have they been impressive and exciting purely in the context of their ODI history - yonks and yonks of abject failure?
England's defeat in the second ODI at Cuttack, which guaranteed India the series with a dead game to spare on Sunday, will be remembered by the purists as an epic. The sort of thrash and bash helter-skelter, they will say, that breathes new life into a format often described as huff and puff when compared to a panting Twenty20.
Good for them. Cricinfo called it 'a sequel for the ages' to follow India's marvellous chase of 350 in Pune the game before. Well, good for them.
Of course, in this small tragi cricket corner we are not interested in defining one game as better than the other. But if were, we might point out that rather rapidly after MS Dhoni and Yuvraj Singh were flung together at 25 for three India were favourites for the rest of the match. And mighty short, too. They were always going to win. So hardly a thriller.
What we are interested in is whether a match might define a team. Thanks to the treadmill that is ODI cricket, it is rare - and foolish - to consider each game with such importance. So when a contest in its aftermath genuinely has one asking questions like "where does this team go from here? Are they going to improve? Has a decline/resurgence started?", it is worth sitting down and having a good, hard think.
Following England's loss, my initial reaction was one of puzzlement. I thought England's bowlers were better than haemorrhaging the amount of runs that they did in the last ten overs. Or that they were a unit growing and learning as they went. (I didn't think they were good, by the way, just not as bad as they were).
I also reckoned Eoin Morgan was a cannier skipper than he showed in Cuttack. And that this England team was the coming force. A real powerhouse with the bat in a chasing situation. In short, they were good value when the toss went their way.
And the real brutal question I wondered was this: are they now unbackable? It's not often you think that in this game. That crops up probably less frequently than defining matches. So it was one to take seriously.
It was alarming precisely because England have been so impressive and exciting. Yet have they been impressive and exciting purely in the context of their ODI history - yonks and yonks of abject failure? They had been slow, unimaginative, stuck-in-their ways and regularly beaten.
The England ODI teams of old were almost unbackable, too, save for bowler-friendly conditions when they did a good impression of an excellent ODI team, only to be shown up as utter impostors when they got on something flat and hard.
There is a danger that the revolution carved by Morgan and coach Trevor Bayliss could be something similar. England can bat with brutality and carefree abandon. But there's nothing smart about that. It's the brawn of ODI cricket. The brains are bowling to tight lines, using variations, hunting in packs.
England are still not doing that. And that is why they could soon become bad value. If we can't trust England to defend 350 - only the sixth time more than 350 has not been enough - from a position of strength with the opposition at 64 for three, when can we? If we can't trust them to keep a chase manageable with the opposition 25 for three, when can we?
Or to be clearer, when are they a good price? Certainly not at skinny odds when in charge with the ball apparently. If they win the toss and bat (which they should almost never do, by the way) you are wagering on their batting being bullish and the opposition bowling being bull**** because we know they're going to have to must way more than 300. In the last two years England have posted 299 or more 13 times. They have lost six of them.
It is true that if you get on before a ball is bowled and Roy, Root, Buttler and Morgan fire, they have contracted sharply and shortly. So there's an easy trade. But where's the fun in small percentage betting? Punters want to let a bet ride. They want an out-and-out winner.
And if they bowl first? Keep your money in your pocket. Unless it is a green seamer this bowling attack is going round the park and they will be far bigger at the break. Particularly with Morgan showing worrying signs in Cuttack. How was it that Willey and Moeen, his third and first most economical bowlers did not bowl their allocation? Perhaps they would have been smashed anyway.
The problem with waiting until knowing what England will have to chase is that it becomes harder to put your money down. Doubts, inevitably, creep in if they face 350. Suddenly your bet looks a poor one with an early wicket. Indeed, it consistently looks a poor one because if Cuttack was anything to go by - and it normally is - getting their noses in front is hard to say the least. Unbackable then?
None of this may matter once this series is over. The Champions Trophy takes place in England next summer and their pace bowlers might get the chance to swing it Willey-nilley. The hosts are favourites for the title at 4.216/5. The value has long gone.
Yet even if they win it, they could still be exposed as exactly like those England sides of yore. Could this lot, despite the frenetic and free strokeplay, just be another bunch of impostors?
Ed Hawkins P-L
2017: +1.22
2016: +12.5
2015: +38
2014: +31.5
2013: +25
Based only on available prices. Does not include back-to-lay in-running match advice or commission rate. Figures 2013-2016 on 1pt level stakes. New points system (1pt-5) introduced for 2017.
*Follow Ed on Twitter @cricketbetting
Discover the latest articles