England v Pakistan Test Series Betting: Cautious Cook could prove costly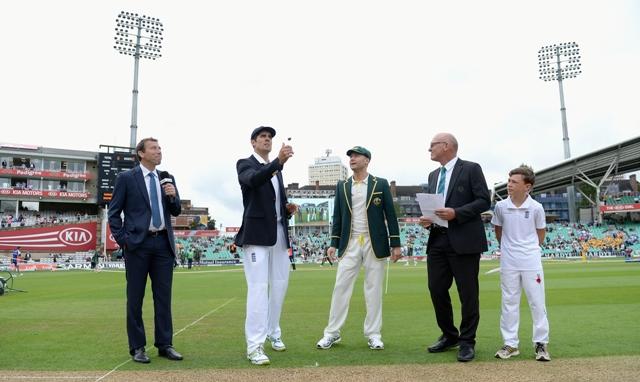 Cook's safety-first approach is a pointer for punters at The Oval
Ed Hawkins analyses what the captain's decision not to enforce the follow-on means for punters taking a chance on England in the future...
"So when Cook got the chance to be dour in Manchester, he grasped it with the relish of a geriatric finding a Werther's down the cushion of the orthopaedic high back"
They say that old habits die hard and England resuscitated an old friend in victory over Pakistan at Old Trafford in the second Test.
The decision not to enforce the follow on when they had an eye-watering lead of 391 (for fans of the BBC's old vidiprinter we'll write that in the style of how it reported a football thrashing of cricket-score proportions: THREE HUNDRED AND NINETY-ONE) was a return to the staid and sober ways of the not-so-distant past.
It was perhaps the most surprising element of a Test which otherwise pretty much went to plan - the side batting first was always going to have a sizeable advantage. The hosts are now [1.69] for a series win. After all, this England side have been making a name for themselves as a team who are fearless and attacking.
Gone are the Test matches where they employed the safety catch with relish. Well, they were supposed to have disappeared anyway. The problem is Alastair Cook. Old stodge pot himself.
One gets the feeling that Cook has never been that comfortable with England's new gung-ho approach. He's the sort of bloke who thinks gung-ho is an exotic holiday destination. And he'd never go there anyway because he wouldn't fancy the food.
So when Cook got the chance to be dour in Manchester, he grasped it with the relish of a geriatric finding a Werther's down the cushion of the orthopaedic high back. He must have been in raptures (inside anyway).
As someone who believes that the point of playing professional sport, by and large, is to win this was (insert expletive) maddening. Now consider how furious one might have been had one risked their hard-earned on England to win that Test.
'Ah, but they did win,' you say. 'Cook was vindicated.' No he wasn't. He was exposed. Exposed as a captain who was so afraid of defeat - remember England would have been 2-0 adrift and the series almost certainly gone, too - that he almost didn't have the guts to win it.
There are two lines of mitigation that only the most one-eyed of England supporters will spout. The first was that England's bowlers were tired. The second is that Cook didn't want England batting last on a deteriorating pitch with Yasir Shah whirling his wand.
In Pakistan's first innings only 63.4 overs were required to take ten wickets. That 63.4 over workload was shared by five bowlers. James Anderson and Stuart Broad bowled 12 and 13 overs respectively. The pair - the leaders of the attack - didn't bowl after lunch.
That is the equivalent workload of a light jog around the park after elevenses. Chris Woakes, who bowled the most overs (16), did an extra quarter of a lap. If any of England's bowlers felt remotely weary, they should have been dispatched to the nearest hospital for an emergency check-up.
In an era of finely-honed human athletic machines, it is contemptible bunkum. Yet rationale No 2 is probably worse. With a lead of THREE HUNDRED AND NINETY-ONE, was Cook seriously concerned about conceding 500 in the third innings of a Test match and his batsmen then capitulating for chicken feed?
It might be a bit of both. Either way, Cook lost his nerve. By not enforcing the follow-on Cook was saying that he did not have faith in his bowling line-up. It is bizarre considering how easily England went on to win the game.
So Cook is indefensible. He succeeded in taking overs and time out of a Test match when the object of a cricket captain is to put it in. For a spell he actually reduced his side's chances of victory by not even hitting a ball or asking one of his jaded pacers to turn their arm over. Instead he did it with his feet up in his cosy slippers while sucking on aforementioned Werther's. Some feat.
He has done it before. Two years ago against Sri Lanka at Lord's Cook settled down in a similar soporific slouch going through a whole pack of sticky delights before a declaration. England had amassed a first-innings lead of 122 but instead of instructing his batters to put their foot down, he took overs and time out of the match, assisting Sri Lanka.
Criminally to those who believe you win first and worry about how you did it later, he also wasted precious minutes by waiting for Gary Ballance to score a century. The result was Sri Lanka being set a notional 390 in 90 overs.
Cook was pre-occupied with the runs on the board rather than the overs his bowlers would need. He was afraid of being afraid. Afraid that if he made a bold call and gave Sri Lanka 320 to chase in more overs his bum might get squeaky. What happened? England ran out of runway - they took nine Sri Lanka wickets, drew and lost the series by getting rolled at Headingley.
Insecurity and form, of course, come and go in all walks of life. In that respect, Cook should hardly be pilloried. He is fallible. He has to make 100 decisions a day and he won't always get them right. Indeed, there have been times when has been positive. But enforcing a follow-on at Old Trafford was not a difficult call to get right.
For most armchair fans whether Cook is plus or minus on any given day is irrelevant. It makes no odds to them (unless they are passionate England fans). But it matters in the context of this column.
Gamblers want to know the character of the man they are trusting with their money. With a couple of clouds in the sky Cook is more likely to reach for galoshes rather than the snazzy suede numbers before heading out. In other words, he has the ability to cost his team victory - or certainly inflate their odds - and therefore cost you money.
Pertinent to this is the correct series score market. England are [3.8] to win 2-1 and [2.8] to win 3-1. If England are 2-1 up going into the final Test at The Oval, what do you think Cook will do? Will he stick or twist? Are England value to win 2-1 or 3-1? The answers down the cushion of that high-backed orthopaedic.

Ed Hawkins P-L
2016: +117.02
2015: +£380.50
2014: +315.10
2013: +250.80
To £10 level stakes (unless otherwise stated), based only on available prices. Does not include back-to-lay in-running match advice or commission rate.
*Follow Ed on Twitter @cricketbetting