Ed Hawkins: Don't douse Stokes fire with burden of expectation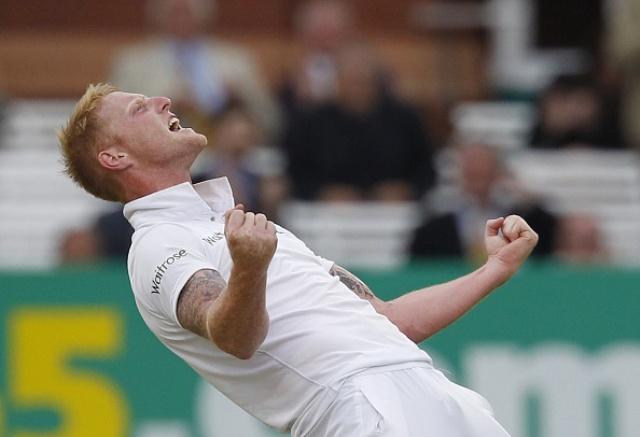 Stokes lit up Lord's but it's unfair to claim he has transformed the sport in England
In his latest weekly column, our cricket correspondent considers the knee-jerk reaction to England's victory over New Zealand and why a more rational approach would pay dividends in the long run. He also takes a look at the West Indies v Australia Test series...
"England have not suddenly shape-shifted into the sort of powerhouse outfit that six days ago most rational observers reckoned would take a summer, possibly longer"
What a curious, draining bunch English cricket aficionados are. Their mood can change like the swish of a meaty blade from a tattooed working-class hero.
"He's the new Botham...no, wait!...The new Flintoff. We'll win the Ashes now, just you see".
Twice during the epic and thrilling first Test at Lord's England were staring defeat in the face. 'Quelle surprise,' most of their supporters would have grumbled. This, after all, was an England team in crisis. They had lost the faith of the British public because they wouldn't pick the cricketing equivalent of a dressing-room IED while Alastair Cook was a double failure and a loss from the sack. Hold on to the crockery, they didn't even have a coach.
It was just possible when an out-of-sorts Ian Bell ("Sack him! We'll never amount to anything with Belly in the team") trudged off in the second innings to leave England at 74 for three and in mighty peril, that there were a few out the back of the old pavilion considering stringing themselves up by their egg and bacon ties.
Not long after, England were suddenly on the comeback trail thanks to Ben Stokes. And not long after Stokes had smoked their second fastest century, England had not only completed an unlikely victory but, quite incredible this, the whole English game had been regenerated. They'd even found a bloke to coach them in the meantime.
Overnight England had gone from a staid and limited outfit to one which played an exciting, zesty brand of cricket the like of which these islands had rarely seen.
Australia, as short as 1.444/9, should better watch out in the Ashes. This is no joke. In the newspapers, on Test Match Special and on the buzzing worldwide web, England, we were told, are now a force.
This tells us two things. Firstly, that the phalanx of emotions endured in a single session must make it utterly exhausting to support the England cricket team. And expensive, too. The lows and highs require a stash of uppers and downers which would bankrupt a Chelsea playboy.
The second is that none of it is true. England have not suddenly shape-shifted into the sort of powerhouse outfit that six days ago most rational observers reckoned would take a summer, possibly longer. Often we say in such examples 'the truth is somewhere between the two'. In this case it is, unfortunately, still most likely to be at the more negative, disappointing end of the spectrum.
The evidence that England are a team who struggle for consistency is hefty. Last summer they began by narrowly failing to beat Sri Lanka at Lord's and then promptly lost at Headingley. In the West Indies only a few weeks ago they failed horribly to beat makeshift opposition. In between, of course, there have been moments when the downers have been popped like Skittles to keep observers on an even keel.
Stokes is the odd one out, though. Forget that he played in the Caribbean. Forget that before Lord's his last 20 international innings read: 32-22-8-35-79-6-16-33-2-23-0-0-0-0-4-0-4-5-5-0. He is the good stuff. A rejuvenating elixir which reaches parts other cricketers cannot. "We'll win the Ashes now, just you see".
It is a bit of a shame. The expectancy which now rests on Stokes's broad shoulders is terribly unfair. He will be expected to go out and produce the sort of match-turning performances that he conjured at Lord's on a regular basis. It will begin at Headingley from Friday. When England suffer defeat again, it will be Stokes's job to regenerate the game in this country. Ludicrous, no? And don't suggest that English cricket - its media, its fans - is not as fickle as that.
Messrs Botham and Flintoff did a remarkable job of giving both groups what they craved but the pressure to be a talisman for a cricketing nation also proved too much on occasions and they transgressed. Stokes, who is made of similar stock to them both (bit of a lad, bit of a wildcard) will have his moments when he is cast as hero and villain.
Even Mark Wood, the Durham pacer who impressed on debut is a potential victim. He has been hailed as the answer to England's third-seamer conundrum after a single Test. Whatever happened to reserving judgeent after a concerted study period?
How marvellous would it be therefore if folks recognised that Wood, Stokes, and therefore England, will be up and down, reliable and unreliable, good and bad, and react with even handedness each time? And if they did they might find that, with time and patience, the English game might find itself on a steady, upward curve instead of the contortions like that basket case in Row G, seat 34.

Windies hamstrung again
West Indies and Australia meet in a two-Test series, which starts in Dominica a week on Wednesday, and the hosts once again have decided to pick a weakened team.
That didn't do them much harm against England when they came away with a creditable 1-1 draw but it is an irritation that the Test game is being devalued by the Windies not picking their best. There is no room for Chris Gayle, Lendl Simmons, Kieron Pollard, Dwayne Bravo, Sunil Narine or Andre Russell. You will note that all are IPL stars.
It is petty. The West Indies board has been at war for some time with those who can make big money elsewhere. The perception being that the likes of Gayle and Bravo reckon playing for the islands is not worth getting out of bed for.
In reality it is the board which is at fault. They have been unable to appease their supserstars and should take their cue from New Zealand who been able to keep high-calibre players, who they can't pay an awful lot, content with give-and-take management.
No doubt when West Indies are thumped by a powerful Australia there will be much sadness expressed at how far the game in the Caribbean has sunk. But if they swallowed pride, rather than lamenting the absence of it from their big boys, they could pick a tea capable of competing with the best.
It is unfair to reckon that the IPL quintet should waltz straight in but surely the West Indies have a better chance with Gayle opening the batting and Dwayne Bravo offering all-round opportunities. Lendl Simmons, who was wonderful in the IPL, might not actually be able to squeeze into the team.
That just shows how close they are to being a good side. Kraigg Braithwaite, their most consistent batter in the last year, Jermaine Blackwood and Marlon Samuels were superb against England. Jerome Taylor and Shannon Gabriel showed fast-bowling is alive and well.
If that bunch were supplemented, then West Indies would be given a much better chance than a series quote of 4.216/5. Australia are 1.201/5 with the draw 3.02/1. The Aussies are as short as 1.804/5 to sweep the series on the correct score market.

Ed Hawkins P/L
2015: +£147.80
2014: +315.10 (ROI 27%)
2013: +250.80 (ROI 25%)
To £10 level stakes, based only on available prices. Does not include back-to-lay in-running match advice
Follow Ed on Twitter @cricketbetting
Discover the latest articles