US Election: Five takeaways from the opening debate and what we can expect now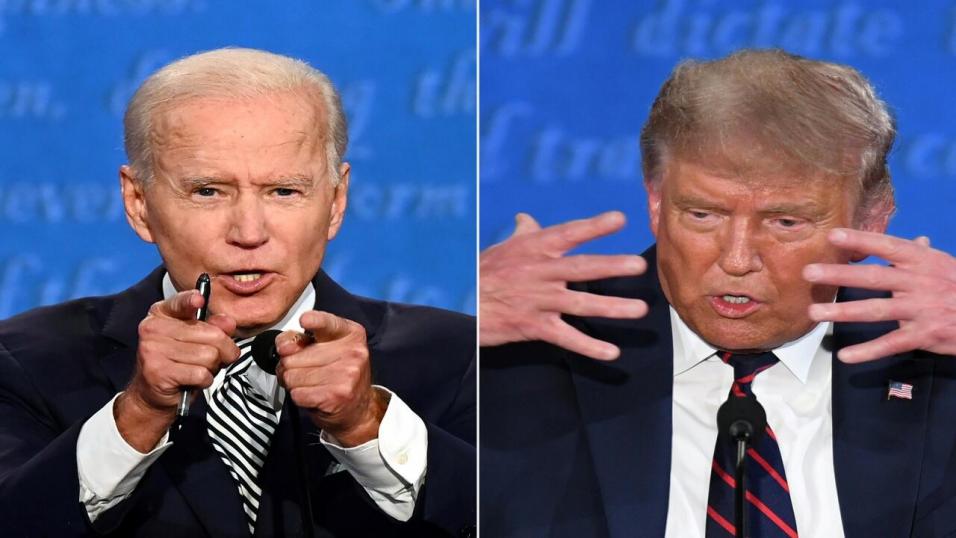 Joe Biden was widely judged to be the winner
Paul Krishnamurty analyses the fallout from a catastrophically bad opening debate for Trump, how it affected the betting and the implications for the race moving forward...
"It was clear that Trump does not intend to accept the election result...Not only is this toxic to the majority of voters...its a really inept way to fix an election."
Opinion polls were united in declaring Joe Biden the winner of the opening presidential debate and that conclusion was mirrored in an extraordinary night of trading. More than £1M was matched on Betfair's Next President market during the debate, among £10M over the last five days.
The effect of that surge of cash has driven down Biden's odds from 1.845/6 to 1.625/8. In percentage terms, that implies his chance has risen from 54% to 62%.
This is more substantial than the move for Hillary Clinton in 2016.
The scale also dwarfed the massive plunge on Trump in late August, following the RNC. The theory under consideration - that the unprecedented demand for Trump would take him back to favouritism, irrespective of polling evidence or events - now looks less plausible.
On reflection, I do think Trump's army of backers were pumped following the RNC and desperate to get on early, but Tuesday engaged a greater sum of political bettors. The first debate is the moment overseas viewers take a closer interest. That happened and they formed a quick judgement.
Now the dust has settled on the debate and the betting has adjusted, these are my five takeaways from the first debate...
1: Trump needed a win but lost big
Trump went into that trailing by a substantial, consistent margin but the debates always offered a glimmer of hope. What if 77 year-old Biden really did have dementia and kept fumbling his lines? What if he crumbled under constant bombardment from the most abusive opponent he'll ever face?
Not only did he avoid that fate but Trump was so bad, it makes a comeback seem almost implausible. Still, he makes absolutely no attempt to reach out, to try and convert critics. Or merely try a new approach that would surprise the media.
Instead, we got constant interruptions, lies, misquotes and smears. Not just with Biden but moderator Chris Matthews. It was anarchic and commentators rightly called it out as the worst presidential debate ever. I cannot imagine what benefit the Trump campaign hope to derive from this. Expect terrible polling news in the days ahead.
2: Emphasising class can only help Biden
Trump may seem disinterested in winning over opponents but Biden is. As predicted, he sought to frame it as 'Park Avenue v Scranton' with lines like these.
"Millionaires and billionaires (like Trump) have done well out of this crisis. They're richer. How about you at home? He isn't concerned about your healthcare, or your safety. He isn't concerned about small businesses"
"People like him. They look down on people like me, Irish Americans from Scranton. On people with less money with them. People with a different faith."
This is nothing like Hillary Clinton. Whereas she was just about the worst type of Democrat to run in the Mid-West and Rust Belt, Biden has been among these voters all his life. Pennsylvania and Ohio were his first port of call yesterday.
Fact: if you were to subtract all '16 votes from Westmoreland Co. (PA), Macomb (MI) and Waukesha (WI), Hillary Clinton would be president today.

This is some of the most valuable real estate on the political map, and Biden is hitting it in a way Clinton didn't. https://t.co/2ghQWog3WT

? Dave Wasserman (@Redistrict) September 30, 2020
Being told by Trump, during a recession, that 'Pennsylvania and Michigan had their best years ever under me' is not what is required to reverse big deficits in those states.
3: Focus groups much preferred Biden
To be clear, Biden wasn't anything special. The dementia smears had lowered expectations so far that all he had to do was not screw up and simply be the adult in the room. He managed that straightforward task and will likely reap the reward. Check out these comments from Republican polling guru Frank Luntz's focus group of that extremely rare commodity - an undecided voter.
Frank Luntz asked his focus group to describe each candidate's debate performance in one word or phrase and, wellhttps://t.co/Y9rTc63ync pic.twitter.com/RH0W7mPzl6

? Andrew Prokop (@awprokop) September 30, 2020
These stark differences in personality will be even more clearly displayed in the second debate. The format is a Town Hall event, where candidates will speak directly to voters. Biden is good at this - he has empathy. Trump is particularly unsuited to this less combative format.
4: Trump extremism further damages his chances
Policy discussions were never likely to cut through in such an anarchic environment. I doubt barely any caused voters to rethink. Instead a typically extreme performance from the president set the dividing lines and narrative moving forward.
Most notably, he spurned the opportunity to call for calm from supporters and accept the election result. Instead he called on the violent, fascist "Proud Boys" to 'stand back and stand by'. He railed on about his debunked conspiracy theories about mail-in ballots and voter fraud.
It was crystal clear that Trump does not intend to accept the election result and wants his supporters to take to the streets, polling stations and do whatever to suppress the vote or defy it. An unprecedented, sinister moment in the history of Western democracy.
No doubt, somebody somewhere thinks this is a good plan. It isn't. Not only is it toxic to the majority of voters, and bound to energise opponents to turn out, its a really inept way to fix an election. Vladimir Putin doesn't tell Russian or Belarussian voters their elections won't be fair. He just makes sure they aren't.
5: Fallout could be even worse for GOP Senators
To pull off this coup d'etat, Trump will at least need a divided Congress. If Democrats win the Senate, they will have the powers to stop him. The Senate is on a knife-edge. Republicans could maintain control with strong local campaigns.
Trump's words and actions now put those vulnerable GOP Senators in a horrible bind. They will be implored, daily, to do what Trump wouldn't. Condemn white supremacy, violence and commit to a peaceful transition of power, after all the votes are counted. Without doing so, most lose and will leave politics with no credibility. But if they criticise Trump, they risk his base coming after them on social media and split their local party.
Pundits love to make dubious comparisons between candidates past and present. Biden is wrongly compared to Clinton. Trump to Reagan. A better comparison may be Barry Goldwater - a doyen of the ultra-conservative strand in US politics. He ran a hard-right campaign in 1964 against former Vice President Lyndon Johnson, and was duly thrashed out of sight, 61% to 39%, by 486 electoral college votes to 52.
Follow Paul on Twitter and check out his website, Political Gambler.
Read past articles