Swedish Election: Have the latest Alt-Right insurgents peaked already?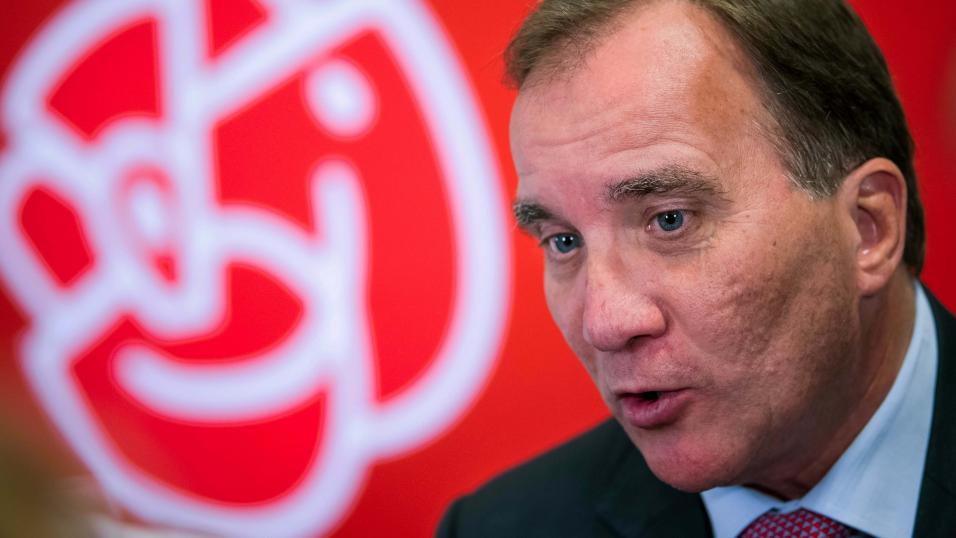 Swedish Prime Minister Stefan Loefven is facing a battle at the polls
Paul Krishnamurty previews Sunday's big election in Sweden, where a far-Right party is once again making hay and sending shockwaves across the continent...
"Some sort of grand coalition is highly likely....talks will probably take months to resolve, so expect drama in the markets, especially Next Government."
Europe's next big election takes place in Sweden on Sunday, and the dominant themes will be familiar to anyone following politics in recent years. Just as we saw in France, the Netherlands, Germany and Italy, the narrative involves declining establishment parties and a rising far-Right with realistic ambitions of becoming the largest party.
The Sweden Democrats - an overtly racist party, boasting former neo-nazis as candidates, have rocked the politics of this famously consensual Scandinavian nation. From finishing a distant third at the previous election, they have spent 2018 exchanging opinion poll leads with the governing Social Democrats. The latter has since restored a lead around 5% and are rated 59% likely to win Most Seats at odds of 1.75/7, compared to 2.47/5 about the insurgents.
That straightforward parliamentary calculation, however, is where any sort of predictability ends. Indeed if our market signals are correct, neither party will provide the Next Prime Minister or be part of the Next Government. The only thing about which analysts are united is that coalition negotiations will be torturous. See below for a list of the parties in contention to win seats, along with their latest average poll rating.
Main parties and their latest polling average
Social Democrats (S) 24.7%
Sweden Democrats (SD) 19.5%
Moderate Party (M) 18%
Left Party (V) 9.5%
Centre Party (C) 8.9%
Liberal Party (L) 5.7%
Green Party (MP) 5.7%
Christian Democrats (KD) 5%
Sweden Democrats will be excluded from coalition
Similarities with the Netherlands are obvious. Prior to their 2017 election, the mid-term narrative and polls had been dominated by Geert Wilders and the PVV. The response from the main parties was to take a tougher line on immigration whilst ruling out any deal with the far-Right.
At the election, Wilders was sidelined, ridiculed by opponents as the 'Dutch Trump' and the PVV slipped back to a distant second. Talk of 'Nexit' is now dead in the water.
As I wrote when reviewing 2017, that defeat represented part of a liberal backlash to the world-changing events of 2016, such as Brexit and the election of Donald Trump. Fears of populism have resurfaced in 2018, though, after Italians preferred the protest party 5SM and anti-immigration, anti-EU Lega Nord.
If Netherlands and Italy represent two poles of Western European politics, I would place Sweden firmly in the former camp. Italy has nothing like Sweden's economic and political stability and is on the frontline of the refugee crisis.
The rise of SD seems shocking given the social democratic history of the country but the core issues are in play everywhere. Mass immigration, particularly from war-torn Muslim countries, prompts hardcore opposition from a significant, yet limited, minority. Here, as with Wilders, Le Pen, UKIP and the AfD, the SD appear to have a ceiling of around 25-30%. Nowhere near enough to govern.
Nor is it clear that, post-2016, the old tactics still work. Social media bots are out in force once again, portraying Sweden as a country in chaos and largely backing SD. However Kremlin interference in elections on social media is now well-documented and monitored internationally. Earlier this year, the Swedish government sent advice out to households of how to prepare for war and identify fake news.
Range of coalition options is wider than ever
With the possible exception of the former communist Left Party, none of the SD's opponents could be legitimately described as extreme and are therefore realistic coalition partners. The current favourite is a four-way coalition between centre-right and centrist parties. M+C+L+KD is a 15/8 chance on the Sportsbook, but odds of 4.216/5 on the Exchange suggest plenty of scepticism.
That option makes little betting appeal for several reasons. First, it is unlikely they manage to secure a majority between them. While that is not essential in Sweden, where parliament must specifically reject a government rather than endorse, it will require some incredibly complicated negotiations, leaders having to go back on earlier pledges, and would surely be fragile. Plus the Christian Democrats are not certain to reach the threshold required to enter Parliament.
Fascinatingly, the second top-rated option is a minority Moderate Party government, which would be led by Ulf Kristersson. It would hold merely around a fifth of parliamentary seats, having lost around a quarter of their vote share. Such a plan is plausible, because SD might sit on their hands in expectation of a more right-wing policy agenda, but again at single-figure odds, it doesn't stand out as a good value bet.
Don't rule out Lofven leading a Grand Coalition
Although neither S or M are discussing it - instead aiming for respective or left or right-wing bloc arrangements - some sort of grand coalition is highly likely. That could involve just the big two, while the smaller parties tolerate a deal that preserves their independence and identity. That could make good sense for Annie Loof, popular leader of the improving Centre Party, allowing her to position for next time in an era when establishment appeal is declining.
These coalition talks will probably take months to resolve, so expect drama in the markets, especially Next Government. One notable feature of current options is that V - in fourth place and likely to be one of the election 'winners' - are barely listed and at dismissive odds outside 'Any Other' at 10.519/2. I can envisage those options, plus S + M at 40.039/1 trading a lot shorter in the aftermath.
Likewise, with months of horse-trading ahead, Social Democratic PM Stefan Lofven must have some trading potential at 3.711/4 to retain his post. A more confident selection is Social Democrats to win Most Seats at 1.75/7. SD are their only threat and may have peaked already. Moreover, in a country where turnout is always massive, it is hard to imagine there are vast numbers of newly motivated far-right protest votes that will blindside the polls.
Bet on the Swedish Election here
Most Seats
Next Prime Minister
Next Government
To be elected to Parliament

Follow Paul on Twitter and check out his website, Political Gambler.
Recommended bets
Back Social Democrats to win Most Seats @ 1.75/7
Discover the latest articles
Read past articles