Grand National: It's no problem
Jamie Lynch

/ Jamie Lynch / 13 April 2012 /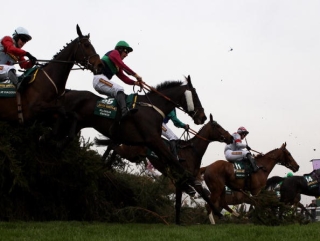 Are you following Jamie's National selections?
"My 'he might just drop the lot' theory about Synchronised also applies to Junior, and accordingly I've laid both for a place. Besides Cappa Bleu, I've backed Always Right and Killiglen both win and place."
How do you solve a problem like the Grand National? By sharing it, says Timeform Chief Correspondent Jamie Lynch, who answers some of the many problems posed by the participants in this year's big race...
A problem shared is a problem solved so they say. I'm more of a problem kept to yourself and bottled up is a problem that hopefully might just go away sort of person, but that doesn't make for good reading. Therefore, in the belief that if Denise Robertson can do it then so can I, casting myself in the role of whatever is the male equivalent of an Agony Aunt (Unhappiness Uncle?), I have assessed and addressed the incoming dilemmas, from horses and humans, in a special Grand National problem page. I'm here to help.


OVER-DEMANDING PARTNERS
Dear Jamie,
I feel I have given everything in my relationship, and still I am asked to do more. The climax we reached only four weeks ago would, I thought, have been enough to satisfy most people, but this weekend I'm expected to do it all again, and then some. I doubt I can get into the same rhythm, and, as Tracey Cox always says, it's all about the rhythm. Never mind G, I fear the only spots I'll be hitting on Saturday will be flat ones. My reputation is more slap than tickle, but if, as advertised, it's nine minutes of slap then I'm tempted to just drop the lot. What do you think?
Synchronised, Gloucestershire
Jamie says: Firstly, don't listen to Tracey Cox if you can help it, because no male ever felt secure or self-assured after watching her programs. Secondly, I share all of your concerns and would advise you be true to yourself by dropping the lot at some point before halfway, thus ensuring my profit on a place-lay bet.


SECOND CHOICE
Dear Jamie,
My partner dumped me a few weeks ago in favour of someone else. That fell through, so suddenly he's back wanting to get his leg over, and I'm left feeling like the consolation prize. Am I being unnecessarily insecure?
On His Own, Co. Carlow
Jamie says: No, you're absolutely right to feel insecure, as your man and Prince de Beauchene looked a match made in heaven before the split (in his hip), and actually if I was Ruby I wouldn't have climbed over Seabass to get to you, so how does that make you feel? Also, I don't think you jump well enough to make the frame in a National.


GOING TOO FAR
Dear Jamie,
I have recently been diagnosed with marathonophobia: the fear of long distances. I'm led to believe that this isn't an ideal condition for the journey I'm about to embark upon. Can you give me any advice?
Planet of Sound, Minehead
Jamie says: Try and get out of it by feigning injury or bunging the vet a few quid, otherwise your nightmare will indeed become a reality, because you have no chance of staying. The only crumb of comfort I can offer is that however apprehensive you are, imagine what it must be like for Tatenen. While we're at it, in racecard order, Calgary Bay, Rare Bob, Quiscover Fontaine, Tharawaat, Postmaster and In Compliance are also a million to last the distance.


COLD FEET
Dear Jamie,
Earlier this year, believing we needed to make our mark on the world, and using a paper-thin veil of anti-elitism, my brother Trenton and I made a pact to disrupt national sporting events on the BBC on successive weekends. At first I thought that he had drawn the short straw, but now it's my turn I'm starting to think otherwise. Do you think I should go through with it on Saturday or wait for another event?
Sebastian Oldfield, a toilet
Jamie says: Go on YouTube and type in '1913 Derby'. See you at the snooker.


LOW ON CONFIDENCE
Dear Jamie,
Sometimes, all I need is the air that I breathe. Once upon a time I was flying and loved, now I'm only falling apart, there's nothing I can do, I've totally dipped last two starts.
Always Right, Co. Durham
Jamie says: I believe you can fly, you can breathe if you really try, I think you'll benefit from the hobday, fill your lungs and breath away. I believe you can soar, I see you staying trips of four mile four, I believe you can fly (I believe), I believe you can fly (I believe), on the spreads you're a buy (on the spreads).


FLASHBACK FEAR
Dear Jamie,
I am being forced to resit an examination that I have previously failed to complete - not once but twice. I passed something similar in 2009, but the big test has proved beyond me, and I'm not a believer in third time lucky. It's stressing me out, besides which I'm a bit old for all of this.
Vic Venturi, Co. Kildare
Jamie says: You're not alone, as Calgary Bay, Becauseicouldntsee and Killyglen are in the same boat, and previous failure is no bar to National glory - since 1986, as many as six horses (West Tip, Little Polvier, Royal Athlete, Red Marauder, Hedgehunter and Silver Birch) have won the National after falling in the race the year before. That said, Vic, you won't be involved in the finish, but Killyglen just might be - he's another one to back for a place.


CUT TO THE STEEPLECHASE
Dear Jamie,
You're starting to bore me now. Just tell me what you think are the best bets for the big race.
Joe Public
Jamie says: Well Joe, I've already tipped up Cappa Bleu, who is roughly the same price now as he was when I bigged him up two months ago. Shrewd. My 'he might just drop the lot' theory about Synchronised also applies to Junior, and accordingly I've laid both for a place. Besides Cappa Bleu, I've backed Always Right and Killyglen both win and place. If none of those bets come in, I'll have serious problems of my own.
...........
Get the Timeform Jury's verdict on today's Aintree BBC races with Timeform TV Focus. Click HERE to find out more about this successful tipping service.

'.$sign_up['title'].'
'; } } ?>