The 2017 US Open: The Punter's Preview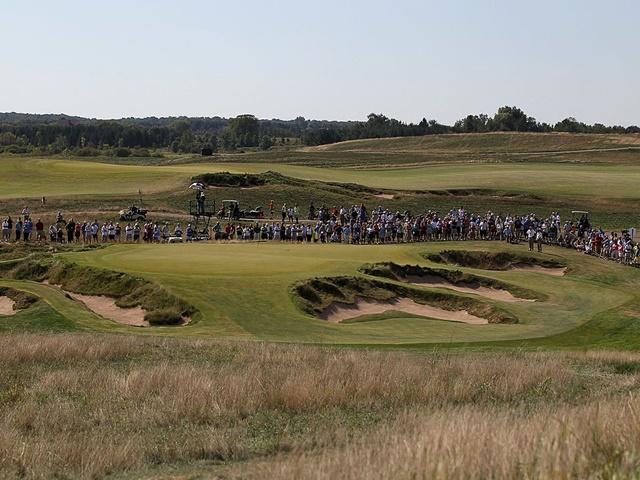 Bunkers surround the 9th green at Erin Hills, home of this year's US Open
It's time for the second major of the season as the US Open moves to Erin Hills, Wisconsin, but before you strike your bets be sure to read Steve Rawlings' comprehensive preview as our man arms you with all the stats, facts and betting savvy you'll ever need...
Tournament History
Englishman, Horace Rawlins, won the inaugural US Open way back in 1895, so this will be the 117th edition.

The US Open is the second of the year's four majors and it's nearly always the toughest of the quartet. It's a nomadic tournament staged by the United States Golf Association, who have traditionally set up the venues to play exceptionally hard.

For many years, the same courses have been used in rotation but after breaking with tradition to use a new venue, Chambers Bay, two years ago, this year we're off to another new course, Erin Hills. This will be the very first time the event has been played in Wisconsin.
Venue
Erin Hills, Erin, Wisconsin.
Course Details
Par 72, 7,693 yards

Construction on Erin Hills began in 2004 and it open two years later to great acclaim. It was built and paid for by Wisconsin developer, Bob Lang, whose dream was to have the US Open staged there but the cost of construction and subsequent changes to the course (at the suggestion of USGA officials), in order to get the tournament, put Lang into financial difficulties and he sold the course to Andrew Ziegler in 2009.

Designed by Michael John Hurdzan, his partner, Dana Fry, and Ron Whitteen, Erin Hills was built on 400 acres of Kettle Moraine pasture land, some 35 miles north-west of Milwaukee. The course has been shaped by glaciers and not bulldozers and 90% of the land is exactly how the designers found it.

The course has been described as being links-like but the design team describe it as a heartland course. Here's what they've had to say about the place: "The scale and setting is so grand it's almost unbelievable when you see it," said Fry. "Your eyes can't take it all in."

"The property is so ideal in terms of its dimensions and natural rolls," said Whitten, "Classic rumpled blanket topography."

"We had such a vast piece of property," added Whitten, "We thought, man, we ought to be able to find 18 holes out here without having to manipulate things.
"From the beginning, we all felt like Mother Nature is the best architect; let's try to follow her lead."

At almost 7,700 yards, it's a very long course but the USGA's Mike Davis, who has been overseeing US Open course set-ups since 2006, has already stated that it won't be set up to be played from the tips and I've read him quoted as saying, "I actually think that Erin Hills will be a little bit shorter in terms of how it feels to a player than some of the Opens we go to."

The wide undulating fairways are predominately fescue with some rye and they're described as bouncy so there'll be plenty of run off the tee and you can see why it's being described as linksy. The course presents lots of blind and semi-blind shots and as always, the rough is being described as brutal but it's the bunkers that sound the most hazardous.

"Nobody is going to be able to play the bunkers very well," says Hurdzan. "If you hit it in the bunker you are going to pay a big penalty, so a lot of it is, choose your shots and play good course management."

Some of the greens are elevated and all 18 have closely mown run-off areas so in that respect it's not like a traditional links course and, reminiscent of Pinehurst No.2, the 2014 US Open venue, we'll see lots of variation around the greens with some putting, some chipping on and some playing bump and run style shots.

The bentgrass greens are described as slightly larger than normal US Open greens, relatively subtle, wonderfully conditioned and likely to run at least as fast as in other previous US Opens. But that will depend on the wind. If it blows, they'll have to be slowed down.

The course is very exposed and built for wind so the USGA will be hoping we get some because with a couple of drivable par fours and four potentially reachable par fives, if it doesn't blow, scoring will be low.

After the uproar about the state of Chambers Bay two years ago, Erin Hills has been closed to the public since October last year and the word is, it's in an immaculate condition.

The vast majority will be playing the course competitively for the first time but Erin Hills was the venue for the 2011 US Amateur. Here are the highlights.

This is the first time a par 72 has been used for the US Open since Pebble Beach in 1992.

For more on the course, this piece by Dave Tindall has some excellent quotes from Davis and this hole-by-hole guide is exceptional.
TV Coverage
Live on Sky Sports all four days, starting 18.00 on Thursday.
Last 10 Winners
2016 - Dustin Johnson -4
2015 - Jordan Spieth -5
2014 - Martin Kaymer -9
2013 - Justin Rose +1
2012 - Webb Simpson +1
2011 - Rory McIlroy -16
2010 - Graeme McDowell Even
2009 - Lucas Glover -4
2008 - Tiger Woods -1 (playoff)
2007 - Angel Cabrera +5
What Will it Take to Win the US Open?

The US Open is a nomadic event so it's staged at a different venue every year but wherever the event is staged the USGA tend to set-up the courses similarly tough and so an analysis of the statistics is a worthwhile exercise. Here are the average rankings of the last ten US Open winners in all the main categories.

Driving Accuracy - 22.5
Driving Distance - 19.8
G.I.R - 10.3
Scrambling - 6.6
Putting Average - 12.7

That provides a very simplistic snapshot but it speaks volumes. It will be repeatedly stated how important accuracy from the tee is this week, and it is of course, but statistically it's the least important.

In US Opens the rough is usually penal and the fairways narrow, but even the most accurate drivers will stray from the short grass at some stage and when they do they'll usually be too far back to have a chance of rescuing par. In contrast, the big hitters will be closer to the green and will have a better chance of saving themselves. They'll also have the advantage of going in with a lot shorter irons when they do find the fairway.

The stats are damning enough but if you then consider that only two winners in the last ten years have ranked higher for accuracy off the tee than they have for length, and that this year's venue is described as having wider than normal fairways, it really does make sense to favour length over accuracy. The bigger hitters should be able to go for the par fives in two and drive a couple of the par fours on certain days.

To win a US Open you need to find plenty of greens and scramble well when you don't. In addition to ranking first for Driving Distance last year, Dustin Johnson also ranked first for Greens In Regulation and Scrambling (no wonder he won!) and it's the last name stat that could be worth focusing on this time around.

The greens are said to be in fantastic condition at Erin Hills and even the weaker putters will make plenty but getting up-and-down when greens are inevitably missed will be what wins this year's renewal.

With numerous elevated putting surfaces and closely-mown run off areas on every hole, it's going to be really hard to hold the greens - especially as the week wares on and the greens speed up - and getting up-and-down with regularity is going to be essential.
Is There an Angle In?

Don't expect the winner to find form out of the blue. I've gone back ten years and every US Open winner had shown a high level of form leading up to the event. Dustin hadn't won in the lead up to last year's tournament but six of the last ten had won somewhere and the four that hadn't had finished at least third in a top quality PGA Tour event.

Expect the winner to be one of the best in the world - five of the last six winners have ranked inside the top-15 of the Official World Rankings.

Every winner this century, with the exception of shock champion, Lucas Glover, had previously finished inside the top-30 at a US Open.
Will We Get Another First Time Major Winner?

We're on a bit of a run with first time major winners. Since Zach Johnson followed up his 2007 US Masters success with victory in the Open Championship at St Andrews in 2015, all six majors have gone to a first timer. Will this year's US Open winner make it seven?

Danny Willet (US Masters 2016) and Jimmy Walker (USPGA 2016) were shock winners but Jason Day (USPGA 2015), Henrik Stenson (Open 2016), Dustin Johnson (US Open 2016) and Sergio Garcia (US Masters 2017) have all spent varying degrees of time wearing the best player not to win a major badge.
Is There an Identikit Winner?

The US Open produces its fair share of event specialists - remember Andy North? He only ever won three PGA Tour events and two of them were US Opens! Jeff Maggert has only won three PGA Tour events too and none of them majors but between 1994 and 1999 he finished inside the top-ten at this event four times.

DJ is now a renowned US Open specialist, having finished fourth and second before he won, the 2003 champ, Jim Furyk, was runner-up again last year, his seventh top-five, Jason Day has finished inside the top-ten in five of his six US open appearances, Branden Grace has finished fourth and fifth in his last two US Opens, Brandt Snedeker has fished inside the top-11 in half of his ten appearances and then there are the likes of Tiger Woods (three wins and eight top-sixes), Ernie Els (who's finished first, second, third, fourth and fifth twice), and of course Phil Mickelson, who has finished second an incredible six times.

With the exception of the 2011 renewal, when torrential rain softened Congressional considerably, the US Open is a unique and demanding, exacting test and event specialists are worth very close consideration.

Americans have won the last two editions but prior to Jordan Spieth's victory at Chambers Bay in 2015, only three of the previous 11 renewals had been won be an American.
In-Play Tactics

To win a US Open, you usually need to start really well and hang around. The 2012 winner, Webb Simpson, who was six off the lead after round one, is the only winner this century to be more than four adrift after round one. As an indication of how little change there is, look at the state of affairs last year after rounds one and three...

Round One
Andrew Landry -4
Dustin Johnson -3
Lee Westwood -3
Shane Lowry -2
Sergio Garcia -2
Scott Piercy -2

Round Three
Shane Lowry -7
Andrew Landry -3
Dustin Johnson -3
Lee Westwood -2
Daniel Summerhays -2
Branden Grace -1
Sergio Garcia level par
Scott Piercy level par

Since as far back as 1898, no winner has been further back at halfway than Simpson, who sat tied for 29th and still six off the lead. He's the only winner in the last 11 years to be outside the top-three places after 36 holes and he's the only winner to be outside the top-12 at halfway since Larry Nelson back in 1983.

Having led at halfway, the 2007 winner, Angel Cabrera, dropped four back into a tie for seventh after round three and he was trading at 50.049/1 with a round to go but history suggests winning from that far back is very unusual in a US Open.

Since 1898, only five winners were further down the leaderboard than Cabrera with a round to go and seven of the last nine winners have sat first or second after 54 holes. I'll be concentrating heavily on the leaders in-running from very early on and I'd advise keeping a bit of powder back to get involved further if none of your pre-tournament picks start well.
Market Leaders

Although pre-event favourite and defending champ, Dustin Johnson, has a fabulous US Open CV and the perfect game for Erin Hills, he also has a number of negatives to overcome...

Over the last 13 years, Tiger Woods is the only world number one to win the US Open (at his beloved Torrey Pines in 2008) and we have to go all the way back to 1988-89 to find the last successful US Open defence. They're arguably both just statistical anomalies (especially the first) but what can't be denied is his dip in form since he fell down the stairs at Augusta.

Dustin's form prior to his Masters mishap read 3-1-1-1 but his figures since read are regressive 2-12-13-MC and that has to be a concern. All things considered, I'm happy to leave DJ out of my plans before the off.

World number two, Rory McIlroy, has had a disappointing and interrupted season so far and since he injured a rib when losing a playoff at the South Africa Open in January he's played just five times and with very little to cheer about. His fourth place finish at the Arnold Palmer Invitational back in March is his best effort and we haven't seen him anywhere since he finished only 35th at the Players Championship. I'm sure he'll have been practising hard of late but there's a big danger he'll be undercooked and he's not for me either.

It's very hard to know what we'll get from the 2015 winner, Jordan Spieth, this week. He's missed three of his last seven cuts but arrives at Erin Hills following a second at the Dean & Deluca Invitational and a reasonable 13th at the Memorial Tournament. A recent switch in putters has seen him find his touch on the greens but he's been a bit ragged at times and this is a long course for him given he only ranks 86th for Driving Distance.

World number three, Jason Day, has an excellent record in this tournament and he's the one I like best at the head of the market. A health scare for his mother derailed his season a few months ago but he arrives at Erin Hills in decent form. He traded at odds-on at the Byron Nelson Classic three weeks ago before he missed a short putt in the playoff and he finished very nicely last time out at the Memorial Tournament where weekend rounds of 67 and 70 saw him climb from 60th to 15th. He's a nice price at around 14/1 and I can see him contending.
Selections

I've already got Rickie Fowler onside, after I backed him at Christmas when I wrote this piece here but whether I'd be going in now at around 22/1 after a disappointing missed cut in Memphis last week is debatable.

Fowler ranks number one for Total Driving and he's a terrific links player and wind exponent. He's also a fabulous scrambler and he's the one currently wearing the best player to win a major badge.

I took 38.037/1 about Adam Scott on Friday as he moved serenely through the field at Memphis. A disappointing weekend there saw him end the week tied for tenth but I've decided to hang on to my wager for now. The world number 12 has finished ninth, fourth and 18th in the last three US Opens but this venue could see him improve his recent record considerably and I thought he was slightly over-priced given his lofty position in the world rankings, his reasonable current form and the venue.

Branden Grace has had a decent chance to win this event in each of the last two years and I can see him going well again this time around. He's not especially long off the tee, which could prove to be a big negative, but he's a brilliant links and wind player and a decent scrambler. I took 60.059/1 about him last weekend when he was contending at Wentworth, where he eventually finished ninth, but he's still reasonably priced at 50.049/1.

My only other pick is this year's Texas Open winner, Kevin Chappell, who has just finished tied fourth in Memphis. His last three US Opens have seen him produce form figures reading 32-46-MC but he finished third and tenth in his first two appearances in 2011 and 2012, suggesting he has the potential to go close now that he's won on Tour and matured in to a top-class performer. In addition to that win in Texas, he lost a playoff at the Tour Championship last year and he was seventh in the US Masters in April.

Selections:
Rickie Fowler @ 33/1 (ante-Post)
Adam Scott @ 38.037/1
Branden Grace @ 60.059/1
Kevin Chappell @ 95.094/1

I'll be back later in the week with a look at some of the side markets.

*You can follow me on Twitter @SteveThePunter
Discover the latest articles