World Cup Warm-Up: Brazil look like major contenders - just don't mention 2014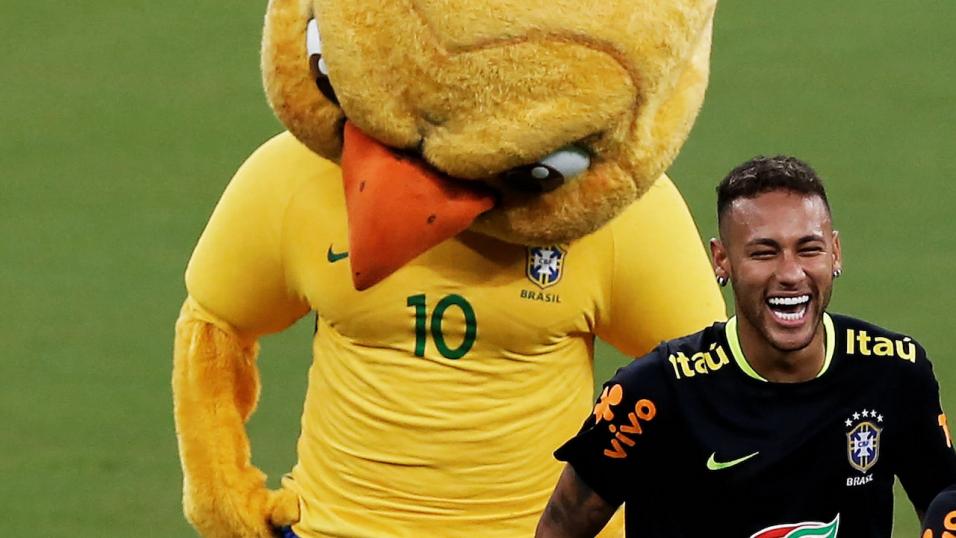 Crikey, Philippe Coutinho has bulked up a bit
In the first of our team-by-team guides to the leading contenders in Russia, Jack Lang looks at the Seleção's strengths and weaknesses and picks out his best antepost bet...
"The main question is whether Brazil can cope psychologically after the psychodrama of 2014; Thiago Silva's tears and the pseudo-funeral for Neymar really did them no favours"
Four years on from the golden, historic, not-at-all-harrowing experience of hosting the 2014 edition, Brazil are back at the tournament they love best. Now just one loyalty stamp away from receiving a statutory free World Cup - terms and conditions apply - the Seleção are eyeing Russia 2018 with the kind of intent usually reserved for Ronaldinho during Carnaval season.
To say that Brazil are among the pre-tournament favourites is to edge towards tautology; you could pick 11 strangers from your local high street, deck them out in yellow jerseys and people would still look and them and think, "Cor, that lot will take some beating." Such is the weight of history.
But there really is reason to be optimistic about their hopes this year...
The man with the master plan
The person chiefly responsible for that is Tite, the owner of an enviable record, two years into the job, and a name destined to be pronounced incorrectly by 90% of Anglophone commentators this summer.
Thoughtful, measured and collaborative, the former Corinthians coach has performed wonders since taking over from Dunga (whose reappointment in 2014 even his agent would struggle to explain): the Seleção went from the doldrums - they were sixth in qualifying when he took the reins - to cloud nine, booking their place in Russia with a sequence of wins.
Influenced by Pep Guardiola, Tite's tactics are positive and tailored to his players: Neymar is in his natural position, Marcelo has licence to join the attack, Casemiro patrols the midfield and Paulinho - the Barca vintage, not the Spurs version - does his best Frank Lampard impression, bursting into the box as a surprise element.
But just as important is the blossoming team spirit in the ranks, with Tite's decision to rotate the captaincy through the squad evidence of his ability to make every player feel valued. Everyone will be pulling in the same direction, with no room for egos.
Where there's a will, there's a Ney
Well, maybe one ego, but it's worth noting that Neymar's more histrionic tendencies have been kept under control. He may be first among equals, but Tite has adopted a fatherly approach to managing his star man, ruffling his hair and making a point of speaking about responsibility.
Naturally, much rides on the forward's fitness this summer: he remains the Seleção's best player and it would be a huge blow to Tite's plans - and to the Brazilian advertising industry - were he to arrive in Russia at less than 100%. But unlike in 2014, there are a few players who can help to shoulder the creative burden.
Case for the attack
There's Philippe Coutinho, now properly established at this level after a weirdly long gestation period and capable of unpicking the best defences on his day. Paulinho has goals in his locker, while in Willian, Douglas Costa and Roberto Firmino, Tite might just have the best cadre of back-up attackers in the tournament.
Principally, though, there is Gabriel Jesus, football's premier mummy's boy and sharper than his razorblade cheekbones in the final third. If drafting him into the starting XI as a teenager was a gamble, it is one that has paid off handsomely: after a magical misery tour that took in Luís Fabiano, Alexandro Pato, Fred and a few real no-marks, Brazil's No.9 jersey finally has a decent home.
The 21-year-old has nine goals in 14 starts for the senior side and could be a decent pick for top goalscorer at 19.018/1 this summer.
Spaces to be exploited
The defence has also been solid under Tite, with Marquinhos coming of age at centre-back and Alisson nailing down the goalkeeper's berth with a series of commanding performances in qualifying. Brazil have kept 14 clean sheets in 19 games and there's every chance they'll make it to the knockout stages without any major scares.
Yet despite that record, there remains a lingering feeling that this side can be got at by teams with a bit more about them. The full-backs leave comically large spaces behind them, and while the unfortunate injury to Dani Alves might lead to a tightening-up down the right (the more conservative Danilo looks the likely starter), Marcelo's frequent joy rides up the left bring with them a certain risk.
Redemption or repeat?
The main question for Brazil is whether they can cope psychologically with the pressure of the tournament. 2014 was always going to be tough, but the way they turned it into a psychodrama - Thiago Silva crying and refusing to take penalties, David Luiz staging a pseudo-funeral for Neymar - really did them no favours.
There appears to be a greater sense of calm around the current side, and with so many attacking riches at his disposal, Tite has every right to expect his team to go deep into the tournament. Just don't mention the Germans.
Recommended bets
Back Brazil in the Best South American Team market at 2.111/10
Read past articles