This Week in Football History: The birth of the Bosman ruling and Boro's no show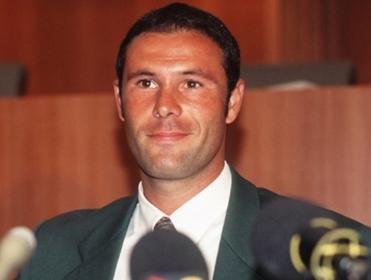 Jean Marc Bosman changed the face of football transfers
In today's look back through the history books Adrian North talks about the ruling that changed football transfers forever, and why not knowing the rules cost one club its Premier League status...

December 15, 1995 - European Court of Justice, Luxembourg: Jean Marc Bosman gives players more power
When Jean-Marc Bosman walked out of the European Court of Justice on December 15, 1995 with a settlement of £700,000 he couldn't have imagined how much football was about to change.
In 1990 Bosman had become a mostly reserve player for his Belgian club FC Liege and wished to move across the border to French side Dunkirk as his contract with Liege had just expired. Liege demanded a transfer fee from Dunkirk for the Belgian, a fee far exceeding what Dunkirk were willing to pay. Back in 1990, every player, even after their contract expired, were still the property of the club they had played for, and it was up to that club to decide whether or not to demand a transfer fee from other interested sides.
Bosman was in no man's land until FC Liege decided what to do with him. Liege decided to drastically cut Bosman's wages and made him play with the reserves and the youth team. So Bosman took his club to court.
Citing that as a EU citizen, he had the right to 'freedom of movement' anywhere in the European Union so he could look for work. Bosman demanded the changing of the transfer system such that any player, after the expiry of his contract, would be allowed to seek employment at another club without having to be the subject of a transfer fee.
Five years after he initially took his case to the EU courts Bosman was awarded £700,000 in compensation and football had been changed forever. For the first time, the player had become more powerful than their employer, the club. In the words of football agent Sky Andrew, Bosman had "given football its freedom".
Of course, this ruling is somewhat of a double-edged sword. Unemployment within the lower leagues of football has increased ever since as many players are now being released unable to find a new club, and at the other end of the spectrum the Bosman ruling has led to scenario's where the world's top players can now say, "Pay me an absolute shit-ton of money, and I won't leave on a free transfer in a year".
All things considered however, the Bosman ruling is one of the most influential events in modern football history and despite examples like Wayne Rooney and his agent engineering a huge contract for the England man in 2009, the ruling is still a largely helpful force for the tens of thousands of professional footballers across Europe.
Sadly for Jean-Marc Bosman, his five-year court case came at a great cost to himself. He never played professional football again after 1990, and despite his tireless efforts to change the game for the better, he received virtually no recognition from the footballing community.
Regrettably, he fell into a downward spiral of alcoholism and depression and soon lost all the money he had been awarded in 1995. In 2013 he was sentenced to a one-year prison sentence for domestic abuse. A sad and heartbreaking story of a man who in 1990 just wanted to move to France to play football.
The legacy of the Bosman ruling lives on, and here is my all time Bosman XI:

GK: Brad Friedel (Villa to Spurs)
RB: Markus Babbel (Bayern Munich to Liverpool)
CB: Sol Campbell (Spurs to Arsenal)
CB: Sami Hyypia (Liverpool to Bayer Leverkusen)
LB: Ashley Cole (Chelsea to Roma)
RM: Steve McManaman (Liverpool to Real Madrid)
CM: Andrea Pirlo (AC Milan to Juventus)
CM: Michael Ballack (Bayern to Chelsea)
LM: Ronaldinho (Gremio to PSG)
ST: Roberto Baggio (AC Milan to Bologna)
ST: Robert Lewandowski (Dortmund to Bayern)

******

December 20, 1996 - Blackburn vs Middlesbrough, Ewood Park: Why didn't you just play the kids Robbo?
Rarely has one club seen more heartbreak in a single season than Middlesbrough did in 96/97. Their achievements for that campaign read as follows:
League Cup - Runners up. Lost 1-0 in a replay to Leicester City
FA Cup - Runners up. Lost 2-0 to Chelsea
Premier League - 19th, Relegated on 39 points.
Middlesbrough spent big in the summer of 1996, shockingly buying Italian and Juventus star Fabrizio Ravanelli and Brazilians Branco and Emerson to play alongside star playmaker Juninho. Ravanelli scored a hat-trick on his debut against Liverpool and it seemed in August 1996 that Middlesbrough were to enjoy a successful season. Instead, Boro endured the nightmare and agony of losing two cup finals and being relegated amidst completely farcical circumstances.
Having started the season with a respectable 10 points from their first six games things began to not so much slide, but free-fall downhill during October and November of 96.
Four points from their next 12 games saw Boro fully in the mire of a proper relegation scrap.
Ravanelli had stopped giving a shit, Emerson was going AWOL, and injuries began piling up in a manner that would make even Arsene Wenger gasp. Juninho, it seemed, was the only player trying, but just before a critical relegation six-pointer with Blackburn on December 20, the Brazilian magician also picked up an injury.
And then all of the first team squad got the flu.
Out of Middlesbrough's registered 30-player squad only seven were available to make the trip to Ewood Park that weekend. Boro's manager, former England legend Bryan Robson, along with chief executive Keith Lamb decided that the team simply wouldn't travel to Blackburn.
Of course, Robson could have just taken players from the Under 18s and put them in the first team as an emergency measure. But in Robbo's eyes this would have been equivalent to a forfeit because he knew a team of kids would get hammered by Blackburn.
I can only imagine that Robson and Lamb thought that the Premier League and FA would look favorably upon the plight Boro found themselves in, which obviously was a pretty dumb thing to assume. The FA were not best pleased, nor were Blackburn Rovers.
The League took action and it would seem that Robson had no knowledge, or simply chose to ignore Rule 19 of the Premier League's statute that states if a team fails to fulfill a fixture a three-point deduction will be dished out.
Boro appealed the points deduction to no avail, and in January of 1997 saw three precious points subtracted from their league total.
Boro's final point tally come May was 39. The points tally needed to avoid relegation that season was 41.
39+3 = 42. You should have just played the kids Robbo.
Read past articles