League Two Tips: Back fresh Carlisle to sink Grecians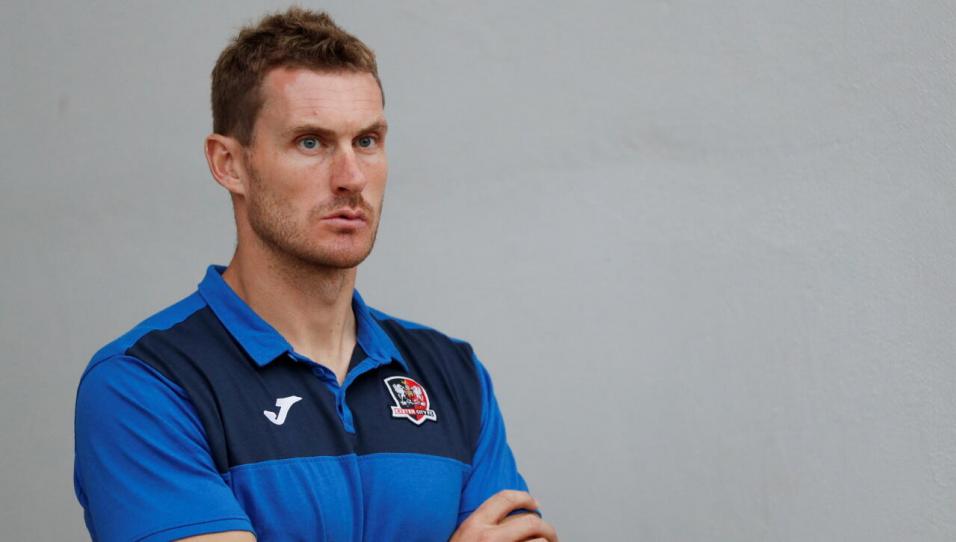 Matt Taylor is feeling the heat of criticism about playing only one striker at Exeter City
Chris Beech's men now have a taste for being top of the table, says Ian Lamont, who also tips Stevenage for an away win...
"Bradford, third in the six-game table with 14 points, can't afford to fall into the trap of thinking Barrow will be easy prey. The Bluebirds are eighth with 10 points over six games, have their own relatively new boss to impress and have had their own mini break."
Cumbrians very strong at home
Carlisle 2.111/10 v Exeter 4.47/2; the draw 3.412/5
Once again it feels like Exeter's hopes of promotion, fostered over several years, are slipping - just earlier than the usual play-off period. I feel boss Matt Taylor is unlikely to gain much joy from a trip to Carlisle.
The visit to the Cumbrians might prove the toughest of upcoming assignments in the next month for the Grecians - just about. That's partly because Chris Beech's hosts have won eight times this season at Brunton Park, drawing once and losing just once. They also should be fresh, having not played since January 2.

Postponements for Covid-19 and the weather haven't helped Carlisle build on being top after their last game, a 2-0 win at Walsall. They are delighted that the services of one of their scorers that day, Joshua Kayode, have been further secured for the rest of the season. The Rotherham loanee might only have four goals, but then only Lewis Alessandra, with five, and defender Jon Mellish, with seven, have out-scored him so far. That is remarkable for a side who were top. As remarkable as their year or so under Beech, who has lifted them from the relegation mire.
A variety of goalscorers is clearly doing the trick, though, while Exeter boss Taylor continues to feel the criticism about playing only one striker. Is it a sign he is feeling under pressure?
Striker Ryan Bowman has 10 goals, so it works to a decent extent. Matt Jay also has 10, from midfield. But Taylor seemed to blame his wing backs and centre-backs for defeat to Morecambe, a game in which he made two early substitutions. Tactical, he insisted. The only way back into the game. Was it brave, to make changes so early? Or more an admission of a mistake in selection in the first place? Football fans get a bit black and white in their opinions of such things.
The key for me is that Exeter have only won twice away. They have had seven draws and the price on another is tempting at 3.412/5. However, I think Carlisle have that bit of confidence to earn another win. Having had a taste of the top, they will certainly want to climb back into the top three.
Mariners still all at sea despite managerial change
Grimsby 2.942/1 v Stevenage 2.89/5; the draw 3.55/2
Paul Hurst said he told his Grimsby Town squad some home truths and warned them about their futures after their 3-0 derby defeat at Scunthorpe.
New face Jay Matete, on loan from Fleetwood, came out with some credit. The 19-year-old showed that he wanted to be a footballer, according to his boss.
The Mariners have yet to win for Hurst, who replaced Ian Holloway in late December. They are seven games without a win. Their best results have been goalless draws, at home, to Southend and Oldham.
Hurst has now also signed Stefan Payne, a striker he knew from their time at Shrewsbury Town. Now, the supporter who suggested that Hurst introduce the two strikers who played last weekend - James Hanson and Matt Green - to each other will have another combination to worry about. And so will Stevenage, whose form is marginally better than their hosts.
Alex Revell's men also have two goalless draws recently, at home to Colchester and Tranmere. They did in fact win twice in a row a few weeks ago, defeating Cambridge and then Scunthorpe. Those wins and draws all came at home. They lost 3-1 at Exeter on their last away trip and drew 1-1 at Cheltenham before that, after a 4-0 defeat at Carlisle.
Revell will hope Charlie Carter will sense an opportunity to score and help gain some more points, or that Luke Norris can notch his first goal since signing from Colchester.
The manager says his team are in a "good place". Showing the same confidence, belief and bond as they did against Colchester will be key for this game, he says. Impressed by Norris' work-rate and hold-up play, plus the threat of Matt Stevens, his new strike partner and another recruit - from Forest Green - Revell clearly believes a win is possible.
As the hosts have scored twice and conceded 11 times in six games and Stevenage have hit six and let in five, there's a decent chance the visitors might be able to pull off a win.
Bradford's good run is Evans sent
Bradford 2.56/4 v Barrow 3.412/5; the draw 3.412/5
A Bradford-angled review of Tuesday's 3-1 win at Southend said that the Bantams face "another struggler" in Barrow this weekend. A glance at the six-game form table reflects that neither side seem to be struggling in this segment of the season, whatever their league positions say.
Temporary bosses Mark Trueman and Conor Sellars remain unbeaten in their seven games. Those matches have featured four wins, three draws (two of them goalless) and just three goals conceded, after conceding in 13 of the side's previous 15 League Two matches.
That's some improvement. Clearly a big gap without a game, between the end of December and holding leaders Cambridge last Saturday was beneficial.
Midfielder Gareth Evans chose the occasion to back up his feisty talk beforehand to score his first two goals in his second spell at the club, with another even newer signing Danny Rowe adding the third. Maybe a completely unchanged side, including bench line-up, helped with continuity too.
Bradford, third in the six-game table with 14 points, can't afford to fall into the trap of thinking Barrow will be easy prey. The Bluebirds are eighth with 10 points over six games, have their own relatively new boss to impress and have had their own mini break. They won their last match, albeit at home, against Scunthorpe, two weeks ago.
That was Michael Jolley's fourth match in charge. The visitors have been equally low conceders - two in four games. The manager says he has used the extra time to introduce new ideas. Perhaps not least he has used it to bed in six new signings, from the experienced Jamie Devitt to Bobby Thomas, 19, a centre-back on loan from Burnley. He'll be hoping striker Scott Quigley can take advantage of the new faces and find similar form in the second half of the season to the goals which gained Barrow promotion last season.
Bradford seem in no mood to relent, however, and should be able to take a victory.
Potent trio give Stags the edge
Walsall 2.8415/8 v Mansfield 2.915/8; the draw 3.412/5
Picking out the most meaningful statistics is always tricky, especially when it isn't possible to get out and watch League Two games in person to add the flesh to those bones.
Mansfield easily impress with pointers such as being on their best Football League run in 29 years, which means five straight wins and a draw in six games. They have lost just three times in Nigel Clough's 17 games in all competitors, trumpet some. They top of League Two form table since his appointment, they say. Walsall's form has dipped in the past five games, the Mansfield cheerleaders add.
Well, actually, the form picked up in the last three - a win at Port Vale on Saturday following two draws. Haven't they had their bad patch, losing the three games before that after a fantastic run of four straight wins?
And while the Stags have picked up 21 points in a 10-game form table, topped only by Morecambe's 22, the Saddlers are fourth in that time, with 17. Darrell Clarke's men, then, are not far off their visitors and Clough knows how tough it will be, calling them "dangerous".
His potent trio of attackers, Jordan Bowery, Harry Charsley and James Reid, will have their work cut out to improve on the sides' 1-1 draw in October. Does the home team's Elijah Adebayor score frequently enough? It might seem an odd question about a striker who has 10 goals this season, but he went six games without scoring, before Saturday's double at a struggling Port Vale.
Both teams have momentum and, belatedly in Mansfield's case, hopes of reaching the play-off scene. The visitors probably have that little bit more momentum and confidence right now and can take three points.
P/L 2020-21
League Two -23.93pt
FA Cup +13.86pt
Discover the latest articles
Read past articles