Decimal Odds Converter & Betfair Decimal Odds Explained
Decimal odds are a simpler way of working out betting odds - and they don't give you a headache every time you want to place a bet.
Do you know the difference between 8/13 and 4/7? No? Well, not many people do. But with decimals you'd know instantly.
Have a look at our video for more details...

How do decimal odds work?
If the decimal odds are 2.2 and you place a back bet of £10 and win, your total return is £10 x 2.2 = £22. This is equivalent to a traditional price of 6/5.
Decimal odds make it much easier to figure out which price is best - the bigger the number, the higher the return. Take a look at the table below to see why.
The key part to remember is that decimal odds always include the unit stake - thus every price you see on Betfair will be >1.
Fractional odds represent the profit - 5/1 means you will win five pounds for every one pound staked.
Decimal odds represent the return - 2.2 means you will receive £2.20 for every pound invested, including your stake.
If you're struggling with decimal odds, you can now use our mouse-over odds displays - traditional odds over every price. Every market on Betfair also has an odds-converter table.
Click on 'What are decimal odds?' in the Help section on the right hand side of the screen, as seen below.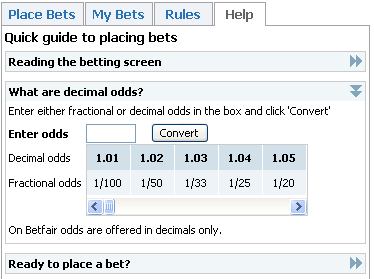 Please read our Decimal odds to Fractional odds converter table below.
Decimal Odds to Fractional Odds
1.01 - 1/100
1.02 - 1/50
1.03 - 1/33
1.04 - 1/25
1.05 - 1/20
1.06 - 1/17
1.07 - 1/14
1.08 - 1/12
1.09 - 1/11
1.10 - 1/10
1.11 - 1/9
1.12 - 1/8
1.13 - 2/15
1.14 - 1/7
1.15 - 2/13
1.16 - 2/13
1.17 - 1/6
1.18 - 2/11
1.19 - 2/11
1.20 - 1/5
1.21 - 1/5
1.22 - 2/9
1.23 - 2/9
1.24 - 1/4
1.25 - 1/4
1.26 - 1/4
1.27 - 1/4
1.28 - 2/7
1.29 - 2/7
1.30 - 3/10
1.31 - 3/10
1.32 - 1/3
1.33 - 1/3
1.34 - 1/3
1.35 - 1/3
1.36 - 4/11
1.37 - 4/11
1.38 - 4/11
1.39 - 2/5
1.40 - 2/5
1.41 - 2/5
1.42 - 2/5
1.43 - 4/9
1.44 - 4/9
1.45 - 4/9
1.46 - 40/85
1.47 - 40/85
1.48 - 40/85
1.49 - 1/2
1.50 - 1/2
1.51 - 1/2
1.52 - 8/15
1.53 - 8/15
1.54 - 8/15
1.55 - 8/15
1.56 - 4/7
1.57 - 4/7
1.58 - 4/7
1.59 - 4/7
1.60 - 8/13
1.61 - 8/13
1.62 - 5/8
1.63 - 5/8
1.64 - 5/8
1.65 - 4/6
1.66 - 4/6
1.67 - 4/6
1.68 - 4/6
1.69 - 5/7
1.70 - 5/7
1.71 - 5/7
1.72 - 8/11
1.73 - 8/11
1.74 - 8/11
1.75 - 8/11
1.76 - 8/11
1.77 - 4/5
1.78 - 4/5
1.79 - 4/5
1.80 - 4/5
1.81 - 4/5
1.82 - 4/5
1.83 - 4/5
1.84 - 5/6
1.85 - 5/6
1.86 - 5/6
1.87 - 5/6
1.88 - 10/11
1.89 - 10/11
1.90 - 10/11
1.91 - 10/11
1.92 - 10/11
1.93 - 10/11
1.94 - 20/21
1.95 - 20/21
1.96 - 20/21
1.97 - 20/21
1.98 - 1/1
1.99 - 1/1
2.00 - 1/1
2.02 - 1/1
2.04 - 21/20
2.06 - 21/20
2.08 - 11/10
2.10 - 11/10
2.12 - 11/10
2.14 - 11/10
2.16 - 6/5
2.18 - 6/5
2.20 - 6/5
2.22 - 6/5
2.24 - 5/4
2.26 - 5/4
2.28 - 5/4
2.30 - 5/4
2.32 - 11/8
2.34 - 11/8
2.36 - 11/8
2.38 - 11/8
2.40 - 7/5
2.42 - 7/5
2.44 - 7/5
2.46 - 6/4
2.48 - 6/4
2.50 - 6/4
2.52 - 6/4
2.54 - 6/4
2.56 - 8/5
2.58 - 8/5
2.60 - 8/5
2.62 - 13/8
2.64 - 13/8
2.66 - 13/8
2.68 - 13/8
2.70 - 7/4
2.72 - 7/4
2.74 - 7/4
2.76 - 7/4
2.78 - 9/5
2.80 - 9/5
2.82 - 9/5
2.84 - 15/8
2.86 - 15/8
2.88 - 15/8
2.90 - 15/8
2.92 - 15/8
2.94 - 2/1
2.96 - 2/1
2.98 - 2/1
3.00 - 2/1
3.05 - 2/1
3.10 - 85/40
3.15 - 11/5
3.20 - 11/5
3.25 - 9/4
3.30 - 9/4
3.35 - 12/5
3.40 - 12/5
3.45 - 5/2
3.50 - 5/2
3.55 - 5/2
3.60 - 13/5
3.65 - 13/5
3.70 - 11/4
3.75 - 11/4
3.80 - 14/5
3.85 - 14/5
3.90 - 3/1
3.95 - 3/1
4.00 - 3/1
4.10 - 3/1
4.20 - 16/5
4.30 - 10/3
4.40 - 7/2
4.50 - 7/2
4.60 - 7/2
4.70 - 7/2
4.80 - 4/1
4.90 - 4/1
5.00 - 4/1
5.10 - 4/1
5.20 - 4/1
5.30 - 9/2
5.40 - 9/2
5.50 - 9/2
5.60 - 9/2
5.70 - 9/2
5.80 - 5/1
5.90 - 5/1
6.00 - 5/1
6.20 - 5/1
6.40 - 11/2
6.60 - 11/2
6.80 - 6/1
7.00 - 6/1
7.20 - 6/1
7.40 - 13/2
7.60 - 13/2
7.80 - 7/1
8.00 - 7/1
8.20 - 7/1
8.40 - 15/2
8.60 - 15/2
8.80 - 8/1
9.00 - 8/1
9.20 - 8/1
9.40 - 17/2
9.60 - 17/2
9.80 - 9/1
10.00 - 9/1
10.50 - 19/2
11.00 - 10/1
11.50 - 10/1
12.00 - 11/1
12.50 - 11/1
13.00 - 12/1
13.50 - 12/1
14.00 - 13/1
14.50 - 13/1
15.00 - 14/1
15.50 - 14/1
16.00 - 15/1
16.50 - 15/1
17.00 - 16/1
17.50 - 16/1
18.00 - 17/1
18.50 - 17/1
19.00 - 18/1
19.50 - 18/1
20.00 - 19/1
21.00 - 20/1
22.00 - 21/1
23.00 - 22/1
24.00 - 23/1
26.00 - 25/1
28.00 - 27/1
29.00 - 28/1
30.00 - 29/1
31.00 - 30/1
32.00 - 31/1
34.00 - 33/1
36.00 - 35/1
38.00 - 37/1
40.00 - 39/1
41.00 - 40/1
42.00 - 41/1
44.00 - 43/1
46.00 - 45/1
48.00 - 47/1
50.00 - 49/1
51.00 - 50/1
55.00 - 54/1
60.00 - 59/1
61.00 - 60/1
65.00 - 64/1
66.00 - 65/1
67.00 - 66/1
70.00 - 69/1
71.00 - 70/1
75.00 - 74/1
76.00 - 75/1
80.00 - 79/1
81.00 - 80/1
85.00 - 84/1
90.00 - 89/1
91.00 - 90/1
95.00 - 94/1
100.00 - 99/1
101.00 - 100/1
110.00 - 109/1
111.00 - 110/1
120.00 - 119/1
126.00 - 125/1
130.00 - 129/1
140.00 - 139/1
150.00 - 149/1
151.00 - 150/1
160.00 - 159/1
170.00 - 169/1
176.00 - 175/1
180.00 - 179/1
190.00 - 189/1
200.00 - 199/1
201.00 - 200/1
210.00 - 209/1
220.00 - 219/1
226.00 - 225/1
230.00 - 229/1
240.00 - 239/1
250.00 - 249/1
251.00 - 250/1
260.00 - 259/1
270.00 - 269/1
276.00 - 275/1
280.00 - 279/1
290.00 - 289/1
300.00 - 299/1
301.00 - 300/1
310.00 - 309/1
320.00 - 319/1
330.00 - 329/1
340.00 - 339/1
350.00 - 349/1
351.00 - 350/1
360.00 - 359/1
370.00 - 369/1
380.00 - 379/1
390.00 - 389/1
400.00 - 399/1
401.00 - 400/1
410.00 - 409/1
420.00 - 419/1
430.00 - 429/1
440.00 - 439/1
450.00 - 449/1
460.00 - 459/1
470.00 - 469/1
480.00 - 479/1
490.00 - 489/1
500.00 - 499/1
501.00 - 500/1
510.00 - 509/1
520.00 - 519/1
530.00 - 529/1
540.00 - 539/1
550.00 - 549/1
560.00 - 559/1
570.00 - 569/1
580.00 - 579/1
590.00 - 589/1
600.00 - 599/1
610.00 - 609/1
620.00 - 619/1
630.00 - 629/1
640.00 - 639/1
650.00 - 649/1
660.00 - 659/1
670.00 - 669/1
680.00 - 679/1
690.00 - 689/1
700.00 - 699/1
710.00 - 709/1
720.00 - 719/1
730.00 - 729/1
740.00 - 739/1
750.00 - 749/1
751.00 - 750/1
760.00 - 759/1
770.00 - 769/1
780.00 - 779/1
790.00 - 789/1
800.00 - 799/1
810.00 - 809/1
820.00 - 819/1
830.00 - 829/1
840.00 - 839/1
850.00 - 849/1
860.00 - 859/1
870.00 - 869/1
880.00 - 879/1
890.00 - 889/1
900.00 - 899/1
910.00 - 909/1
920.00 - 919/1
930.00 - 929/1
940.00 - 939/1
950.00 - 949/1
960.00 - 959/1
970.00 - 969/1
980.00 - 979/1
990.00 - 989/1
1000.00 - 999/1
1001.00 - 1000/1