England v India Fifth Test Betting: Batsmen hold the key on good Oval strip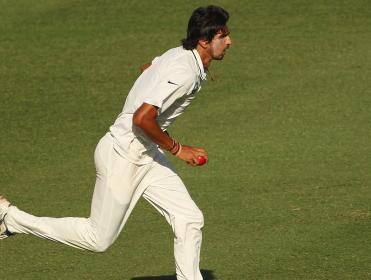 Ishant should return for India
Ed Hawkins says that MS Dhoni's men have a chance of squaring the series at 2-2 if they can bat first and bat well at The Oval from Friday 
England v India
Start time: 11.00
TV: live on Sky Sports 2

England
Stuart Broad did not train on Wednesday, but that will have had more to do with his dodgy knee than his busted nose. After being struck in the face by a Varun Aaron bouncer, Broad was a doubt but he looks certain to play, either wearing a protective mask or splint. Otherwise, England must decide whether to persevere with Chris Jordan or Chris Woakes. Between them they have taken only four wickets so it would be a major surprise if Steven Finn was unable to extricate one of them. Ben Stokes, who scored a ton for Durham in the week, is also a possibility. If Stokes is picked it would suggest England are looking to strengthen the batting and therefore, play safety-first cricket. They do not need to win and that is a mindset fraught with difficulties.

India
India have been unable to field the same XI that took a lead in the series at Lord's and although there will be no room for Shikhar Dhawan, Ishant Sharma is expected to return. The pace bowler left a huge hole due to a leg injury and ever since India have been unsure of their best pace combination. He could come in for Pankaj Singh, although Bhuv Kumar looks a spent force having played in every game so far. Stuart Binny, the all-rounder, is also in contention. There are suggestions that he will replace Ravi Jadeja, who has had a poor series and will be no loss. Gautam Gambhir should retain his place but Virat Kohli, with an average of 13.50, is under pressure from Rohit Sharma.

First-innings runs
The Oval surface, from this season's County Championship at any rate, is as you would expect. Big runs available in the first-innings and then potential for turn later on. Gareth Batty and Zafar Ansari, Surrey's spinners, have enjoyed themselves at times. The first-innings average in the Championship this season is 371 and as the weather has got warmer, it's got better to bat on. The last three sides to bat first have breached 450. The first-innings average in Tests is 350. In the last ten it is 391. England made 591 against India there in 2011. There have been totals below 200 as seam and swing has been present on the first day. The wicket is reported to be tinged with green at the moment but it would be a surprise if England did not have a word with the groundsman to have that removed. They don't want to give India any route back into this one. Backing England for 350 or more first up could be the best bet.

Match odds
Two Tests ago we didn't reckon England were value at 2.6613/8. That was essentially because we didn't trust them. Two victories later do we trust them at 2.3211/8? Not really. After comprehensive victories at Southampton and Old Trafford, Alastair Cook's team are flying. But they now face a different challenge. They don't need to win. Will that breed negative, safety-first cricket? They have been guilty of that earlier this summer. And, of course, they still have problems. James Anderson and Broad have aches and pains while their understudies have come up woefully short. If they pick Finn, it suggests they have the right mindset and that could sway us as he is first-class.
India have bigger issues. They are 6.205/1 and looked mentally shot in Manchester. Once a team gets on top of them, they rarely fight back. But Ishant's return is a major boost and we can see room for trade in their price. They would have to bat first, though and bat well because we think the wicket is good. And if it turns later, they could get their tails up. The draw is 2.407/5. We would expect that to trade sub 2.01/1 on the first day. We do trust England's batsmen more than India's, however, so factor that in. 

Top England runscorer
Cook and Ian Bell both average a smidge over 45 on this ground and are 5.309/2 and 5.104/1 respectively. Moeen Ali scored a ton there for Worcestershire earlier this season. He is 10.50. Gary Ballance, who is 5.709/2, has played two first-class innings at The Oval and scored a century each time. Alas, Sam Robson has four failures out of four in Kennington.

Top India runscorer
Only MS Dhoni and Ishant have played at The Oval before. Dhoni averages 37 in two Tests but did make 92 there. He is 8.007/1 and although he did us proud last week on this market we won't be following in. This wicket should suit India's batsmen. Gambhir is 6.4011/2, Ajinkya Rahane 6.205/1, Chet Pujara 5.309/2 and Rohit 8.007/1.

Recommended Bets
England to score 350 or more first-innings runs at 1.804/5
Back-to-lay India (only if they bat first) at 6.205/1 to 2.809/5