Ed Hawkins on England v India: The draw price is right but for the wrong reason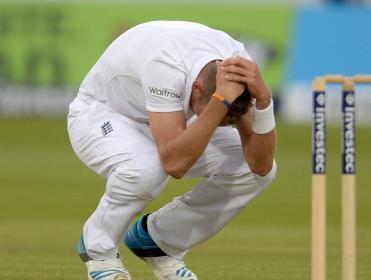 England's bowlers may be frustrated
Our cricket correspondent crunches the numbers and reveals how many Test sides win, lose or draw after posting, and conceding, 500 or more in the first innings...
"It is important to know why and how a price is right, as opposed to why it is wrong if you are wagering with any seriousness."

It is possible that on the morning of day three of the third Test between England and India at Southampton, there would have been some confusion at the relationship between the scorecard and the odds.
England, clearly, were winning. They had amassed a whopping 569 for seven declared and then dismissed Shikhar Dhawan with a swinging ball to leave India trailing by 544 runs.
And yet the odds did not agree they enjoyed superiority. England were 2.226/5 to level the series. It was the draw which was favourite at 1.8810/11, a price which had drifted by merely 0.14 at the declaration and subsequent wicket.
Bizarre, no? Not a bit of it. In fact, this is standard stuff. There are two obsessions in cricket which dominate all thinking, whether that be team tactics or a cheeky wager: the pitch and history.
One is considered more important than the other. And that is where the inconsistency can be found. 
There will be constant talk about the wicket today, tomorrow, the day after, the day after that and, no doubt, the days in between the start of the next Test, where the wicket, which no-one would have seen, will be compared to the one at the Ageas Bowl.
Meanwhile we will be thrown snippets of historical data on Twitter feeds, Test Match Special, that boffin bloke the Sky Sports commentators all like to take the mickey out of and, wait for it, columns like this one.
That's because we can all see what the pitch is doing. And, as you know, we are all expert groundsmen when it comes to televised cricket. Judgements are often made on the basis of the first few overs, or certainly the first session.
It has already been decided that the strip is flat and not quick enough to allow a side to take 20 wickets. Punters have seen India's bowlers flogged and they believe that is what will continue to happen. That is why the draw is so short. 
Yet none of us really know what is going to happen. We suspect that the wicket is not going to deteriorate but we cannot be sure. This is particularly acute because the lack of historical data about the Ageas Bowl. Only one Test has been played there.
And there's the rub. What we are not guessing in 'normal' circumstances about is history. It is there in black and white, offering crucial guidance to what could, should and probably will happen in all walks of life. Hence the phrase, a warning from history.
So what does it tell us in this instance? Well, ahem, that the Test match is likely to end in a draw. 
Now before you get irate and wonder exactly why this correspondent has seemingly been wittering on about why the contest will not end in stalemate, only to say it will, please allow room for pedantry.
The argument is not that the odds are the wrong way round. They are right but they are wrong for the wrong reason, if you get me. The draw is so short because of the pitch, not because of the historical data that should see it contracting.
A bit more explanation? Okay. You have a pretty fair idea, yes, that the pitch is flat? A nod of the head? Good. Do you have a fair idea how any sides lose after conceding 500 in the first innings in the last ten years of Test cricket?
I didn't, either. That was until I looked it up and was surprised by the results. I reckoned there would be some big numbers in the loss column. There weren't.
In the last ten years, from 71 matches, 32 have produced results. There have been 38 draws. As a percentage that is 54%. Converted into odds that is, shaving off 0.56%, bang on 1.8810/11.
Perhaps the market is more of a history buff than we think, but we doubt it. 
'So what? This is no revelation' you might say but I would disagree. It is important to know why and how a price is right, as opposed to why it is wrong if you are wagering with any seriousness. 
Indeed, for the rest of the Test match, based on ten years of data, you now have a very good idea what the draw price should be. Vital. It is guaranteed to move up and down and you can use that 1.8810/11 as a marker to back or lay with more confidence.
Meanwhile, here are some more statistics which will help you make considerate bets over the next few days (hint: most suggest a draw)...
- India have conceded 500 or more 19 times since 2002 in first-innings. They lost only seven. 
- Since 1978 they've conceded the same amount 29 times and lost only 11.
- Since 2010 India have conceded 500 or more seven times and lost five.
- In last ten years England have posted 500 or more 23 times and won 14, drawing eight.