India v England 2nd ODI Betting: Runs in the offing again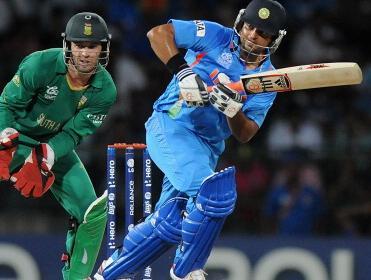 Raina looks overpriced for the second match running
Ed Hawkins previews game two in Kochi, which starts early on Tuesday. He expects another good batting track and highlights the importance of the toss...
"In the first four games there were three totals in excess of 300"

India v England
Start time: 06.30GMT
TV: live on Sky Sports 1

India
Here's an interesting quote from India captain MS Dhoni about the first ODI in Rajkot. "I don't want to sound arrogant, but it seemed easy when (Suresh) Raina and I were in the middle." So how come India didn't win then? Largely because they are an arrogant bunch guilty too often of complacency. Perhaps following the nine-run loss - when they failed to chase down 325 - will see them buck-up in Kochi. Perhaps not. A potential change for the home side is fast bowler Shami Ahmed coming in for Ashok Dinda. "We have to look how good Shami Ahmed is when it comes to bowling yorkers," Dhoni said.

England
The English are getting the hang of this Asian sub-continent lark. The ebullience inspired by the historic Test series win was there for all to see in game one and they batted as if they were the home side, and then bowled like them, too. The latter is a slightly backhanded compliment but they did enough. They would be wise to recognise, however, that winning the toss helped them hugely and had they been on the receiving end of the Indian batting first up, the result would probably have been different. We are not sure of Joe Root slated to come in at No 7 and reckon Chris Woakes may be a more natural fit. A minor gripe, though.
The Nehru Stadium doubles as a football pitch so you could be forgiven for reckoning this will not suit the batsmen. You couldn't be more wrong. In the first four games there were three totals in excess of 300, and five individual hundreds. Indeed, the first-innings average is 271 and the runs per over average is 5.27. We should expect 275 to be breached first up, especially after the form of the willowmen in Rajkot.
India are having a horrible time. But just how horrible? Well, their current win-loss ration of 0.33 this season is only marginally better than the 0.25 record in 2006. To put that into context you have to go way back to 1982 for a worse Indian team in ODIs. However, it's not all bad. Should they win the toss and bat first - Dhoni's fuzzy decision making at the moment does not make this a given - then they will be happier at 1-1. But are they value to do so at 1.738/11? Not far off, that's for sure. And it will be interesting to see how much they dip if they bat first. England are 2.3411/8 but are not a wise wager unless they defend a target. The most solid advice, and this is not rocket science, folks, is to back the side which bats first.
The top runscorer the last time India played in Kochi was Dhoni with 58. But there are not a huge array of records at this ground this current India squad will be proud of. Yuvraj Singh has the most runs of the current incumbents but that is only 74 at 24. Yuvraj is 5.609/2 and Dhoni 5.004/1 under Any Other. Suresh Raina, a half-century in Rajkot, is 6.6011/2. That's a big one.
Ian Bell was the man in form coming into the first match and he delivered with 85 from 96 balls. But each of the England top six showed top touch. Samit Patel deserves a special mention because he hit 44 from a rollocking 28 balls. Bell and Kevin Pietersen are around the 4.003/1 mark and their skinny prices means Eoin Morgan stands out at a whopping 7.006/1.

Recommended Bet
Back more than 275 first-innings runs at around 2.305/4
Discover the latest articles