US Open 2020: Form guide for the women's singles in New York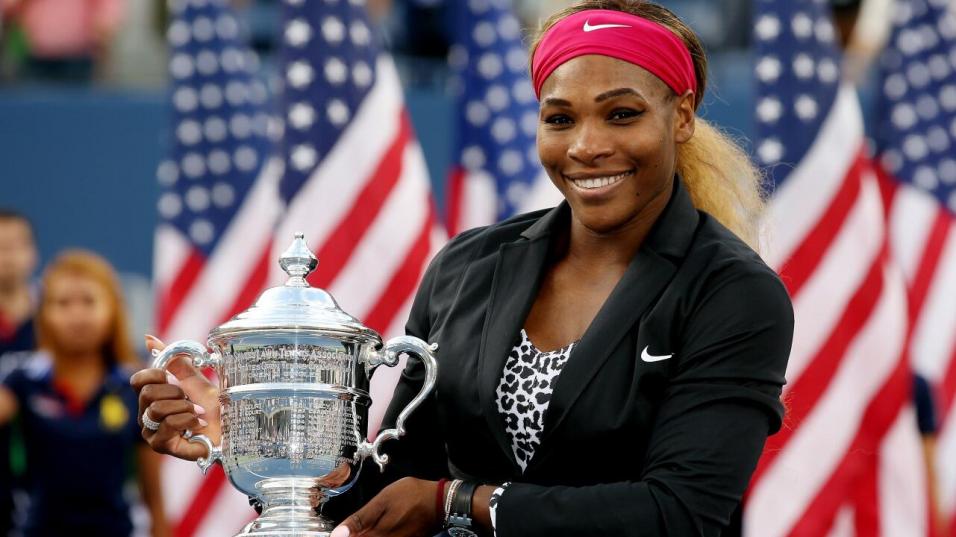 Serena Williams: Last won the US Open in 2014
Check out our Grand Slam form stats ahead of Flushing Meadows, where Serena Williams will make another attempt to create tennis history. Words and stats by Andy Swales...
"The number of high-profile withdrawals, because of concerns over Coronavirus, means the depth of talent will be less concentrated than normal. Six of the world's top eight have already pulled out, citing Covid-19 as the reason for their absence."
As opportunities go, the forthcoming US Open will give Serena Williams her best chance yet to equal Margaret Court's all-time record of 24 Grand Slam singles titles.
Serena has been stuck on 23 for the past three years and seven months.
Her most recent title, which arrived at Melbourne Park in January 2017, was her final event before downing tools to start a family.
Since giving birth in September of that year, Serena has played in eight Slams and reached four finals, only to lose the lot against a quartet of different players - Angelique Kerber and Simona Halep at Wimbledon; Naomi Osaka and Bianca Andreescu in New York.
And there are a number of reasons why the US Open, which begins on Monday afternoon, will provide her with her best chance to win a first Slam since becoming a mother three years ago:
Withdrawals
The number of high-profile withdrawals, because of concerns over Coronavirus, means the depth of talent will be less concentrated than normal. Six of the world's top eight have already pulled out, citing Covid-19 as the reason for their absence. These are defending champion Andreescu, world No 1 Ashleigh Barty, No 2 Halep, plus Elina Svitolina, Belinda Bencic and Kiki Bertens. As things stand, 14 of the world's top 50 are not taking part, and this number could rise before the event starts.
Enforced break
The WTA Tour only re-opened for business at the start of August - following an enforced break of five months. Therefore, those in attendance will be as under-cooked as Serena, going into the second Slam of 2020. Serena doesn't usually play in that many tournaments nowadays, with her already-reduced schedule focused entirely on preparing for Grand Slams. So she will begin her bid for a seventh US Open title with probably the same amount of match fitness as her main rivals. Normally, she's at a slight disadvantage going into tournaments due to lack of competitive action.
Home advantage
With the event taking place on home soil, Serena will also be marginally more acclimatised to conditions than those travelling from other parts of the world - and especially with a backdrop of Covid-19 hanging over everyone.
Serena's record
Serena's record in the US Open is incredibly good, having reached the semi-finals in each of her last 10 appearances.
Serena will certainly recognise this as being a great opportunity, but with that comes pressure, which is likely to be her toughest opponent over the next couple of weeks at Flushing Meadows.
The American is also planning to travel to Paris to contest the French Open which starts on September 27th.
And she will view these next two Slams as a giant opportunity to finish off her career in a blaze of glory.
Serena turns 39 the day after Roland Garros begins, so it's difficult to judge how much motivation she will have going into 2021?
Check out the latest betting in the women's singles event at the US Open
As for her main rivals in New York - or those who have decided to turn up - the American challenge should be reasonably strong, or at least on paper it should be, despite some disappointing results in the on-going Western & Southern Open.
Australian Open winner Sofia Kenin, the world No 4, suffered a shock second round defeat in this warm-up event earlier this week, as did teenage hopefuls Cori Gauff and Amanda Anisimova.
Overseas hopefuls
Perennial underachiever and top seed Karolina Pliskova was another early casualty in the Western & Southern Open, but at least she will get another opportunity to claim a maiden Grand Slam title on her favourite surface.
Another hard court specialist is world No 10 Naomi Osaka who burst onto the scene with back-to-back Slams in New York and Melbourne. The 22-year-old from Japan has since lost her way, but was recently named the highest earning sportswoman of 2019.
She's far too talented to remain in the shadows for too long, so maybe the extended break will have given her the motivation she needs to climb her way back to becoming world No 1 all over again.
Younger challengers
The forthcoming US Open will give many of the game's younger players a better chance than normal of reaching the latter stages of a Slam - and perhaps even winning it.
These include the already established Aryna Sabalenka from Belarus or 20-year-old Ukrainian Dayana Yastremska.
Sticking with eastern Europe, Kazakhstan's 21-year-old Elena Rybakina reached two hardcourt finals before lockdown in March, while maybe Maria Sakkari of Greece - now 25 - could finally fulfil her huge potential.
Sakkari beat Serena in the last 16 of the Western & Southern Open this past week, before being knocked-out by Britain's Johanna Konta.
That said, all eyes as usual, will be on Serena as she makes a ninth attempt to claim a record-equalling 24th Slam - and arguably the best opportunity she may ever have.
Click here to view 10-year form at US Open
Twitter: Andy Swales@GolfStatsAlive
Last 10 Grand Slam Results (selected players)
| Player | A-20 | U-19 | W-19 | F-19 | A-19 | U-18 | W-18 | F-18 | A-18 | U-17 |
| --- | --- | --- | --- | --- | --- | --- | --- | --- | --- | --- |
| Karolina Pliskova | Rd-3 | Rd-4 | Rd-4 | Rd-3 | SF | QF | Rd-4 | Rd-3 | QF | QF |
| Sofia Kenin | Won | Rd-3 | Rd-2 | Rd-4 | Rd-2 | Rd-3 | Rd-2 | Rd-1 | Rd-1 | Rd-3 |
| Serena Williams | Rd-3 | RU | RU | Rd-3 | QF | RU | RU | Rd-4 | | |
| Naomi Osaka | Rd-3 | Rd-4 | Rd-1 | Rd-3 | Won | Won | Rd-3 | Rd-3 | Rd-4 | Rd-3 |
| Aryna Sabalenka | Rd-1 | Rd-2 | Rd-1 | Rd-2 | Rd-3 | Rd-4 | Rd-1 | Rd-1 | Rd-1 | |
| Petra Kvitova | QF | Rd-2 | Rd-4 | | RU | Rd-3 | Rd-1 | Rd-3 | Rd-1 | QF |
| Madison Keys | Rd-3 | Rd-4 | Rd-2 | QF | Rd-4 | SF | Rd-3 | SF | QF | RU |
| Petra Martic | Rd-2 | Rd-4 | Rd-4 | QF | Rd-3 | Rd-1 | Rd-1 | Rd-2 | Rd-4 | Rd-1 |
| Johanna Konta | Rd-1 | QF | QF | SF | Rd-2 | Rd-1 | Rd-2 | Rd-1 | Rd-2 | Rd-1 |
| Garbine Muguruza | RU | Rd-1 | Rd-1 | Rd-4 | Rd-4 | Rd-2 | Rd-2 | SF | Rd-2 | Rd-4 |
| Elena Rybakina | Rd-3 | Rd-1 | | Rd-1 | | | | | | |
| Marketa Vondrousova | Rd-1 | | Rd-1 | RU | Rd-2 | Rd-4 | Rd-1 | Rd-1 | Rd-2 | Rd-1 |
| Alison Riske | Rd-4 | Rd-2 | QF | Rd-1 | Rd-1 | Rd-1 | Rd-2 | Rd-1 | Rd-1 | Rd-1 |
| Anett Kontaveit | QF | Rd-3 | Rd-3 | Rd-1 | Rd-2 | Rd-1 | Rd-3 | Rd-4 | Rd-4 | Rd-1 |
| Maria Sakkari | Rd-4 | Rd-3 | Rd-3 | Rd-2 | Rd-3 | Rd-2 | Rd-1 | Rd-3 | Rd-1 | Rd-3 |
| Elise Mertens | Rd-4 | QF | Rd-4 | Rd-3 | Rd-3 | Rd-4 | Rd-3 | Rd-4 | SF | Rd-1 |
| Angelique Kerber | Rd-4 | Rd-1 | Rd-2 | Rd-1 | Rd-4 | Rd-3 | Won | QF | SF | Rd-1 |
| Donna Vekic | Rd-3 | QF | Rd-1 | Rd-4 | Rd-2 | Rd-1 | Rd-4 | Rd-2 | Rd-2 | Rd-3 |
| Dayana Yastremska | Rd-2 | Rd-3 | Rd-4 | Rd-1 | Rd-3 | Rd-1 | | | | |
| Karolina Muchova | Rd-2 | Rd-3 | QF | Rd-2 | Rd-1 | Rd-3 | | | | |
| Ekaterina Alexandrova | Rd-3 | Rd-2 | Rd-1 | Rd-3 | Rd-1 | Rd-1 | Rd-1 | Rd-1 | Rd-2 | Rd-2 |
| Amanda Anisimova | Rd-1 | | Rd-2 | SF | Rd-4 | Rd-1 | | | | |
| Yulia Putintseva | Rd-3 | Rd-3 | Rd-2 | Rd-1 | Rd-2 | Rd-1 | Rd-2 | QF | Rd-2 | Rd-2 |
| Magda Linnette | Rd-1 | Rd-2 | Rd-3 | Rd-2 | Rd-1 | Rd-1 | Rd-1 | Rd-1 | Rd-3 | Rd-1 |
| Shuai Zhang | Rd-3 | Rd-3 | QF | Rd-2 | Rd-3 | Rd-1 | Rd-1 | Rd-2 | Rd-2 | Rd-3 |
| Sloane Stephens | Rd-1 | Rd-1 | Rd-3 | QF | Rd-4 | QF | Rd-1 | RU | Rd-1 | Won |
| Ons Jabeur | QF | Rd-3 | Rd-1 | Rd-1 | Rd-1 | Rd-1 | Rd-2 | | Rd-1 | Rd-2 |
| Jennifer Brady | Rd-1 | Rd-1 | Rd-1 | Rd-2 | | Rd-1 | Rd-2 | Rd-2 | Rd-1 | Rd-4 |
| Veronika Kudermetova | Rd-1 | Rd-1 | Rd-2 | Rd-3 | Rd-1 | | | | | |
| Kristina Mladenovic | Rd-1 | Rd-2 | Rd-2 | Rd-2 | Rd-1 | Rd-2 | Rd-3 | Rd-1 | Rd-1 | Rd-1 |
| Anastasija Sevastova | Rd-1 | Rd-3 | Rd-2 | Rd-4 | Rd-4 | SF | Rd-1 | Rd-1 | Rd-2 | QF |
| Rebecca Peterson | Rd-1 | Rd-2 | Rd-1 | Rd-2 | Rd-2 | Rd-3 | Rd-2 | Rd-2 | | Rd-1 |
| Marie Bouzkova | Rd-1 | Rd-1 | Rd-2 | Rd-1 | | Rd-1 | | | | |
| Caroline Garcia | Rd-2 | Rd-1 | Rd-1 | Rd-2 | Rd-3 | Rd-3 | Rd-1 | Rd-4 | Rd-4 | Rd-3 |
| Cori Gauff | Rd-4 | Rd-3 | Rd-4 | | | | | | | |
| Iga Swiatek | Rd-4 | Rd-2 | Rd-1 | Rd-4 | Rd-2 | | | | | |
| Heather Watson | Rd-2 | | Rd-2 | | Rd-1 | Rd-1 | Rd-1 | Rd-2 | Rd-1 | Rd-1 |
| Danielle Collins | Rd-2 | Rd-2 | Rd-3 | Rd-2 | SF | Rd-1 | Rd-1 | Rd-1 | | |
| Jil Teichmann | Rd-1 | Rd-1 | Rd-1 | | | Rd-2 | | | | |
| Katerina Siniakova | Rd-1 | Rd-1 | Rd-2 | Rd-4 | Rd-1 | Rd-3 | Rd-3 | Rd-3 | Rd-2 | Rd-1 |
| Ajla Tomljanovic | Rd-2 | Rd-2 | Rd-2 | Rd-1 | Rd-1 | Rd-2 | Rd-1 | Rd-1 | Rd-1 | Rd-2 |
| Alison Van Uytvanck | Rd-1 | Rd-2 | Rd-2 | Rd-1 | Rd-1 | Rd-1 | Rd-4 | Rd-2 | Rd-1 | Rd-1 |
| Victoria Azarenka | | Rd-1 | Rd-3 | Rd-2 | Rd-1 | Rd-3 | Rd-2 | Rd-1 | | |
| Alize Cornet | Rd-2 | Rd-2 | Rd-1 | Rd-1 | Rd-2 | Rd-1 | Rd-1 | Rd-2 | Rd-3 | Rd-2 |
| Bernarda Pera | Rd-1 | Rd-1 | Rd-1 | Rd-1 | Rd-1 | Rd-2 | Rd-1 | Rd-2 | Rd-3 | |
| Lauren Davis | Rd-2 | Rd-2 | Rd-3 | Rd-2 | | | | | Rd-3 | Rd-1 |
| Kristyna Pliskova | Rd-1 | Rd-2 | Rd-1 | Rd-1 | Rd-2 | Rd-1 | Rd-1 | Rd-1 | Rd-1 | Rd-2 |
| Venus Williams | Rd-1 | Rd-2 | Rd-1 | Rd-1 | Rd-3 | Rd-3 | Rd-3 | Rd-1 | Rd-1 | SF |
| Anna Blinkova | Rd-2 | Rd-1 | | Rd-3 | Rd-1 | Rd-1 | Rd-2 | | Rd-1 | Rd-1 |
| Zarina Diyas | Rd-3 | Rd-1 | Rd-1 | Rd-2 | Rd-1 | Rd-1 | | Rd-2 | Rd-1 | |
| Laura Siegemund | Rd-2 | Rd-2 | Rd-2 | Rd-2 | Rd-2 | Rd-1 | | Rd-1 | | |
| Daria Kasatkina | Rd-1 | Rd-1 | Rd-1 | Rd-2 | Rd-1 | Rd-2 | QF | QF | Rd-2 | Rd-4 |
| Irina-Camelia Begu | Rd-1 | | | Rd-3 | Rd-2 | Rd-2 | Rd-1 | Rd-3 | Rd-2 | Rd-1 |
| Camila Giorgi | Rd-3 | Rd-1 | Rd-1 | | Rd-3 | Rd-2 | QF | Rd-3 | Rd-2 | Rd-1 |
| Tamara Zidansek | Rd-2 | Rd-1 | Rd-2 | Rd-1 | Rd-2 | Rd-1 | | | | |
| Nao Hibino | Rd-2 | | | | | | | | Rd-1 | Rd-2 |
| Taylor Townsend | Rd-2 | Rd-4 | Rd-2 | Rd-1 | Rd-1 | Rd-2 | Rd-2 | Rd-2 | Rd-1 | Rd-1 |
| Sorana Cirstea | Rd-2 | Rd-3 | Rd-1 | Rd-2 | Rd-1 | Rd-2 | Rd-2 | Rd-1 | Rd-2 | Rd-2 |
| Kirsten Flipkens | Rd-1 | Rd-2 | Rd-2 | Rd-1 | Rd-1 | Rd-2 | Rd-2 | Rd-2 | Rd-2 | Rd-2 |
| Sara Sorribes Tormo | Rd-2 | Rd-1 | Rd-1 | Rd-2 | Rd-1 | Rd-1 | Rd-2 | | | Rd-1 |
| Jessica Pegula | Rd-1 | Rd-1 | Rd-1 | Rd-1 | | | | | | |
| Viktoria Kuzmova | Rd-1 | Rd-1 | Rd-1 | Rd-3 | Rd-2 | Rd-1 | Rd-1 | Rd-2 | Rd-1 | Rd-1 |
| Nina Stojanovic | Rd-1 | | | | | | | | | |
| Monica Puig | | Rd-1 | Rd-2 | Rd-3 | Rd-1 | Rd-2 | | | Rd-2 | Rd-1 |
| Tatjana Maria | Rd-1 | Rd-1 | Rd-1 | Rd-1 | Rd-1 | Rd-2 | Rd-2 | Rd-1 | Rd-1 | Rd-2 |
| Paula Badosa | Rd-2 | Rd-1 | Rd-1 | | Rd-1 | | | | | |
| Kristie Ahn | Rd-1 | Rd-4 | Rd-1 | | | | | | Rd-1 | |
| Kateryna Kozlova | Rd-1 | Rd-1 | Rd-1 | Rd-2 | Rd-1 | Rd-1 | Rd-1 | Rd-2 | Rd-1 | Rd-2 |
| Kaia Kanepi | Rd-1 | Rd-2 | Rd-2 | Rd-4 | Rd-1 | Rd-4 | Rd-1 | Rd-1 | Rd-3 | QF |
| Vera Zvonareva | | | | Rd-1 | | Rd-2 | Rd-1 | | | |
| Timea Babos | Rd-1 | Rd-2 | | Rd-1 | Rd-2 | Rd-1 | Rd-1 | Rd-1 | Rd-2 | Rd-2 |
| Aliona Bolsova | | Rd-2 | | Rd-4 | | | | | | |
| Aliaksandra Sasnovich | Rd-1 | Rd-2 | Rd-1 | Rd-1 | Rd-3 | Rd-3 | Rd-4 | Rd-2 | Rd-3 | Rd-2 |
| Vera Lapko | | | Rd-1 | Rd-1 | Rd-1 | Rd-2 | Rd-2 | | | |
| Margarita Gasparyan | Rd-1 | Rd-2 | Rd-2 | Rd-1 | Rd-2 | Rd-1 | | | | |
| Oceane Dodin | | | | | | | | Rd-1 | Rd-1 | Rd-2 |
| Tsvetana Pironkova | | | | | | | | | | |
| Mihaela Buzarnescu | | Rd-1 | Rd-2 | Rd-1 | Rd-1 | | Rd-3 | Rd-4 | Rd-1 | Rd-1 |
| Francesca Di Lorenzo | | Rd-2 | | | | Rd-2 | | | | |
| Lesia Tsurenko | Rd-1 | | Rd-1 | Rd-3 | Rd-2 | QF | Rd-2 | Rd-4 | Rd-2 | Rd-1 |
| Pauline Parmentier | Rd-1 | Rd-1 | Rd-2 | Rd-1 | Rd-1 | Rd-1 | Rd-1 | Rd-3 | Rd-1 | Rd-1 |
| Magdalena Rybarikova | | | Rd-2 | Rd-1 | Rd-1 | Rd-1 | Rd-1 | Rd-3 | Rd-4 | Rd-3 |
| Catherine Bellis | Rd-3 | | | | | | | | Rd-1 | Rd-1 |
| Coco Vandeweghe | Rd-1 | Rd-1 | | | | Rd-1 | Rd-1 | Rd-2 | Rd-1 | SF |
| Mona Barthel | | | Rd-1 | Rd-1 | Rd-1 | Rd-1 | | Rd-1 | Rd-2 | Rd-1 |
| Kim Clijsters | | | | | | | | | | |
| Aleksandra Krunic | | Rd-1 | Rd-1 | Rd-2 | Rd-2 | Rd-3 | Rd-1 | Rd-1 | Rd-1 | Rd-3 |
| Anna Kalinskaya | Rd-1 | Rd-2 | Rd-1 | | Rd-1 | Rd-1 | | | Rd-1 | |
Discover the latest articles
Read past articles