Nobel Peace Prize Betting: Pope Francis is the favourite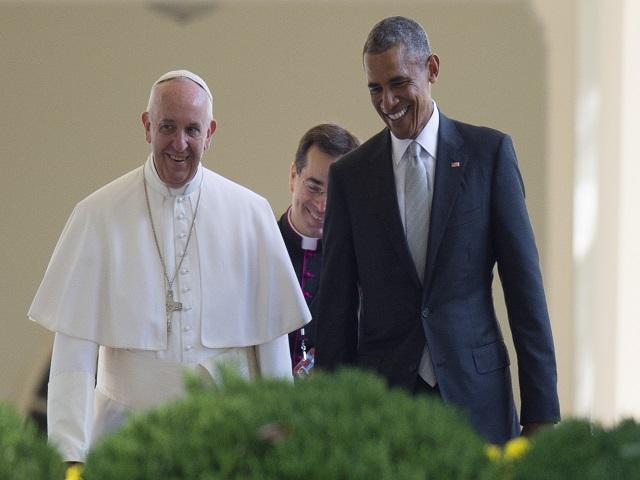 Pope Francis with 2009 Nobel Peace Prize winner President Obama
Pope Francis 9/2 favourite to become first head of the Catholic church to win Nobel Peace Prize...
With the announcement of this year's Nobel Peace Prize winner due next week, Pope Francis is 9/2 favourite on Betfair to pick up the prestigious accolade.
Novelties and Politics Trader for Betfair, Cormac Dowling, said: "Despite no Pope having ever previously won the award, Pope Francis is often referred to as a 'liberal icon' and is currently making a historic tour of America, outlining his strong views against US immigration laws and the death penalty. We make him 9/2 favourite to scoop the Nobel Peace Prize.
"A poetic winner for the award would be Russian newspaper, Novaya Gazeta, at 8/1 having been set up in 1990 using the money that Mikhail Gorbachev earned from his Nobel Peace Prize for his contributions to ending the Cold War.
"Mary Robinson is also in the running at 18/1 having served as the first female President of Ireland in the nineties and continues on her path to change the world for the better as a passionate advocate for gender equality, women's participation in peace-building and human dignity."

Pope Francis 9/2
Denis Mukwege 5/1
Mussie Zerai 6/1
Novaya Gazeta 8/1
Japanese people who conserve Article 9 10/1
Daisaku Ikeda 12/1
Edward Snowden 12/1
Raif Badawi 12/1
Victor Ochen 12/1
'One Billion Acts of Peace' organisers 14/1
Ban Ki-Moon 14/1
Flemming Rose 14/1
Gene Sharp 14/1
David Krieger 16/1
Mary Robinson 18/1
Dawn Engle & Ivan Suvanjieff 20/1
Chelsea Manning 22/1
Discover the latest articles